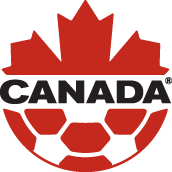 Canada has announced its roster for the upcoming national camp and Men's International Friendly match in Kyev, Ukraine. The Canadian team will face Ukraine this coming Friday 8 October at the Valeriy Lobanosvskyi in Kyev. The Canadian camp runs 3-9 October.
Coach Hart has selected 18 players for the camp, 17 of whom play professional soccer in Europe. Only Dejan Jakovic, who has been eliminated before the Major League Soccer playoffs, will fly across the Atlantic ocean for the Men's International Friendly.
Four players are taking part in their first national camp of the 2010 season: David Edgar, Marcus Haber, Olivier Occean and Julian Uccello. This means that coach Hart's pool has grown to 47 different players for the 2010 season, thus reflecting Hart's objective to see as many different players in this first year of a new FIFA World Cup™ cycle.
Canada's next major competition is next year's CONCACAF Gold Cup. Ukraine, the 26th-ranked country on the FIFA/Coca-Cola World Ranking, is one of the co-hosts for the UEFA Euro 2010 championship.
CANADA
1- GK- Lars Hirschfeld | NOR / Vålerenga Fotball | Edmonton, AB, CAN
2- D- David Edgar | ENG / Burnley FC | Kitchener, ON, CAN
3- D- Marcel de Jong | GER / FC Augsburg | Toronto, ON, CAN
4- D- Dejan Jakovic | USA / DC United | Etobicoke, ON, CAN
5- D- Adam Straith | GER / Energie Cottbus | Victoria, BC, CAN
6- M- Nik Ledgerwood | GER / SV Wehen Wiesbaden | Lethbridge, AB, CAN
7- D- Paul Stalteri | GER / Borussia Monchengladbach | Brampton, ON, CAN
8- M- Pedro Pacheco | POR / CD Santa Clara | Ponta Delgada, POR
10- F- Simeon Jackson | ENG / Norwich City FC | Mississauga, ON, CAN
11- M- Issey Nakajima-Farran | DEN / AC Horsens | Calgary, AB, CAN
12- M- Julian Uccello | ITA / FC Crotone | Woodbridge, ON, CAN
13- M- Atiba Hutchinson | NED / PSV Eindhoven | Brampton, ON, CAN
14- M- Jonathan Beaulieu-Bourgault | GER / SC Preußen Münster | Montréal, QC, CAN
15- M- Josh Simpson | TUR / Vestel Manisaspor | Victoria, BC, CAN
16- F- Marcus Haber | SCO / St. Johnstone FC | Vancouver, BC, CAN
17- F- Olivier Occean | GER / Kickers Offenbach | Brossard, QC, CAN
20- M- Patrice Bernier | DEN / FC Nordsjælland | Brossard, QC, CAN
22- GK- David Monsalve | FIN / Inter Turku | Brampton, ON, CAN
Head of Delegation / Chef de délegation : Victor Montagliani
Head Coach / Entraîneur-chef : Stephen Hart
Assistant Coach / Entraîneur adjoint : Tony Fonseca
Goalkeer Coach / Entraîneur des gardiens : Paul Dolan
Team Manager / Gérant d'équipe : Morgan Quarry
Equipment Manager / Gérant de l'équipement : Mike Moretto
Equipment Assistant / Adjoint de l'équipement : Ryan Bedic
Doctor / Docteur : Dr. Mike Campbell
Physiotherapist / Physiothérapeute : Ted Tilbury
Physiotherapist / Physiothérapeute : Dave Foley