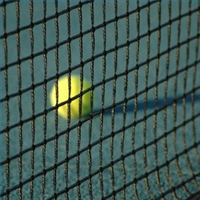 The Fed Cup by BNP Paribas World Group II play-off tie between Canada and Slovenia is even at 1-1 after the first day of play at the Teniski Klub Koper in Koper, Slovenia. Rebecca Marino (Vancouver) opened the tie for Canada against Masa Zec-Peskiric with a 6-3, 7-5 win, while Eugenie Bouchard (Westmount, Quebec) made her Fed Cup debut against Slovenian No. 1 Polona Hercog but fell 6-0, 6-4.
Marino gave Canada a 1-0 lead with a strong performance against the No. 157 ranked Zec-Peskiric, coming out and taking a quick 5-1 lead. The Slovenian fought back, winning two games but Marino closed out the first set 6-3. The second set was a closer affair but Marino was able to break serve to take the lead at 5-5 and serve out the match to put Canada on top to start the tie. Marino is the highest ranked player in the tie at No. 61.
"I felt really good out there today and felt like I was able to dictate the play at the important moments in the match," said Marino. "It's nice to be able to do my part and give the team a lead and it's especially nice to get the win on clay. It gives me even more confidence to go back out tomorrow and play well again."
Bouchard, the No. 6 junior player in the world, got her first shot at playing for Canada against No. 68 Hercog in the second match. However, she was unable to keep pace with the in-form Slovenian and lost the first set quickly 6-0. She picked up her play and fought back from a 3-1 deficit in the second set to lead 4-3 but Hercog used her experience to close out the match at 6-4 and even the tie.
"I was really excited to be selected to play and really wanted to go out there and do well," said Bouchard. "Obviously, I would have liked to do better and I feel like I could have but it was a really good experience to get my first Fed Cup match and hopefully I get a chance to play better tomorrow."
The best-of-five tie will now come down to two-out-of-three with the remaining matches to be played on Sunday. Sunday's lineup will see Bouchard play Zec-Peskiric followed by Marino against Hercog. The potential deciding doubles rubber will be played last with Canada's Sharon Fichman (Toronto) and Stephanie Dubois (Laval, Quebec) against Andreja Klepac and Katarina Srebotnik of Slovenia. The captains are able to substitute players up to one hour prior to the start of the matches.
A win over Slovenia would allow Canada to keep their spot in World Group II for 2012 while a loss would relegate them back to Americas Zone Group I for next year. Only eight countries entered in Fed Cup competition will qualify for the elite World Group with the next eight qualifying for World Group II.
Action will continue on Sunday, April 17 at 5:00 a.m. ET. The tie will be webcast live from Koper on LoveMeansNothing.ca
Live Fed Cup by BNP Paribas Web cast schedule on LoveMeansNothing.com
(Eastern time)
Saturday, April 16, 2011 6 a.m. ET Singles
Sunday, April 17, 2011 5 a.m. ET Reverse singles, followed by doubles