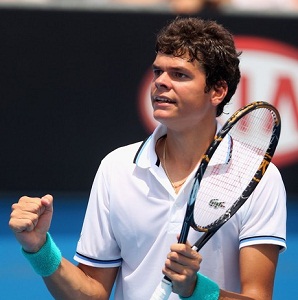 21-year-old Canadian defeats Nalbandian in the first round of Madrid
Milos Raonic (Thornhill, ON), who took a week off after reaching the semifinals in Barcelona, played his opening round match on Tuesday against David Nalbandian at the Mutua Madrid Open, an ATP World Tour Masters 1000 event.
Raonic started the tournament off on the right foot by knocking out former World No. 3 Nalbandian 6-4, 6-4 after one hour, 14 minutes of play. The 21-year-old dominated his opponent on serve, hitting 16 aces and winning all of his first serve points.
Raonic, who lost in the first round in Madrid last year, sets up a rematch with Roger Federer in the second round. It will be the first match of the clay court season for the Swiss after playing his last tournament in Miami in March. The two players met in the third round at Indian Wells, a match which Federer won in three sets.
Raonic will play his opening round doubles match later today alongside Victor Troicki. The pair will take on the Spanish team of Marcel Granollers and Marc Lopez. The match between Raonic and Federer is scheduled for Wednesday in Madrid.