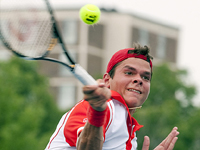 20 year-old becomes highest ranked Canadian of all time with win over Fish
Another day and more of the same for Milos Raonic(Thornhill, ON) as he won his eighth consecutive match on Friday, a 6-4, 4-6, 6-3 victory over American Mardy Fish to reach his second consecutive ATP final in Memphis. On Sunday, he will play Andy Roddick, who will be playing in his 50th career final, for the title at Regions Morgan Keegan Championships, an ATP World Tour 500 event.
"It's coming nicely," said Raonic after the match. "I'm acknowledging it all and taking as much as I can from it.
But I'm focussing on the next day and doing what I need to do for tomorrow's final. It's amazing to be in two finals in a row. After you get the results, everything comes with it, like the rankings. But the thing I'm most proud of is my level."
With his triumph over Fish, on Monday Raonic will become the highest ranked Canadian singles player in the history of the ATP at around no. 37. On Sunday, the 20-year-old will try and repeat a feat that his idol Pete Sampras accomplished in 1996 and become just the second player to win the San Jose and Memphis events back-to-back.
Marino forced to retire with an abdominal strain in her first WTA final Rebecca Marino's (Vancouver, BC) first WTA final didn't go as she would have hoped on Saturday night at the Cellular South Cup in Memphis. After dropping the first set 6-2 to world no. 105 Magdalena Rybarikova of Slovakia, Marino was forced to retire with an abdominal strain that made it unbearable for her to serve.
"I'm obviously upset that I had to retire, but I felt it was something I had to do," Marino said after the match. "It felt ok this morning when I woke up, but got progressively worse as the match went on until I couldn't take it anymore. I don't think I can be ashamed of retiring and there is a lot I can take from this week that will help me in my next tournaments."
Seeded sixth in the tournament, Marino was the only seed to survive past the second round. She served more aces than any other player in the field with 42, a number which also makes her the early season leader for number of aces on the women's side since the beginning of 2011.
Despite the loss, Marino is projected to be ranked inside the Top 65 in the world for the first time on Monday.
She also picks up the biggest prize money cheque of her career worth just over $19,000 U.S. thanks to her first WTA finals appearance.
Marino's next tournament will be the Whirlpool Monterrey Open in Mexico in two weeks before she heads to the Premier events in Indian Wells and Miami in March.
Nestor and Mirnyi reach men's doubles final
Meanwhile, it could be a Canadian title clean sweep on the men's side tomorrow as Daniel Nestor (Toronto, ON) and his partner Max Mirnyi, seeded first, advanced to the doubles final today with a 7-6(4), 6-3 win over Mark Knowles and Michal Mertinal. Nestor and Mirnyi will be seeking their first title together tomorrow when they go up against Eric Butorac and Jean-Julien Roger.