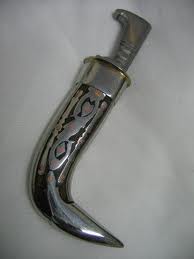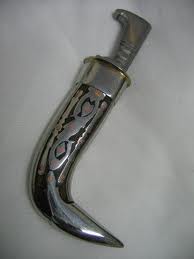 The motion to ban ceremonial daggers from the provincial legislature was tabled by the Parti Quebecois on Wednesday and the house voted unanimously in favour. This motion comes a month after an incident in which four Sikhs were denied entry to the building. Four members of the World Sikh Organization came to plead for the right of Muslim women to wear face coverings when receiving government services. Upon arrival, they were told to surrender their kirpans; they refused and were then not permitted to enter.
As reported on January 21, 2011 in "The Sikh Kirpan: No Religious freedom for Sikhs in Quebec", both the Canadian Parliament in Ottawa and the Supreme Court of Canada allow kirpans. In Ontario, the Liberal MP for Mississauga-Brampton South MP, Navdeep Bains, is a Sikh and he has been wearing his kirpan in Commons since 2004.
The World Sikh Organisation of Canada, on their official web site, released the following statement:
Ottawa (February 9, 2011) – The World Sikh Organization of Canada is disappointed that the Quebec National Assembly has voted unanimously in favour of a PQ motion to support the decision to bar the kirpan.
"We're disappointed that the wearing of the kirpan, which is a human rights issue, has been politicized. Today's vote represents a turn away from the values of tolerance and multiculturalism. We had expressed a desire to sit down with security at the National Assembly and have a rational discussion about the kirpan but it seems this debate is no longer about the niqab or the kirpan, it's about the inclusion of minorities in Quebec," said Balpreet Singh, WSO legal counsel.
WSO had sent letters and education material on the kirpan to the National Assembly's Sergeant at Arms Jean-Francois Roberge, as well as Premier Jean Charest and Minister Kathleen Weil, inviting them to discuss concerns about the article of faith that Sikh men and women wear.
The kirpan is accommodated across Canada including in the House of Commons, the Supreme Court of Canada, and all provincial legislatures. In 2006 the SCC ruled that the kirpan is not a weapon, but an article of faith. And even Vancouver's security conscious 2010 Winter Olympics permitted the kirpan.
WSO President Prem Singh Vinning said, "It's unfortunate that the PQ believes multiculturalism is a value in Canada but not in Quebec. We feel multiculturalism is not just a Canadian value, but a liberal democratic one that allows us all to live together harmoniously. We were also disappointed today to see misleading attempts to categorize the kirpan as a weapon and symbol of violence. The Supreme Court of Canada has clearly stated that the kirpan is an article of faith and that other everyday implements such as scissors are far more likely to be used as weapons."
Quebec vs. the rest of Canada
Canada's Charter has been put forward in other parts of the Canada to defend the rights of minority groups. However, the multiculturalism enshrined in the 1982 constitution never was approved by Quebec. The province continues to defend of two key principles of the 1960s Quiet Revolution: a triumph of secularism over religious orthodoxy and of French-speaking collective rights over other individual rights.
Of course the question of possible weapons in the legislature is one which is much more personal for Quebec. In 1984, Denis Lortie, a former Canadian army corporal, he stormed into the National Assembly of Quebec building and killed three Quebec government employees and wounded 13 others.
The Bloc Quebecois
The party has attempted to bring this provincial issue to Ottawa but so far as failed to gain any headway in implementing a ban in parliament. Bloc Quebecois Leader Gilles Duceppe has said it's a question of security. Liberal Leader Michael Ignatieff has said it's a question of religious freedom and the Conservatives are trying to stay out of it by saying that security issues should be left up to the House of Commons' sergeant-at-arms.
Comments
Toronto Sun – Jan 27/2011
It's gutsy to say no to the kirpan
By Eric Duhaime, QMI Agency
http://www.torontosun.com/comment/columnists/eric_duhaime/2011/01/26/17045926.html
The kirpan debate brings back on the table, once more, the excesses of Canadian multiculturalism. No politician outside of Quebec might have the guts to admit it publicly, but I am quite sure many English Canadians feel very Quebecois on this distinct issue.
National Post – Apr 19/2010
Violent incidents mar Sikh image, group says
http://www.nationalpost.com/related/topics/Violent+incidents+Sikh+image+group+says/2926115/story.html
In early April, prominent Indo-Canadian lawyer Manjit Mangat was stabbed multiple times in the torso outside the Sikh Lehar Centre, another temple in Brampton. The weapon used was a kirpan.
Wikipedia: Kirpan: Canada
http://en.wikipedia.org/wiki/Kirpan#Canada
On April 2, 2010, Manjit Mangat, a fifty-three year-old lawyer and temple president was stabbed in the abdomen with a kirpan at the Sikh Lehar Centre in Brampton, Ontario. Police took Sukhwant Singh into custody over the matter.
The following comes from a White Supremacist site and is of dubious worth and origin. It is nevertheless a surprising opinion quite a way from the mainstream.
Canadian White News – Jan 21/2011
http://www.whitenewsnow.com/canadian-white-news/13862-quebec-national-assembly-ban-kirpans.html
The kirpan (read killing weapon) is such a scam. There is nothing religious about it. Its sole purpose is to use it to defend or attack people. It should be banned everywhere in this country, or everyone should be allowed to carry a gun. You can't have it both ways. You want to wear a kirpan go back to your country.
Click HERE to read more from William Belle.
Article viewed at: Oye! Times at www.oyetimes.com