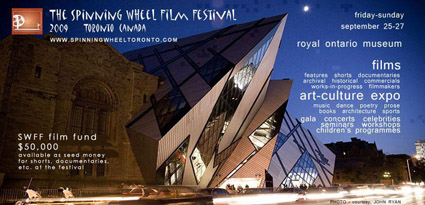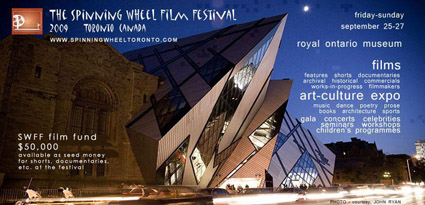 The annual Spinning Wheel Film Festival (SWFF) celebrating and showcasing Sikh culture and art kicks off this year on September 25th, 2009 at the Royal Ontario Museum with a splashy gala to open the weekend long event. This year the festival will run from September 25th to 27th, 2009.
Billed as the premiere Sikh event, the Spinning Wheel Film Festival is in its 7th year and has showcased thousands of films produced by both Sikhs and non-Sikhs around the world in languages ranging from; English, Punjabi, Hindi, French, and Urdu. Since its inception, the Festival has gone international with successful chapters in New York, Los Angeles, and Washington.
This year the Festival line-up includes the unveiling of two paintings by New York based artist, Manu Kaur Saluja; contributions to Sikh Diaspora; a tribute to renowned Sikh Historian, W. Hew McLeod; along with the premières of feature films, short films, sneak previews, documentaries, work-in-production, archival and historical footage, musical concerts, dance performances, and art exhibits.
For more program information please visit: www.spinningwheeltoronto.ca