I've wanted to do a moto-camping trip ever since I started riding. There just seems to be so much consensus about how much fun it is, and how much better and enjoyable it is than regular camping by car. On a motorcycle, it's just you, the open road, nature, wind in your face, the challenges of packing, the joys of riding, the list goes on. So, I did it, I went camping with a motorcycle; and wouldn't you know it, the consensus was right.
I had my first moto-camping experience a few weeks ago (and being lazy I am writing about it now) but pardon the delay, because I got to compare the moto-camping experience with one car-camping trip before, and one right after so three successful weekends of camping! Each had its positives and negatives but that's a story for another time.
The bikes for this adventure are: a Suzuki Hayabusa and my Honda CBR250R.
Day 1: Friday
Plan, pack, re-plan, re-pack, pack, re-pack, what do I need, what don't I need, what's too much, am I taking enough, all these questions kept creeping up. Luckily the buddy that I was going on this adventure had done this before and gave some good advice; take what fits, if you need it it's there, if not, well you still have it just in case. I thought I overpacked, but ended up using every single item that I had taken.
The day started off with the threat of rain, which was on again off again all morning. As I was at work I kept checking the radar and getting nervous the closer it came time to ride…looks like the storm was going to hit JUST as we were leaving Toronto. Then a glimmer of hope when I left work: sunshine. Thoughts of doing the happy dance kept coming to mind.
I rushed home, and as I got the bike and myself ready I hear the big roar of my friend's Hayabusa coming down the street. In my excitement I DROP THE DAMN BIKE! WTF! As I was pushing it towards the parking lot the bike tips over because it's overloaded and top heavy! Thankfully Adam had already parked his bike and helped me lift mine up.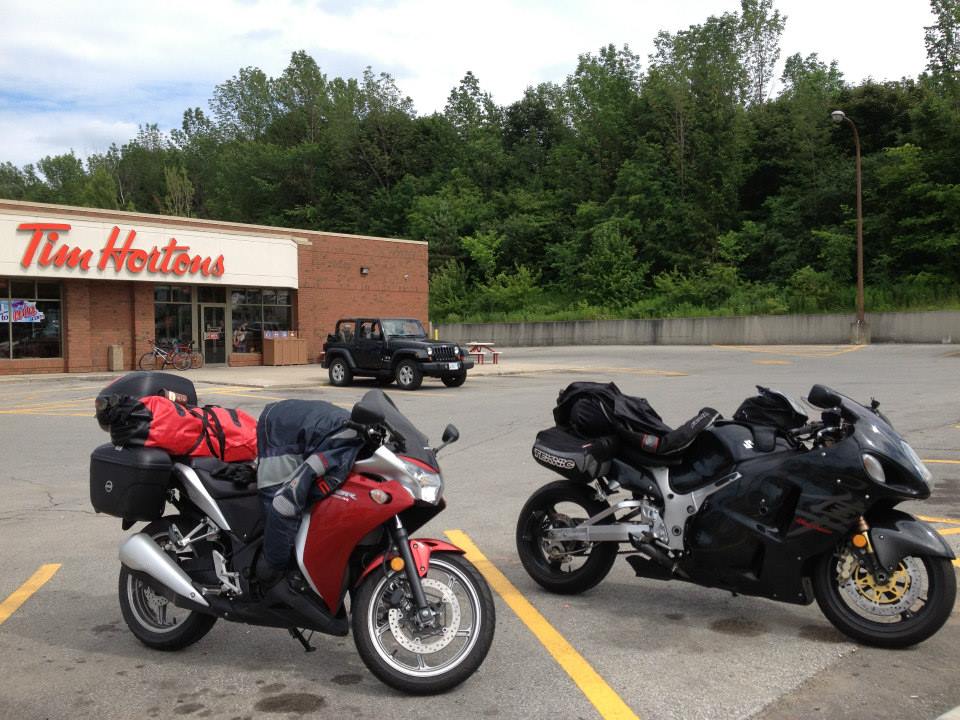 First fuel stop, still no rain, awesome! We were both running at quarter tank so the two minute jaunt to the fuel station was uneventful. We start our adventure at Lakeshore/Islington and make our way to the QEW a whole five minutes away. Then the deluge of water starts! This sucks nuts, the entire ride on the 401 to the 410 was nothing but rain. I couldn't see a thing, my glasses were fogging, and my visor was all fogged up. When I lifted the visor the rain would hurt like little pellets against my face. We stopped under an overpass to clean up a bit. Adam put more rain gear on, and we pushed forward. Having limited visibility we made our way North on the 410 and then suddenly near Brampton the rain just stopped. It was awesome. What wasn't awesome was now even my undies were wet because I foolishly opted not to put the rain pants on.
The ride north to Tobermory was uneventful albeit very nice and relaxing. We did a good clip because we had a boat to catch to Manitoulin Island. Make sure you take the route off main Hwy 6 so you don't get stuck in a boring straight shot. The route (Hwy 9 I believe) takes you towards the cottages near Lion's Head and doesn't add much more time than 10 minutes or so. It definitely breaks up the monotony nicely and is most likely worth the detour. By the time we hit Tobermory the pants, jacket, gloves, and everything else dried up nicely! We were the first in line for the Chi-Cheemaun. With plenty of time to spare it was time for a refill of the gas tanks, and a beer to celebrate a successful start to journey.
The ferry ride was great, although the ropes provided to secure the bikes were junk. We were told the guys on the boat would secure the bikes…no such luck. We rigged the bikes down and hoped for the best, they arrived in one piece and no damage.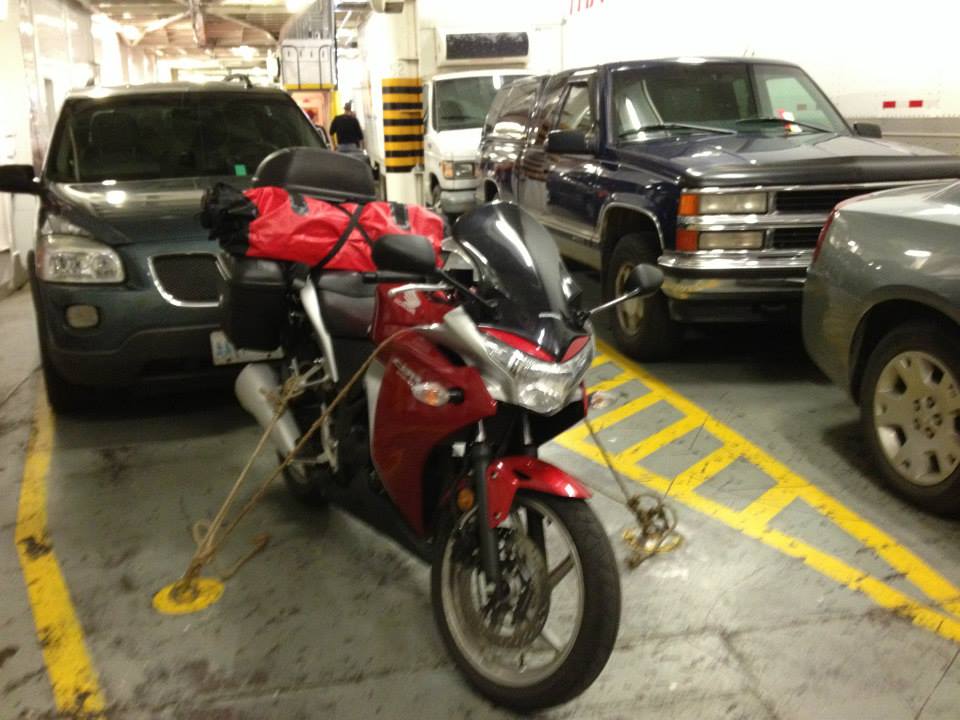 TIP: If you plan this trip, bring your own straps. There were three other bikes on the same ferry and they all brought their own straps. While we were biting our nails thinking about the bikes roped down to the floor, these guys were on their second beer fully enjoying the trip.
By the time we got to Manitoulin Island it was dark and we were the first off the ferry. The bugs were horrible and could barely see a thing but the roads were curvy, and kept us entertained. We got to our camp sites, unloaded the bikes, and started a fire. It wasn't a late night, but we woke up to a beautiful sunshine the next morning that promised some good riding.
Day 2: Saturday
On the boat we met an old Harley dude and his wife who'd been riding Manitoulin and the local areas for years. They gave us some good tips about riding on the island. Since we had a lot of distance to cover that day we decided to take a slight detour and was it ever fun.
We took the route through Mindemoya and then north towards Espanola along the coast. It was a great detour and were happy to have that instead of the boring old Hwy 6. The ride to Espanola was beyond amazing. The roads, curves, and scenery were all just spectacular, we just found ourselves wishing for less traffic. There were bikes of every make and model everywhere; even saw lots of those funky Can-Am Spyders all along the route.
After a quick stop in Espanola, we made our way West towards Spanish and Blind River. The weather was still with us and the small 250 was making short work of the traffic and roads up there. It was also nice that I could always hear the Busa even when I couldn't see it. As for the traffic, in many instances we actually had people STOP and PULL OVER to the shoulder to let us pass when there were solid yellow road markings preventing a pass. What courtesy, you won't see that in the GTA.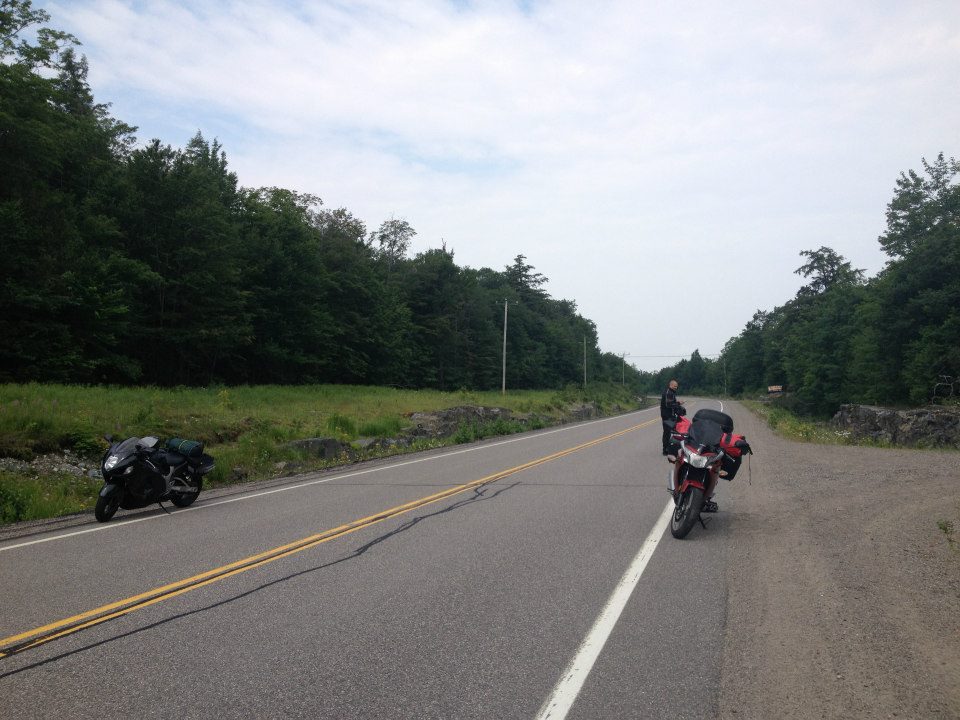 By the time we hit Blind River it was getting hot, stupid hot. Dehydration and heat stroke were now becoming an issue. I could feel my body asking for water and the breaks and stops were becoming more frequent. It is gorgeous being in the sun, but with no clouds, lots of air movement, and limited water stops really get to you quickly.
We had made it so Sault Ste. Marie and by this point in time the temps were reaching the high 30s with the humidex, and frankly my *** was killing me! The 250 is great, but the seat isn't! Once again, foolishly, I had opted to not take the DIY gel seat for the bike and the bicycle shorts were becoming more of a pain in the *** than they were worth. But onwards we went.
We pushed north along 17 through Lake Superior Provincial Park. WOW, the views were breathtaking, the curves were fun, and the entire west side of the road was just one beautiful picture shot after another. I'm pretty sure Adam was getting frustrated with my continued stops to take some pictures. I could see that he would look in his mirrors every time a nice landscape would come up to see if I had already stopped.
Make sure to gas up regularly here, the gas stations are few and far in between, and you do NOT want to get stuck in the middle of a park with spotty cell coverage. And drink lots, dehydration is very real, and very dangerous; especially with the continued drone of the highway. At this point in time I'm exhausted, and can see Adam is also getting tired, but we move forward to Wawa. Wawa, the furthest point north I've ever been in Canada. Cool little town, but not much to do. The giant goose… well in my opinion it's ugly, but I'm no artist and don't know good art from bad.
Now, the original plan was to make our way to Nipigon and then along Hwy 11. But seeing how tired we were, along with weather reports showing massive rain clouds for Nipigon and along the entire Hwy 11 route we made an executive decision to stop in Wawa for the night. Unfortunately because of the rain we end up at a small little motel (Algoma Inn or something) and we dismounted there. The owner is cool old guy that runs it and makes fresh muffins every morning, they are delicious. Bikes are safe in front of your room, so not much to worry about there either. I'd definitely recommend the place for those passing through.
Day 3: Sunday
Rain, rain, rain, rain! Every radar map shows rain along our route east towards Timmins. And it looks bad, and every report says that it's going to come down hard the entire route. So another executive decision is made. I've read on GTAM a few times about Hwy 129 south from Chapleau to Thessalon and we make that the new route.
A decision we later were very happy about. The Busa takes off and my lil 250 chugs along the route. It's not the best pavement for a while, but the scenery, and the turns more than make up for it and we are rewarded when the rain stopped and the sun came out. Adam and I agree that I can't pace the Busa so we'll meet up at the next turn. When we started in Wawa the temperature was 7 degrees Celsius, halfway down 129, 20. By Thessalon it was closing in on 30 so we take layers off as fast as we can.
Now we're stuck moving East along Hwy 17. We've seen it already, but hell it was fun so we push through to Sudbury. Nothing really special about 17 but it gets us there safely and without traffic. So we're happy. I finally get to see the Sudbury Nickel and now can live in peace. We pull the map out and because the weather is so nice, it's time to camp again. We end up at Grundy Lake Provincial Park and are definitely impressed with the place. Clean sites, good location, and good water for swimming. However, almost $65 for a night for a spot and a bag of wood seems a bit excessive for camping.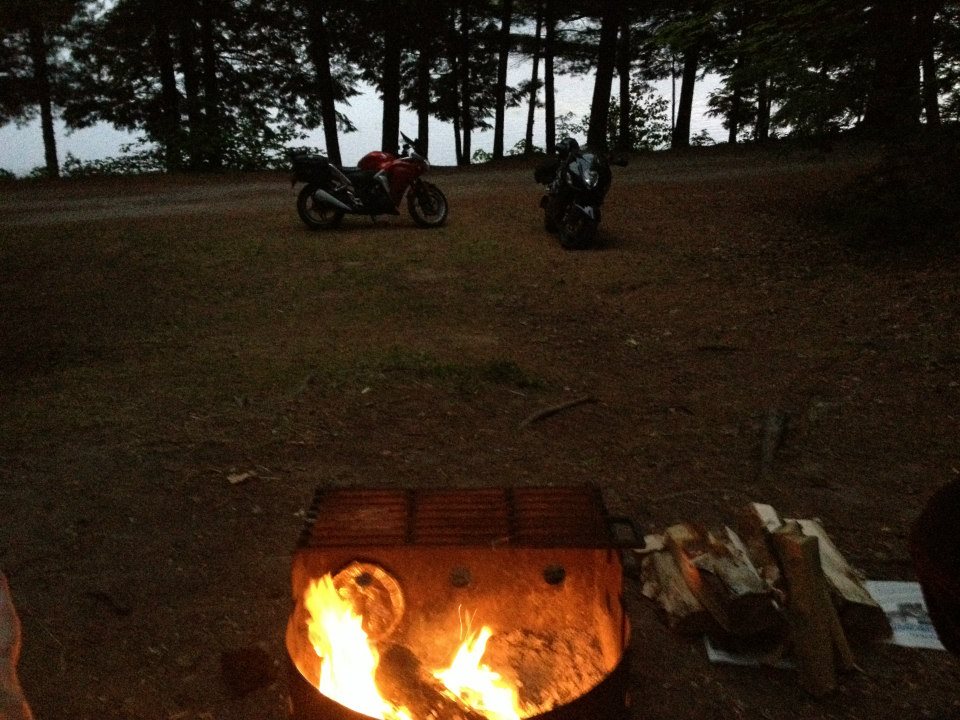 Day 4: Monday
Another beautiful day. We have sunshine, warm weather, and clear roads ahead of us. It's Monday, and weekend cottage traffic is over so we make our way south along 69 down to Parry Sound. It's pretty landscape, but nothing too exciting about the roads.
We stop in Parry Sound for coffee and some map discussions. Instead of going straight home we find a good review of Muskoka Road 38, very cool road and very twisty. Once again the Busa takes off and sees a bear darting across the road. Thankfully nothing happens as Adam avoids the bear on the highway and I don't even see it because I'm so far behind.
We stop in Bala at a farmer's market and chill while chatting with some Harley riders from Grand Bend. Time to go south again and wait a second, we're at the foot of Southwood Road 13. Now I'm nervous because I always hear how dangerous and winding it is, I agree to take it simply because I want to. Slow and steady right? Well I'll be damned, that one of the most fun roads I've ever taken. Not as fast (for me) as others, but fun, technical, twisty, and exhausting. I was thoroughly tired after the end of that route. I'd do that again in a heartbeat.
After that, it's time to make our way home. It's been a hell of an adventure but now it's all 400 straight home. We're tired from a great adventure and it's time to go home to our loved ones. We say our goodbyes and get on the boring 400 series and make our way home. The heat once again is getting to me so I end up stopping one last time in Vaughan for some rest, rehydration and then a straight shot home.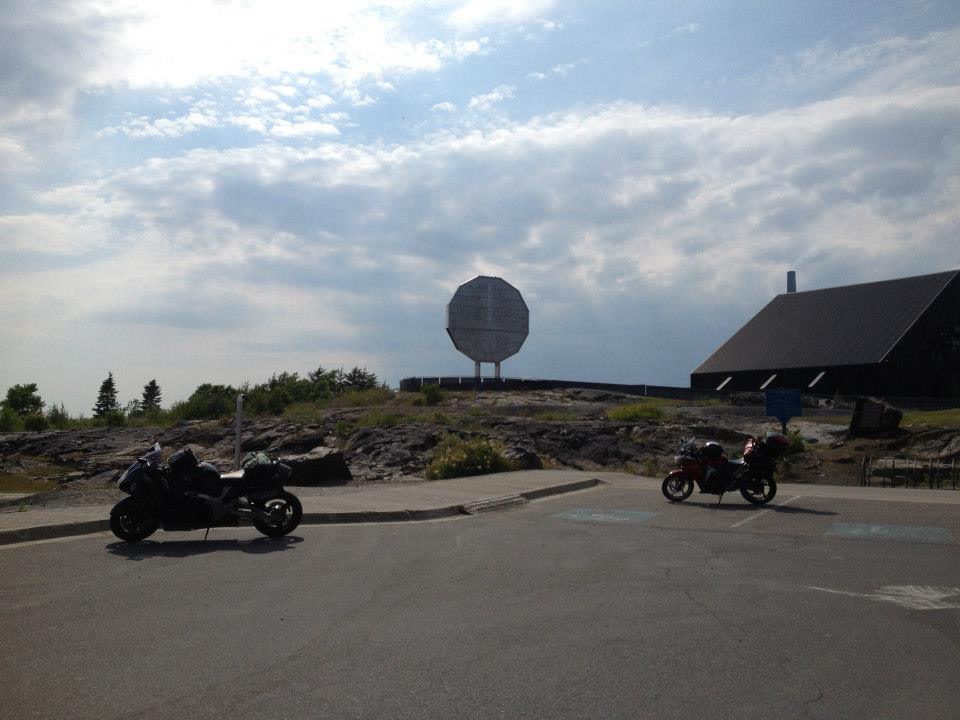 Final Thoughts
I loved this trip. I have always wanted to try it, but never had the guts to do such an adventure on my own. Still new at the riding thing, and still learning, so I wanted someone to come with me just in case. I'm glad we went, and loved (almost) every minute of it.
The rain sucked, but preparation is key; overall, it wasn't too bad. I'd do it again, and I will do it again. I have gained a new fondness for riding, and will continue with this sport doing more exploring, and more adventuring in our province and beyond. Yes most of Ontario is boring, and yes the roads suck, but once you get north of a magical line there are a lot of wonderful roads, wonderful people, and great places to just sit and relax.
Photographs by Wojtek Sawicki