Whether by plane, train, or automobile, holiday travel is generally a pain in the you-know-what. Overcrowded airports and jam-packed busterminals are total buzzkills, but we've got to get from point A to point B somehow. And, sadly, our private jet is in the shop.
So, we're planning ahead with tons of comfy accoutrements to make our trip just a little bit cozier. From sleep masks and slip-on moccasins to de-stressing oils and neck pillows, these 16 must-have trip essentials will (almost) make you forget about that crying baby a few aisles away. Gotta love the holidays.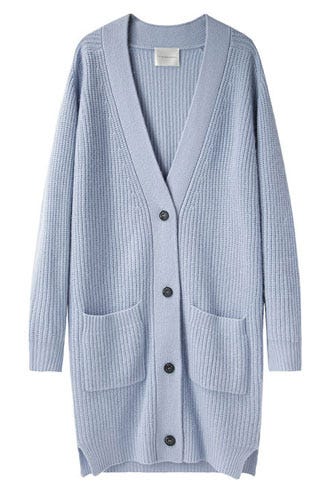 A slouchy, oversized cardigan is everything.
La Garçonne Moderne Malin Merino Cashmere Cardigan, $595, available at La Garçonne.
Airplane anxiety is no joke.
21 Drops 11 De-Stress Essential Oil Rollerball, $29, available at Sephora.
Seriously, whoever dreamed up this nifty li'l pillow is a genius.
Bucky Fuzzy Wuzzy Travel Pillow in Periwinkle $24.72, available at Amazon.
Forget jeans — a textured legging or relaxed-fit track pants are the way to go.
Joie Maxi Pants $268, available at Shopbop.
Okay, this cashmere set will cost a pretty penny, but just think about how toasty and snuggly you'll be.
Armand Diradourian Cashmere Travel Blanket, $598, available at Anthropologie.
Those Vera Bradley weekenders have had their time in the spotlight — it's time to upgrade to a duffel with a bit more edge.
Cooks & Gates Night Moon Mini Duffle, $135, available at Of A Kind.
Let's fight to end the perils of bare feet at airport security. Gr-oss.
Sox & Co Microfiber No-Show Socks (6-Pack), $14.95, available at Nordstrom.
Tune out the world with a sweet pair of headphones.
Nixon The Trooper, $50, available at Nixon.
Ditch the overstuffed makeup bag for just the essentials.
Sephora Collection Ultimate Travel Tool Kit, $75, available at Sephora.
Don't let your baby — err — iPad get all scratched up going through airport security.
Clare Vivier iPad Sleeve, $148, available at Clare Vivier.
Simple, slip-on moccasins are a total time-saver for passengers running a few minutes late.
Prism Leopard-Print Espadrilles, $199, available at Matches Fashion.
iPhone wallets are the future.
Draught Dry Goods Card Carry No. 01, $65, available at Draught Dry Goods.
This sleep mask says it all.
Mary Green "ZZZZZZZZZ" Silk Satin Sleep Mask, $24.75, available at Mary Green.
But, hey, not everyone can fall asleep in transit. So, be sure to pack a good book to dive into and fight travel boredom.
Where'd You Go, Bernadette, $9.32, available at Amazon.
Chapped lips, begone!
Kiehl's Lip Balm #1, $7, available at Kiehl's.
Get Free Gifts! Flash Sale Down To $9.99
Anyone who's ever waited at baggage claim will surely understand the reason for luggage tags.
Ted Baker Passport Holder & Luggage Tag, $42, available at Amara.
Click HERE to read more from Refinery29.