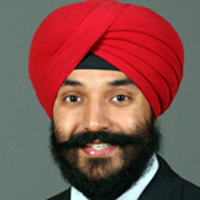 Today, Liberal candidate for Mississauga-Brampton South and incumbent MP Navdeep Bains committed to reverse short-sighted Conservative cuts to family reunification and pledged that a Liberal Government would instead focus on families.
"Stephen Harper slashed family reunification and cut immigration settlement and language programs in Peel region," said Bains. "These cuts hurt New Canadian families and their ability to integrate into Canadian society which is just plain wrong. A Liberal Government would put families first be reinstating family reunification and investing in the priorities that matter to them like homecare, education and secure pensions."
Bains pointed out that from the start of the campaign, Liberals have been announcing costed, affordable policies like the $1 billion Family Care plan that allows people to take time off to care for a sick loved one at home or the $1 billion Learning Passport which would provide every student with $4000 in cash ($6000 for low-income households) to put towards a post-secondary institution of their choice. These programs that seek to relieve the burden on families will be paid for by cancelling the Conservative corporate tax cuts that only benefit the richest companies in the country.
"Building the economy is more about ones and zeros," said Bains. "You build an economy by attracting the best in the world and giving their families the support they need to prosper. Harper doesn't get that and instead has hacked away at the programs that support new Canadians while blowing billions on U.S. style mega-prisons and untendered fighter jets. Government is about making choices but Conservatives continue to make the wrong choices for the families of Mississauga and Brampton".
"Canadians face a clear choice in this election," said Bains. "It's time to bring hope and opportunity back to new Canadians and their families. That's why a Liberal government will focus on what really matters: giving every Canadian regardless of background a equal opportunity to succeed in the years ahead."
Article viewed at: Oye! Times at www.oyetimes.com