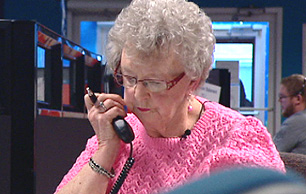 Dialing for dollars is more of a nuisance than a charitable act

Recent stories from the Canada Revenue Agency that fundraisers are not leaving much for the charity have the public sitting on their wallets.

No wonder people don't want to give. The truth is some charities, even with stringent government controls, are lining their pockets and doing little charitable work in the community.
On PEI we watched for years as celebrity fund raisers like Rick Hansen breeze unto town, dazzle the politicians and leave with a big cheque. It's a scam that plays on people's generosity and charity.
PEI disabled second place to Rick Hansen
The public are tired of a) being called at supper time and b) getting ripped off in the name of charity. That's why we have do-not-call laws to protect the public.
Yes there are lots of good charities but lets face it many of them are just great jobs for the employees while turning a blind eye to the needs of the poor, the sick and the disabled.
The Canadian MS Society is in big trouble after it refused to support revolutionary treatment that might cure MS. In our story,
Controversial MS treatment works for Island woman,
we reported that MS Society of Canada volunteers are turning away from the Society. The MS Society has embarked on a big public relations campaign to win back it's support but it will take more than fancy pictures to convince people they are genuine.

New age in marketing
The internet is changing the world. Everyone has to change their business model and practices.
Charities have to get with the program and devise new fund raising techniques. Complaining that last year's telephone blitz didn't work doesn't cut it.
Charities and other NGOs also have to present a more honest and authentic story to the public. Shenanigans like mis-spending money are easily uncovered, widely reported on the internet and not soon forgotten.