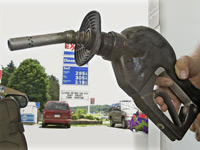 In a speech to a Reno, Nevada town hall on April 21, President Obama blamed speculators for the surging price of oil and said that he asked Attorney General Eric Holder to create a task force "to make sure that nobody is taking advantage of American consumers for their own short-term gain."
As Holder assembled that working group for the President, oil prices would collapse from a high of $114 on May 2 to a low of $94.63 on May 6, the same day the Attorney General sent a letter to the Commodity Futures Trading Commission, Department of Energy, the Federal Reserve and the other participants he had secured, thanking them for "your leadership and participation in the Task Force's Oil and Gas Price Fraud Working Group."
Many blamed the oil drop on strength in the dollar and concerns about global demand, but traders believe some other forces were at work. There were a series of increased margin requirements on skyrocketing silver implemented that week by the CME and traders sold oil on the fear that may be the next contract to face the higher borrowing requirements. The CME would go on to enact a 25 percent increase in escrow requirements for crude this week.
"Of course it (the margin increase) was designed to impede the commodity rally," said Alec Levine, managing director at WallachBeth Capital. "And it's right before the summer season really kicks off. Everyone knows that somewhere around $4 a gallon you have demand destruction and regressive tax implications."
Some traders have gone so far to imply that direct messages have been sent from the government and related agencies to certain exchanges or firms pressuring them to curb speculation. However, most believe that it's the increased rhetoric that's been enough to knock oil below $100 a barrel.
"In the very short term, the anti-speculation sentiment will serve to deter some investors," said Brian Kelly of Brian Kelly Capital. "But within a few months people will again be both buying and selling oil hoping it goes up or down."
The CME, operator of world's biggest energy market, did not return a call for comment on whether it's had any direct contact with the White House or Holder. Margin requirements are typically enacted based on volatility and other modeling, but there is no set formula for when they are to be raised or lowered.
"I love a conspiracy theory as much as the next guy, but unfortunately I don't believe the CME feels any heat from the administration or from populist movements," said Jim Iuorio, a trade on the floor of that exchange for TJM Institutional Services. "The CME system adjusts margin requirements based on volatility and has an excellent track record in doing so."
If history is any guide, the President may only increase his pressure on speculators as the summer driving season approaches. As a Senator in 2008, Obama proposed legislation to curb energy speculation.
But traders believe Obama needs to stop painting all speculators with the same brush. Check any financial textbook and it will tell you that speculation by individuals who do not have a specific interest in that futures contract is an essential part of the marketplace and improve liquidity.
"Too many people forget that in the futures markets for every long there is a short," said Dennis Gartman of The Gartman Letter. "There is no net gain; what one side wins, the other loses and that is all too often forgotten."
Regardless, the latest top in oil shows that maybe the President has a second career in store for him when he leaves the job: macro trader.
"Remember that on March 3, 2009, our nation's chief strategist told us to buy stocks," said Dr. Ed Yardeni, President and Chief Investment Strategist of Yardeni Research, in a note. "I guess we should pay closer attention to President Barack Obama's investment advice."
For the best market insight, catch 'Fast Money' each night at 5pm ET and the 'Halftime Report' each afternoon at 12:30 ET on CNBC.