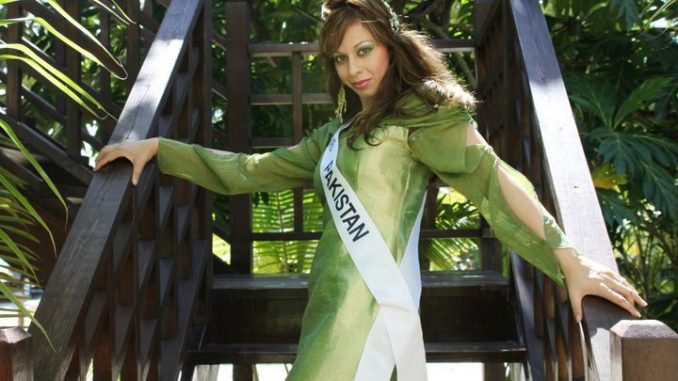 Interview of Tahmena Bokhari, Mrs United Nations 2010
Tahmena Bokhari, Mrs Pakistan 2010 just won the title of Mrs United Nations 2010. Below is an interview of Ms. Bokhari after winning Pakistan's first international pageant title.
1. You are the first woman ever to win a title for Pakistan in international pageants, how does it feel?
It feels wonderful; it is an honour and a privilege. I would like to thank all of those who have supported me and have worked with me to improve the image of Pakistan in the world. Being the first international title holder for Pakistan is not my victory alone and nor am I solely responsible for this win. It is because of you out there, all of my family, friends, fans, supporters, organizers, and all those who have dared to dream this new vision of Pakistan along with me. This is a victory for all Pakistanis everywhere.
2. To win a title in the married women category is a big message to Pakistani women, what is your own message to your country Pakistan?
Well a woman's life, passion and dreams do not stop once she gets married. To the entire country of Pakistan, I would say that there is a majority of our population that is not being fully utilized in evolving this country. Women have tremendous talent, skill and knowledge to contribute. There should be a place for women in the public sphere of life, there should be an effort to include women, and there should be a cultural shift, both in the home and in the workplace, to one that encourages and values women to pursue the highest of life's goals. By Pakistan winning our first international pageant, Pakistan is showing the world a different side of us which is not as well-known to the world and perhaps even to Pakistan itself. Pakistan needs for women to enter all the various industries and I would say, especially the industries that would place women at the heart of the medium of communication between Pakistan and the world.
3. As the new Mrs. United Nations 2010, what is your second year as a beauty queen looking like for you?
This is still all very new for all of us and it is certainly a very exciting time. I hope in the next year that through my various public appearances I can attract more people of the world to learn more about Pakistan. Importantly, I hope that people now see a different and lighter side of Pakistan.
4. As Mrs. Pakistan World 2010 and Mrs. United Nations 2010, what message do you want to give young girls as well as married women?
By Pakistan winning its first international title, we are helping create a diversity of positive images of Pakistani women out there in the world and we need more and more variety of positive images of women so that the new generation can have access to numerous possible role models. We want the women of Pakistan to have choices in all that they do and in all that is possible for them, and I mean free choice, meaning without social, cultural, financial, and religious or other consequences, otherwise it is not a free choice. I hope to inspire all women to dream big and let it be known to the world that only because of the mere dream of a new identity for Pakistan was I able to help make history for my country.
5. Your background is of a professor with some interest in politics, would you be interested in Pakistani politics?
Well, to tell you the truth, I have not really thought about where life may take me following my term as Mrs United Nations. However, I can say that whatever I will be doing will be within my personal commitment to bringing positive change. I have not specifically thought about Pakistani or Canadian politics, however, if such an opportunity arises and if it feels right for me at the time, then perhaps I may consider it. Being in politics, however, is not the only path through which one can bring about change and many would argue that there are many more effective avenues. I would certainly be open to the various possibilities that life may bring. As often is the case, and as I have just experienced in winning this title, the opportunities that arise are not always ones which are planned.
6. Beauty pageants are always thought of a way for young girls to get into the film industry. Do you agree with women joining the pageant because of this? What in your mind are the right reasons for anyone joining the Miss or Mrs. Pakistan World pageants?
Well, I do not think that is for me to say. Pageants present an opportunity for women to raise their profile and develop skills that can help them in any career they may choose. I do think it is great if more women become publicly visible, whether that is through acting, singing, modelling, or even becoming politicians, educators, speakers, ambassadors, or leaders of non-governmental organizations, or other public roles. All of these paths together shape the image of "the Pakistani woman". By participating in any industry you also have an opportunity to shape that industry. By Pakistani women participating in pageants, we are helping this industry become more known to, and more inclusive of, Pakistanis. When I started out, one of the publicly known images I wanted to challenge was that of the Pakistani woman as victim, oppressed, frail, docile and depressed. With Pakistan winning its first international pageant title, I believe we have achieved some success in that challenge. Now when the large pageant audiences of the world think of well-balanced beautiful and influential women, Pakistan is atleast on the map.
7. How can you bring about a change in the image of Pakistan with your title?
Well, as I said earlier, I think we have already accomplished some of that by becoming known as international pageant winners. This is a very large industry and audiences love the glitz and glamour that surrounds beauty queens. Just by being here, we are changing the perception of what people may define as beauty. I usually ask, when the average person thinks of the most beautiful women in the world, would Pakistani women come to this person's mind? When we think of the strongest women in the world, or the most beautiful place, or the best-spoken people, does Pakistan come to mind? When we think of the place we most want to visit, to the culture we want to learn about and learn from, or the people who can teach us so many things, do we think about Pakistan and Pakistanis? On the other hand, when does Pakistan come to the hearts and minds of people of the world and who gets to influence that image of Pakistan? We have already begun to shape the answers to these questions.