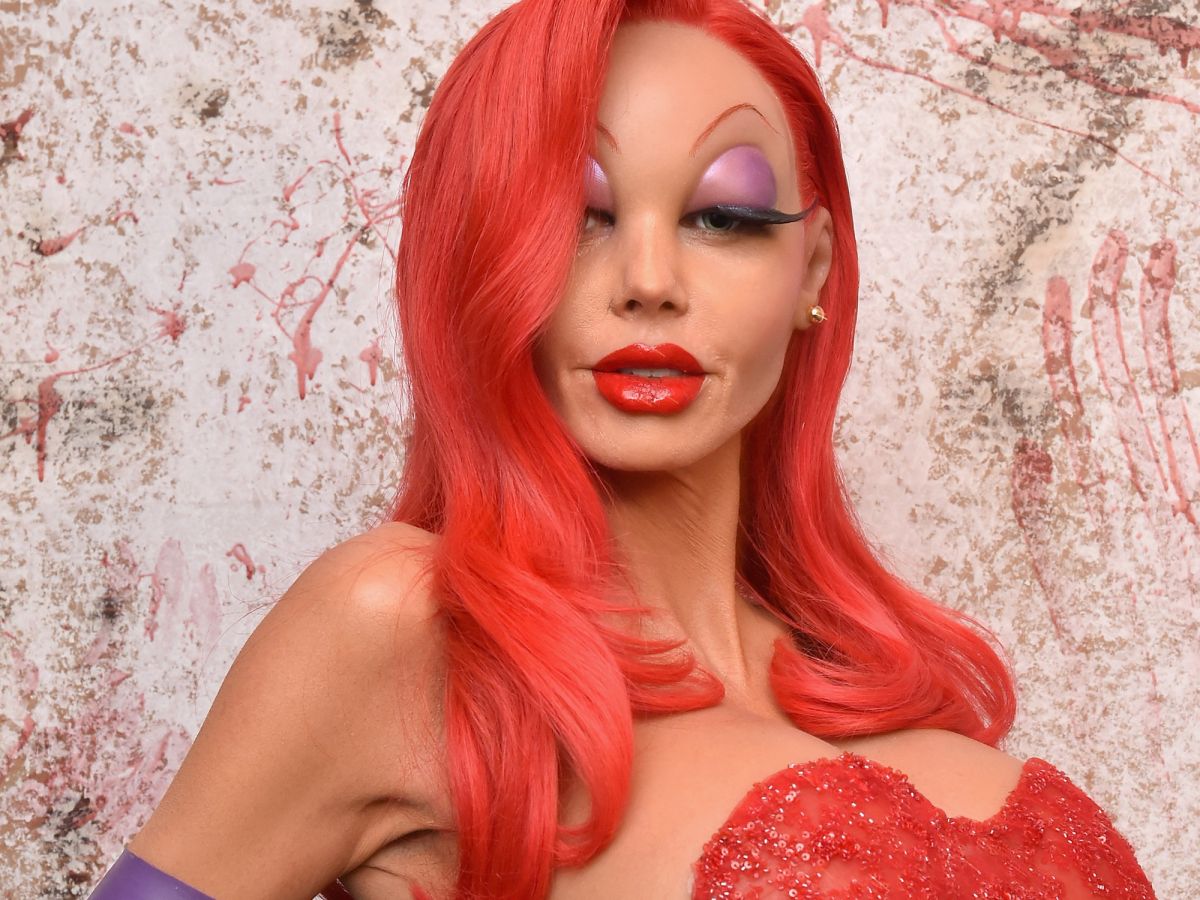 As the age-old tabloid section says, "Stars: they're just like us." At the very least, celebrities are just like us in the sense that they also require oxygen to breathe, food to subsist on, and shelter to live in. Unlike many of us, however, some celebrities have near-limitless resources, which they use to fuel luxuries, fantasies, and skincare routines.
Celebrities' ample time, money, and creativity are on full display around Halloween, when they upstage us all with elaborate and fantastical costumes. Take Heidi Klum's Jessica Rabbit costume, which she wore to her annual Halloween party in 2015. It took two makeup artists, nine hours, and a rubber mask to bring this eerily accurate costume to life.
In the end, though, we admire these celebrities' commitment to the art of Halloween. Even if we don't have two makeup artists and nine hours to spare, we can be inspired by their costumes when we go to create our own. And maybe, if we're really lucky, we'll be invited to join Heidi Klum's party one day.
Amber Rose and her son Sebastian as Tiffany and Chucky
In 2017, Amber Rose recruited her son to play the starring role in her devious Halloween costume. He would be Chucky, the evil doll of Child's Play, and she, his victim. Mwahaha.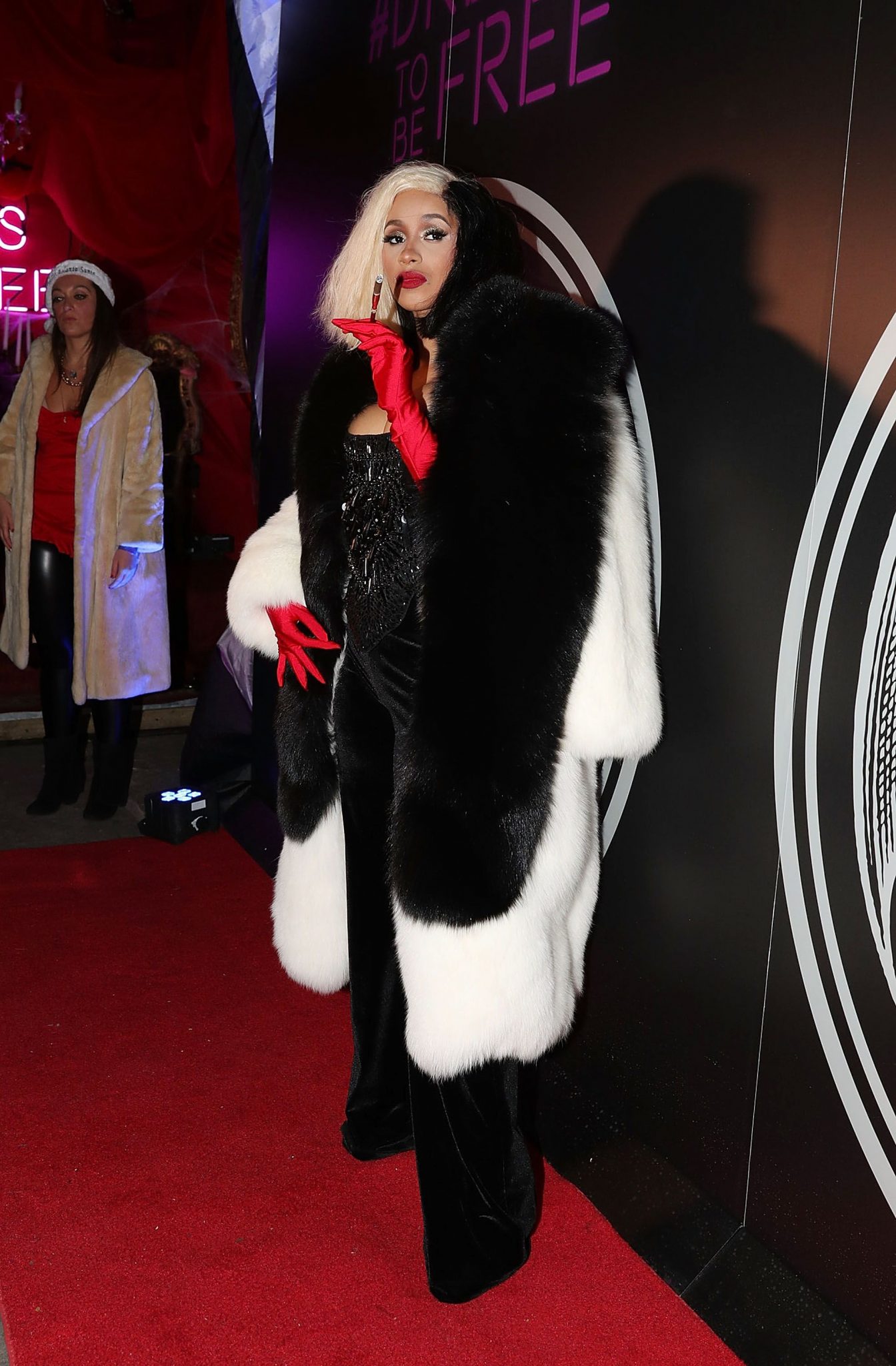 Cardi B as Cruella de Ville
She came to the red carpet with a dalmatian.
Shareif Ziyadat / Contributor
KJ Apa and Charles Melton as Spiderman and Venom
Some of the cast of Riverdale went all out with a story, complete with a love triangle, to go with their costumes. KJ Apa who plays Archie on the show dressed up as Spiderman. His co-star Charles Melton, who plays Reggie, is dressed up as one of Spiderman's arch nemesis, Venom. It all goes down, when Melton as Venom is seen hitting on Camila Mendes who plays Apa's love interest on the show.
Charles Melton / Instagram.
Zoë Kravitz as Marla in Fight Club
The first rule of fight club may be to never talk about fight club, but can we talk about how great Zoë Kravitz is as Marla?
Zoë Kravtiz / Instagram.
Kim Kardashian as Cher
Kim Kardashian brought back one of the most iconic duos of the '70s with long-time friend Jonathan Cheban as Sonny Bono.
Kim Kardashian / Twitter.
Adele as a Clown
Fans of the award-winning singer were left to wonder what exactly Adele dressed up as this year. Our best guess is a clown, what do you think?
Adele / Instagram.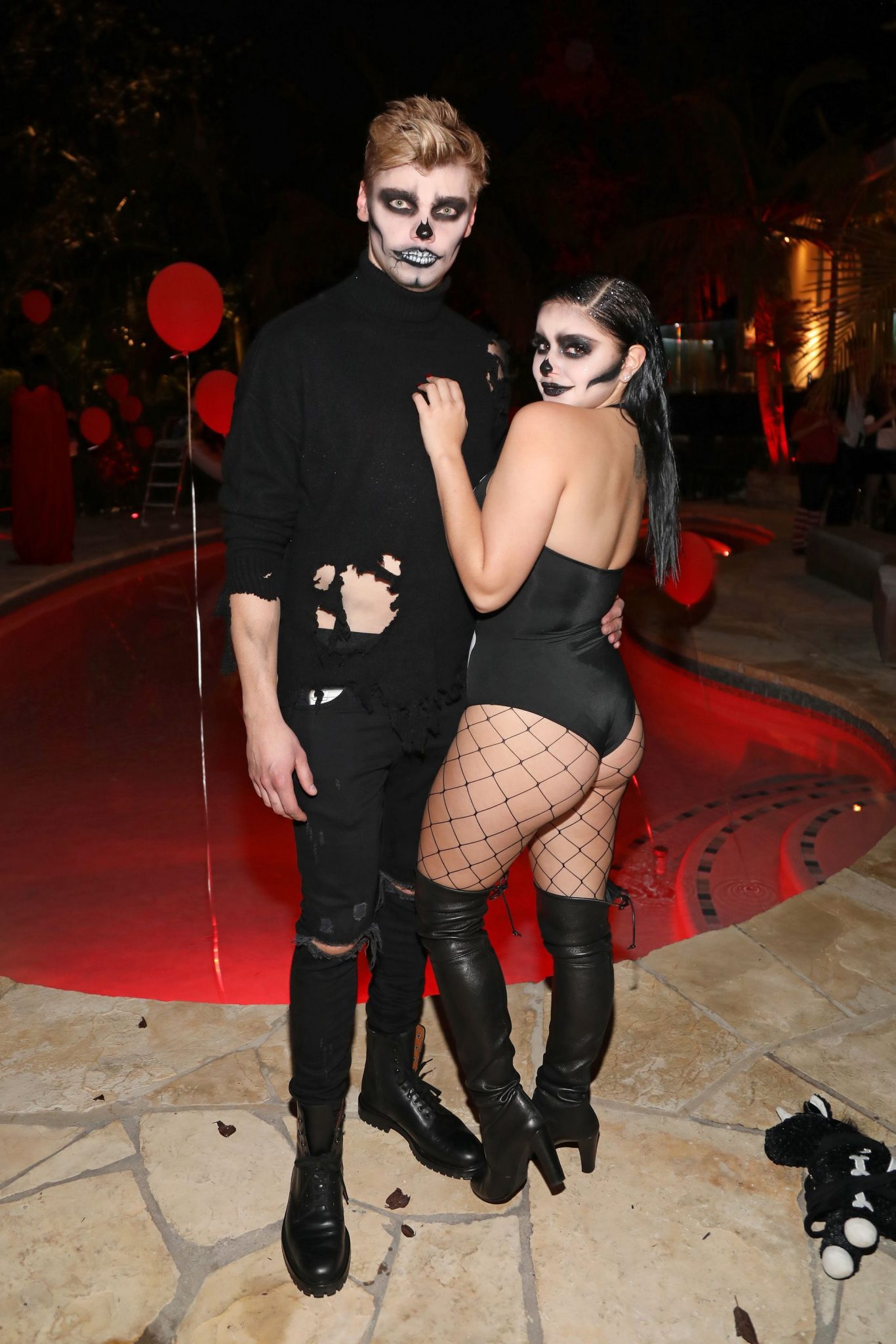 Ariel Winter as a Skeleton
The Modern Family star took on a classic Halloween costume with her boyfriend Levi Meaden.
Photo: Jerritt Clark/Getty Images.
Busy Phillips as Hedwig Robinson from Hedwig and the Angry Inch
Busy Phillips brought back glam rock with her Halloween costume this year. She channeled Hedwig Robinson from the book-turned-play
Hedwig and the Angry Inch
.
Busy Phillips / Instagram.
Sarah Hyland as Mike from Stranger Things
Sarah Hyland called on one of our favorite, binge-worthy shows for Halloween inspiration. The Modern Family actress went as Mike, pictured here with Wells Adams as Eleven. A coincidence or a couples costume?
Sarah Hyland / Instagram.
Halsey as Daisy Buchanan from The Great Gatsby
Singer Halsey embodied the jazz-era, literary icon perfectly. Who would have thought the book we all had to read in high school would make for such good costume inspiration years later?
Halsey / Instagram.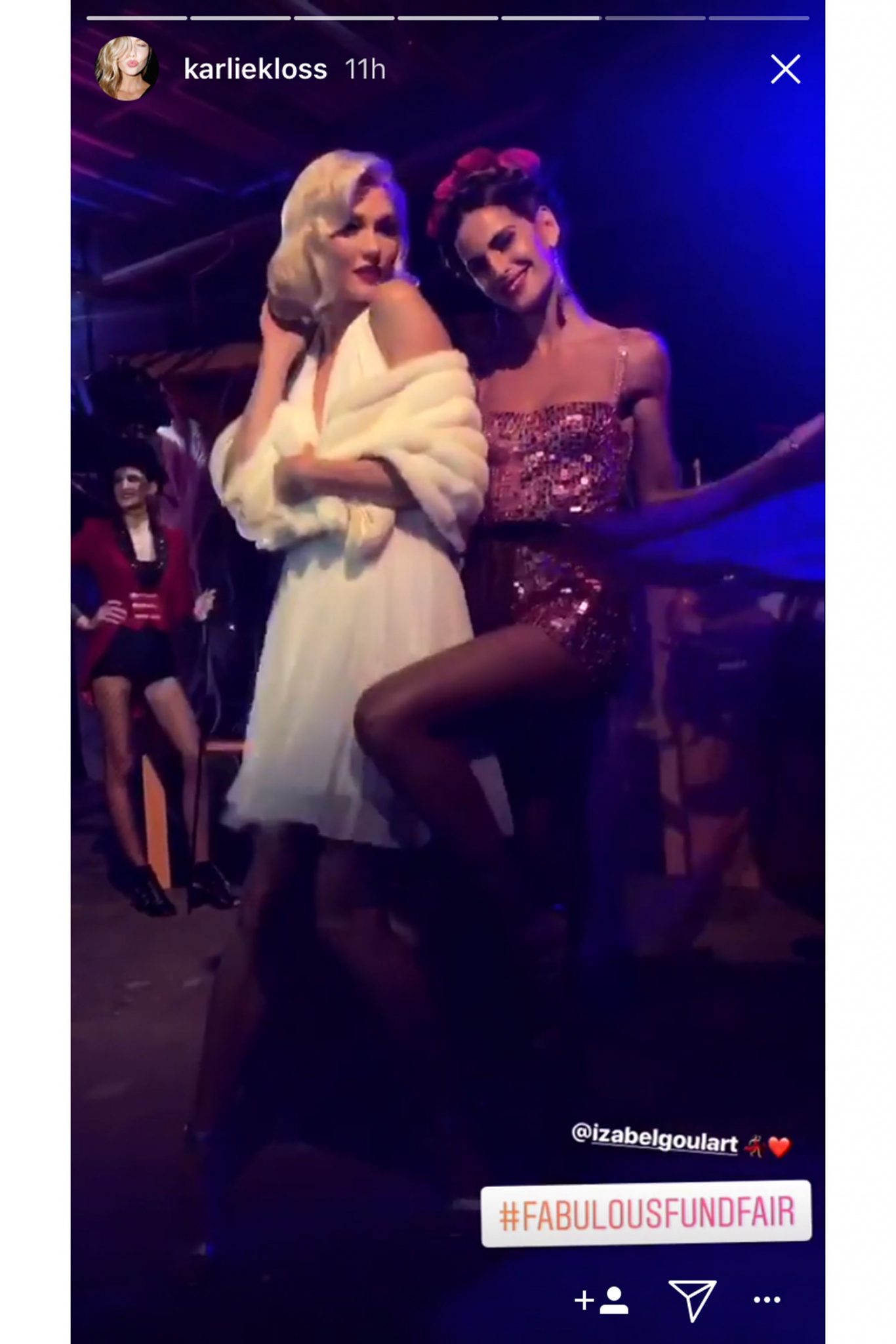 Karlie Kloss as Marilyn Monroe
Marilyn Monroe is a popular go-to for Halloween. She's instantly recognizable, and Kloss pulls off the look so well.
Photo: Via @karliekloss.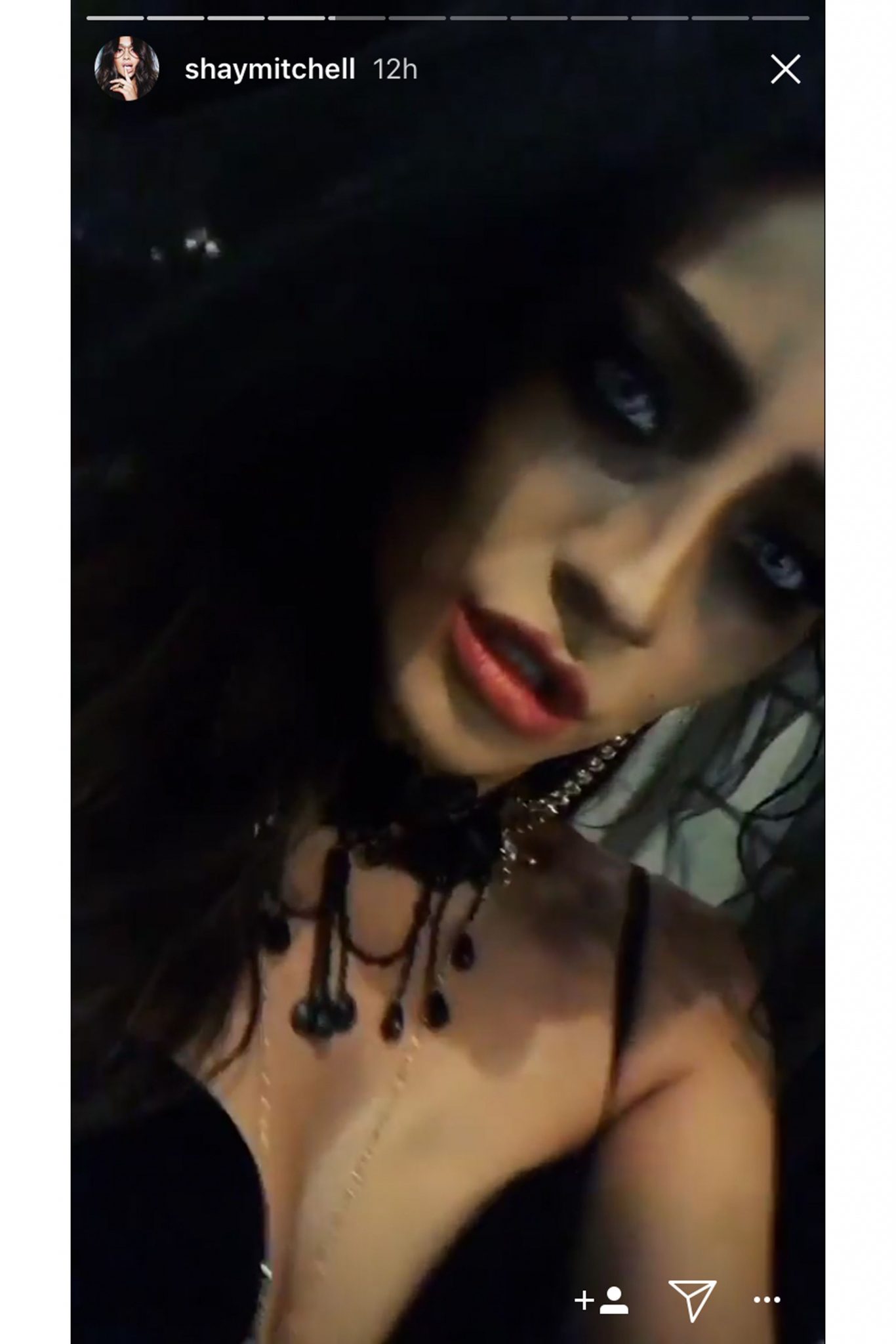 Shay Mitchell as a Corpse Bride
Shay Mitchell shared some of her getting ready moments for the night on her Instagram story saying she thinks she could be a makeup artist in another life. We couldn't agree more!
Photo: Via @shaymitchell.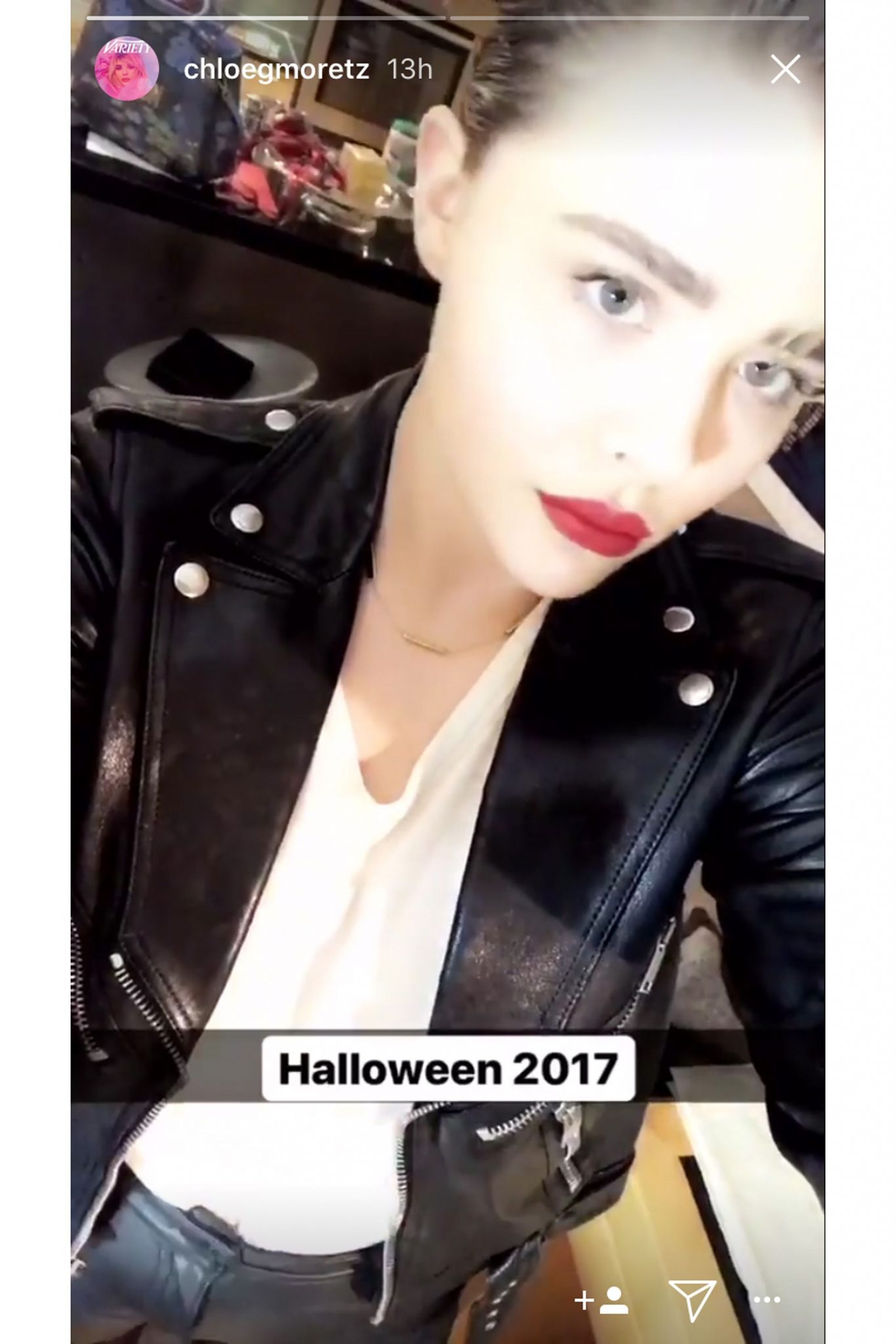 Chloë Grace Moretz as a Greaser
Moretz is giving off a major Grease vibe in this outfit.
Photo: Via @chloegmortez.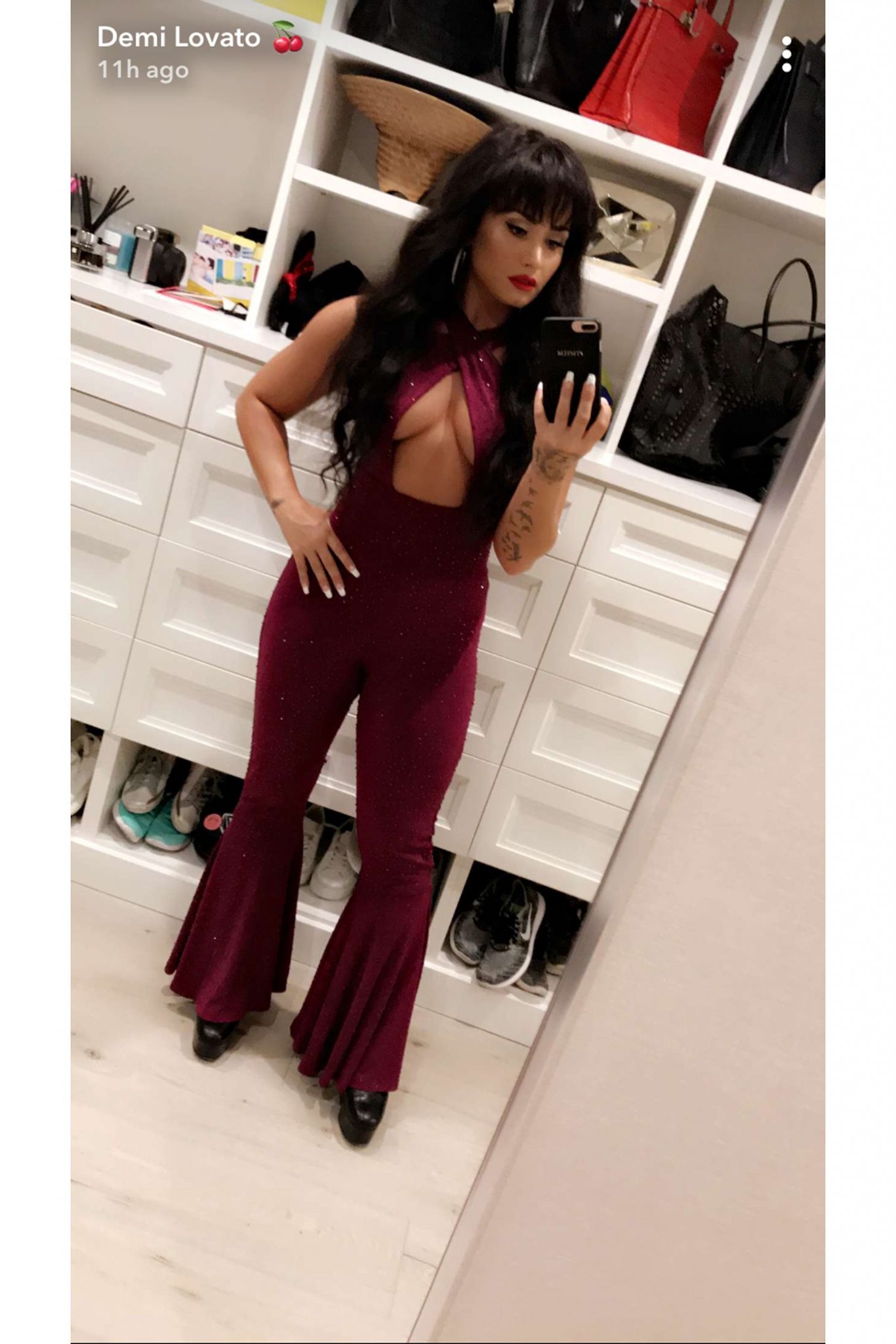 Demi Lovato as Selena Quintanilla
Demi Lovato channeled another singer as her Halloween inspiration. Selena Quintanilla was a popular singer in the early '90s.
Photo: Via theddlovato snapchat.
Christian Lee Navarro as Negan from The Walking Dead
"Take it like a champ…" 13 Reasons Why actor Christian Lee Navarro captioned his photo. The new fan of The Walking Dead claims he isn't much of a costume person on Halloween, but I guess this year he made an exception.
Christian Lee Navarro / Instagram.

Ashley Tisdale as the dancer from Sia's "Chandelier" music video
Ashley Tisdale is spot on with her costume dressing up as Maddie Ziegler who danced in Sia's music video for "Chandelier."
Photo: Via @ashleytisdale.
Christian Siriano and Brad Walsh as the Crystal King and Queen
Christian Siriano pulled out all the stops this year. He and Brad Walsh stun in head-to-toe crystal and glitter. Can this be the next Instagram or Snapchat filter?
Christian Siriano / Instagram.
Nick and Vanessa Lachey as Wolf Man and the Bearded Lady
In perfect theme with their "Carn-evil" Halloween party, Nick and Vanessa Lachey brought back some of the most popular carnival attractions for their costumes.
Vanessa Lachey / Instagram.
Colton Haynes as a sexy Marge Simpson
We don't know what to tell you here.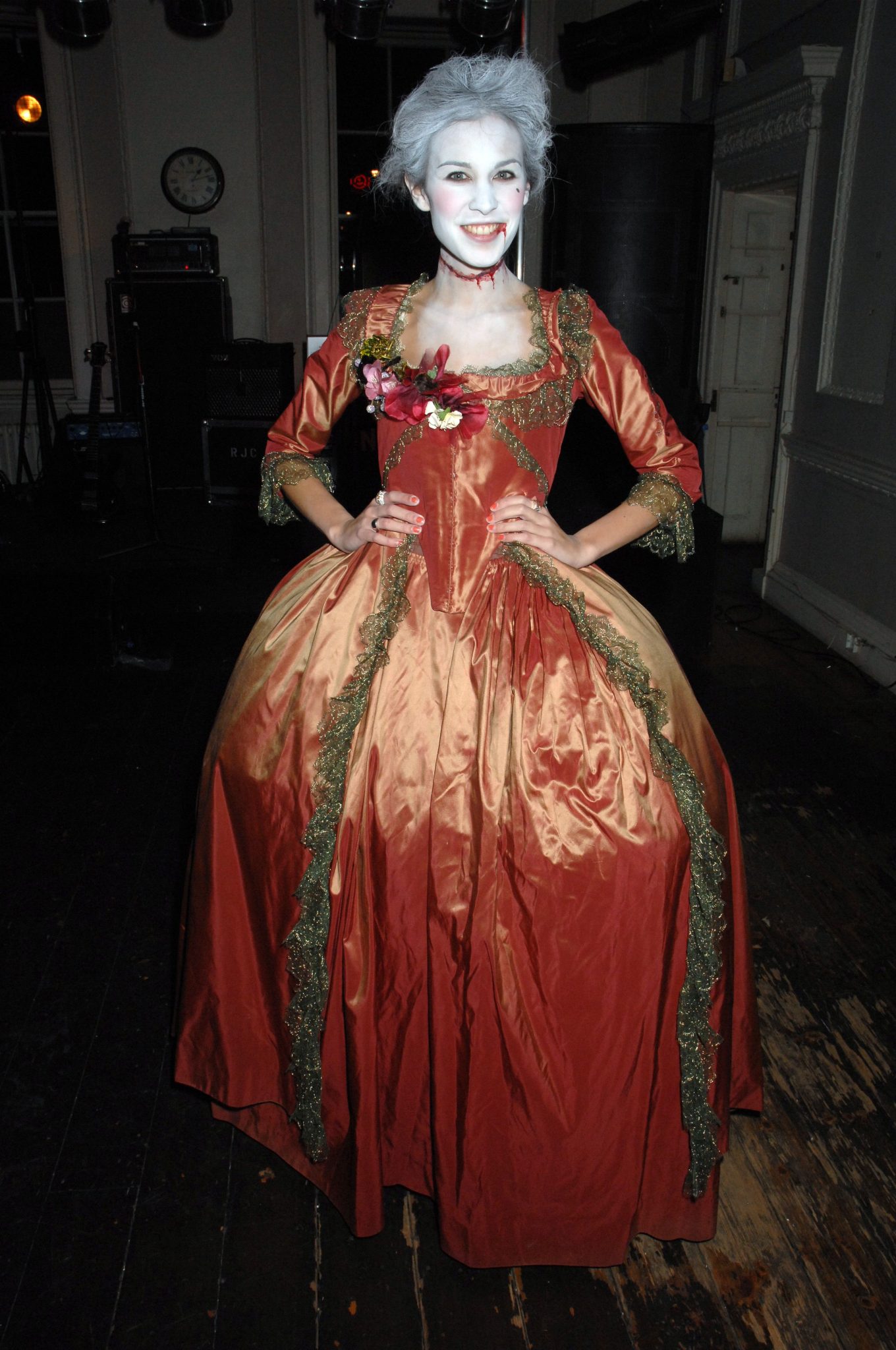 Alexa Chung as zombie Marie Antoinette
When you can't choose between a scary costume or an elaborate royal costume, combine 'em.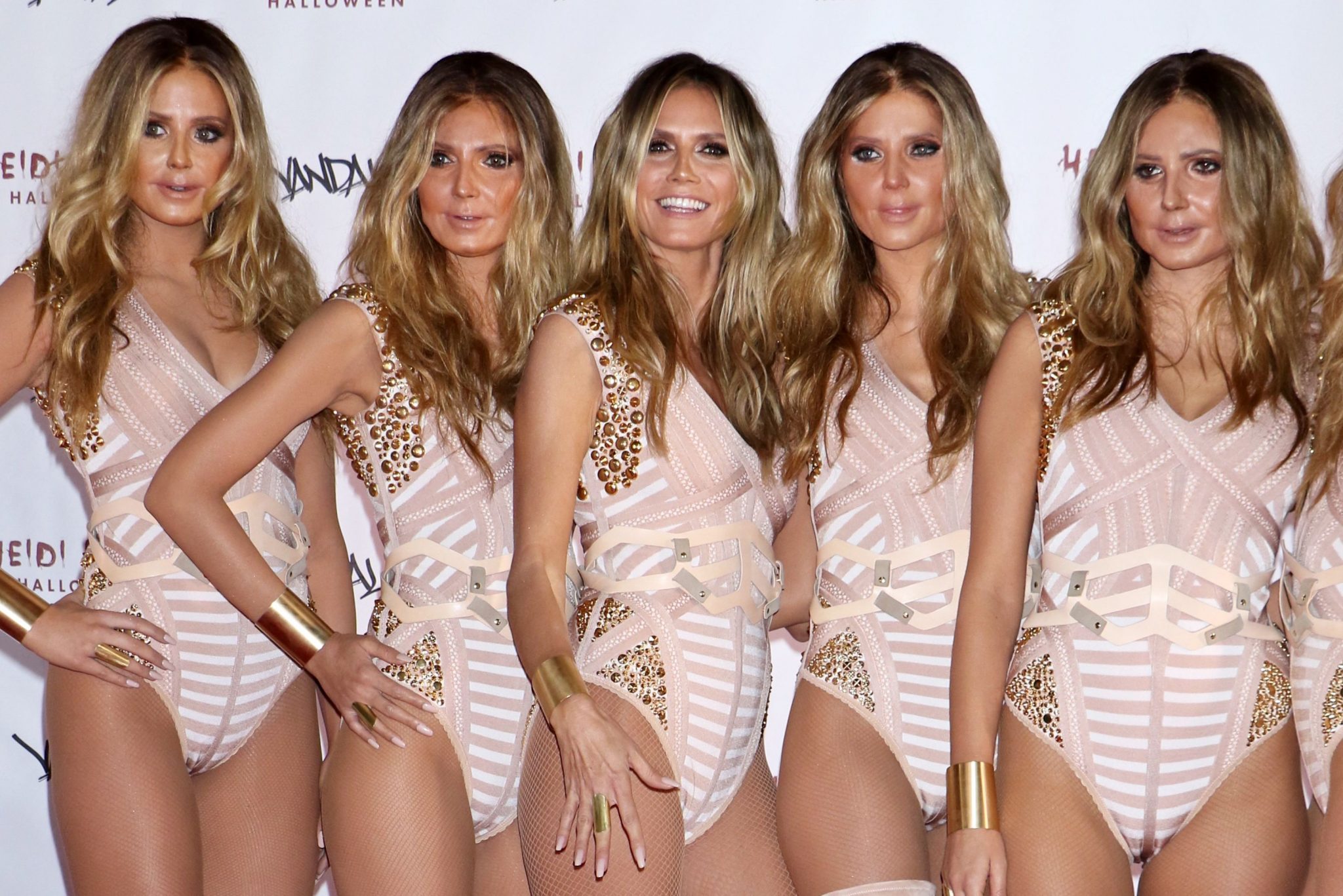 Heidi Klum as herself (six times)
For her 2016 party, Klum showed up with five other women wearing prosthetic masks to make them look even more like Klum.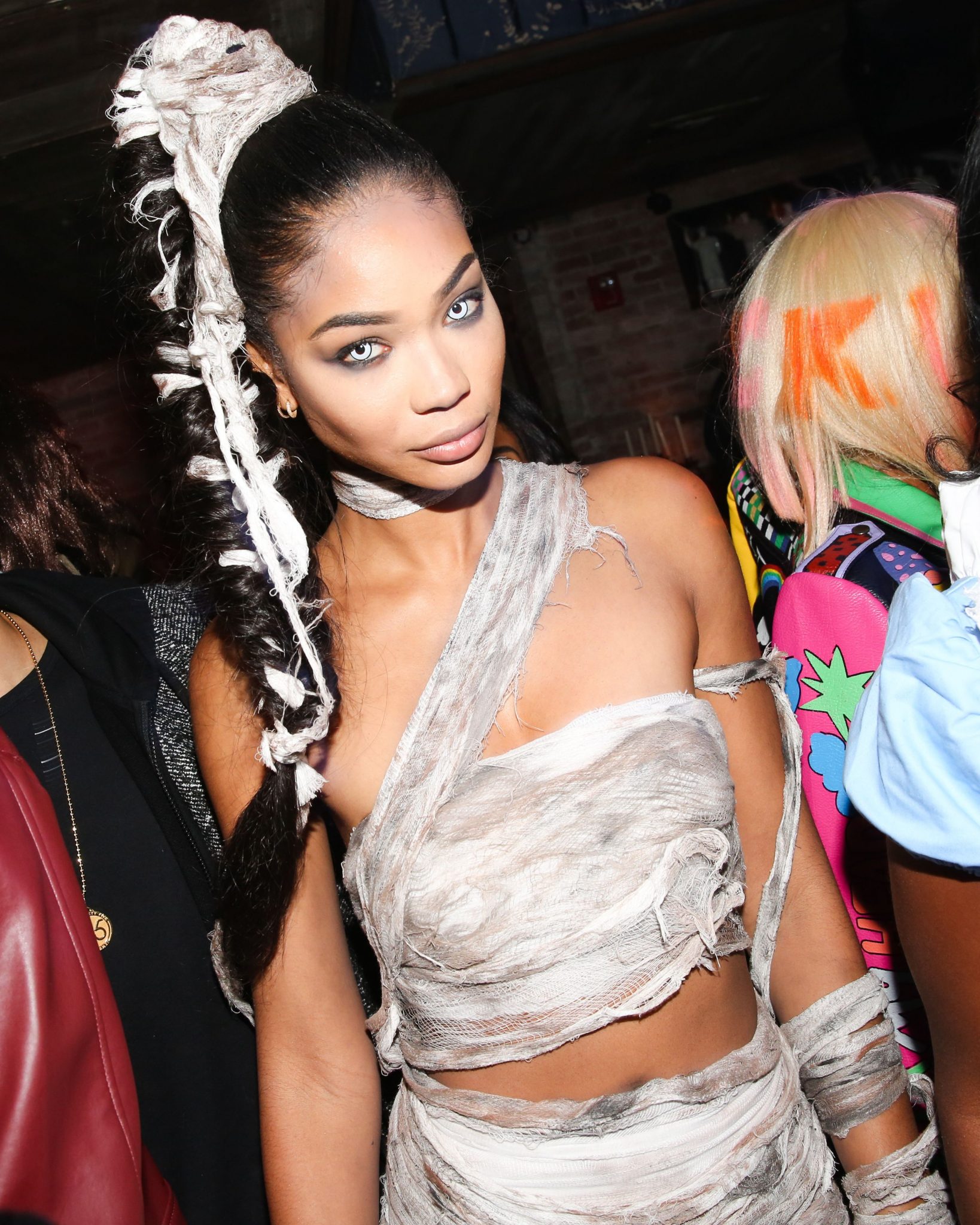 Chanel Iman as a walker from The Walking Dead
Iman manages to look both terrifying and glamorous.
David X Prutting/BFA/REX/Shutterstock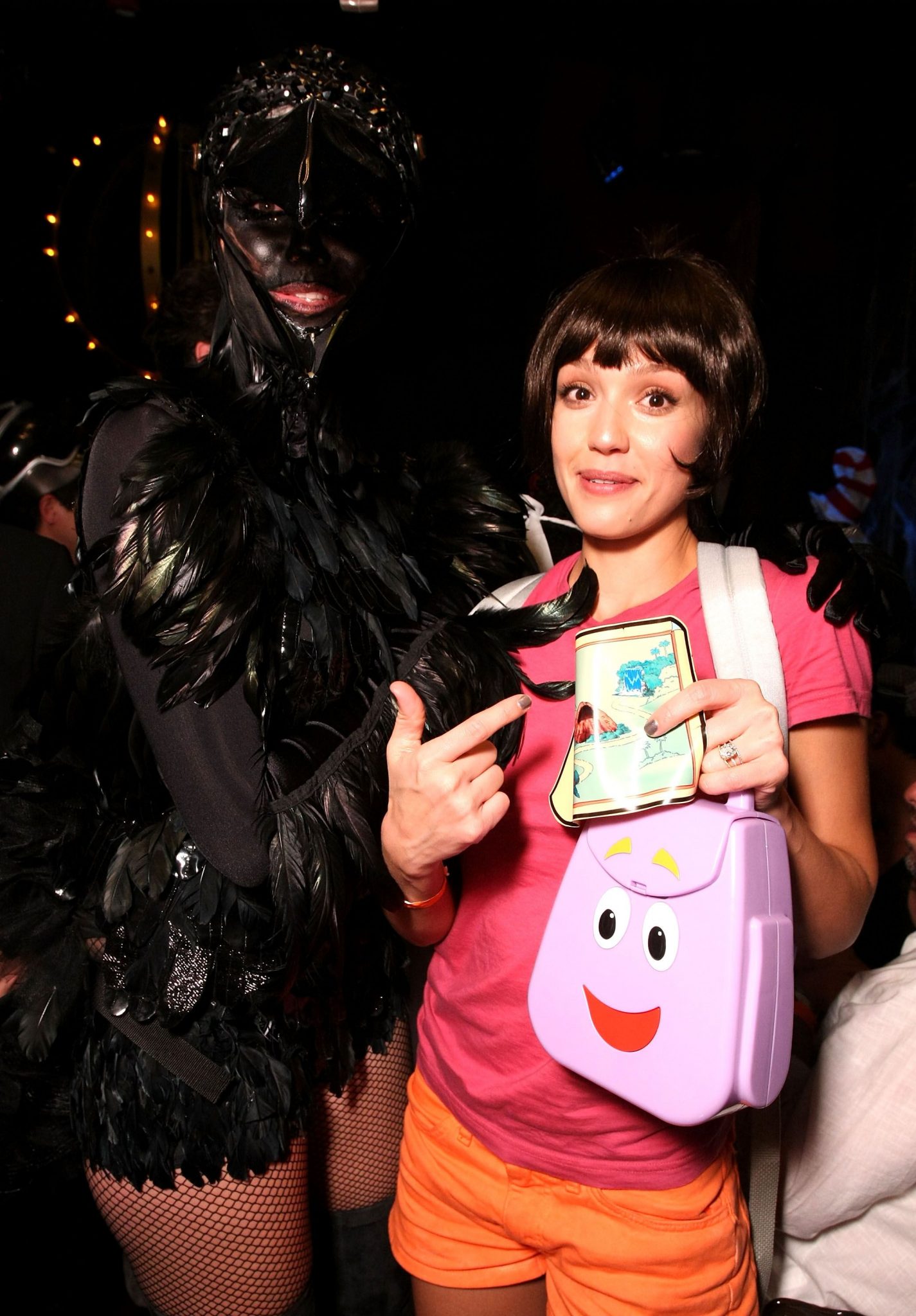 Jessica Alba as Dora the Explorer
Jessica Alba showed up as Dora the Explorer to Heidi Klum's 2009 Halloween party. That winged beast next to her is Klum.
Alexandra Wyman / Staff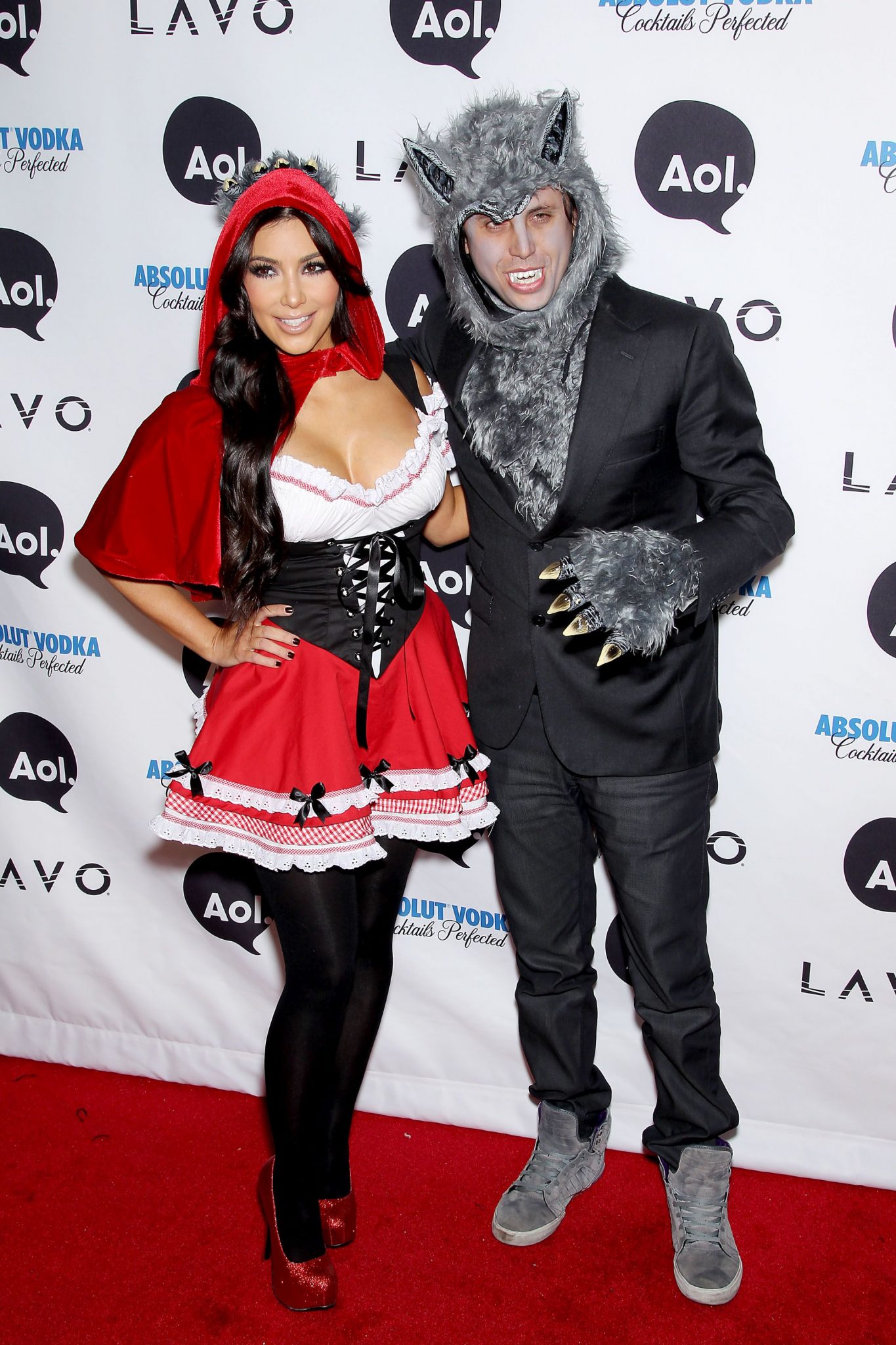 Kim Kardashian as Little Red Riding Hood
Here's a throwback for you. 2010-era Kim Kardashian dressed up as Little Red Riding Hood for Heidi Klum's Halloween party. Her friend, Jonathan Cheban, was the wolf.
Marion Curtis/StarPix/REX/Shutterstock
Katy Perry and Shannon Woodward as Jane and Daria
Back in 2012, the friends recreated the sullen teenagers from the '90s cartoon Daria.
@katyperry
Miley Cyrus as Lil' Kim
Cyrus embodied the rapper, pasties and all, in 2013.
@mileycyrus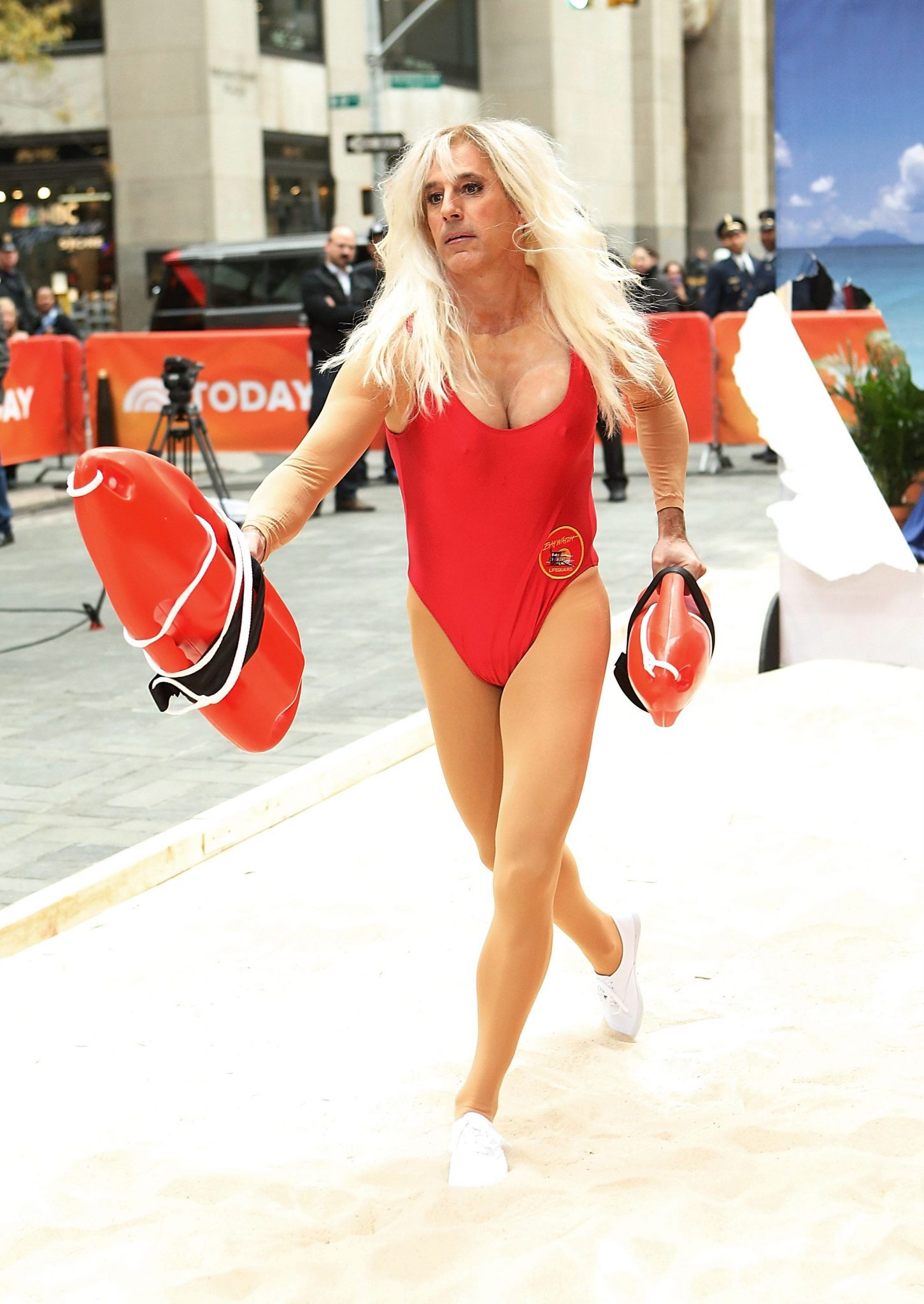 Matt Lauer as Pamela Anderson on Baywatch
For Today 's 2013 Halloween bash, Lauer ran onstage in the classic Baywatch red one-piece.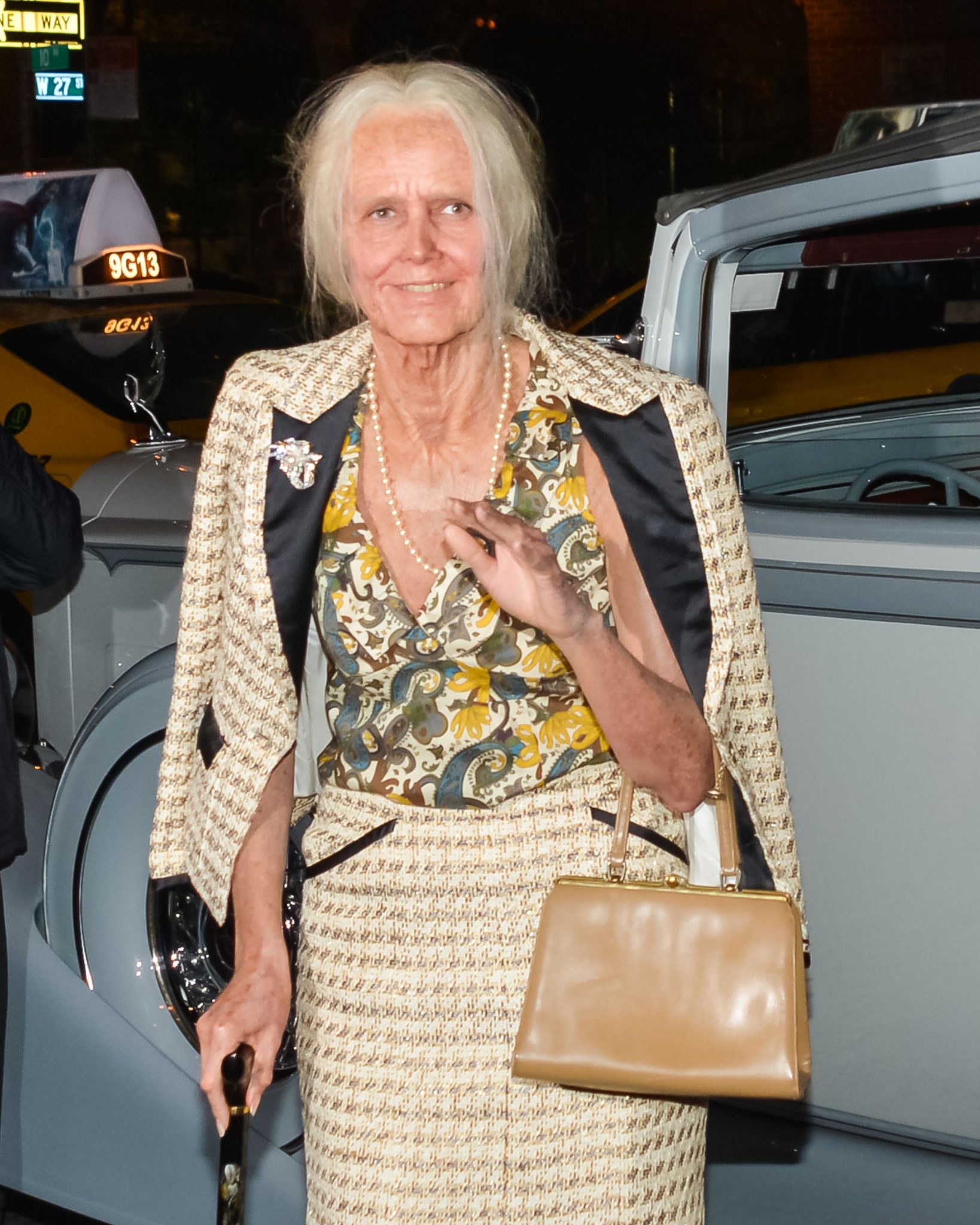 Heidi Klum as her 95-year-old self
Ever wonder what Heidi Klum would look like as a nonagenarian? She showed us in 2013.
"I think one of my favorite costumes was the year I was a 95-year-old version of myself," Klum told Fast Company of her costume. "I was turning 40 and everyone kept asking me how I was feeling about it, so I wanted to show them I wasn't afraid of aging or showing what I would look like as an older person."
Naya Rivera as Carmen San Diego
Looks like Rivera grew up playing the same globe-trotting computer games as we did. She dressed up as Carmen San Diego in 2013.
Ellen DeGeneres as Nicki Minaj
We love Ellen's 2013 costume far too much.
@theellenshow
Neil Patrick Harris and David Burtka as Frankenstein's Monster and Dracula
In 2013, Harris and Burtka proved that if you're going to do a Halloween classic, do it well. Their children tagged along on the theme and dressed as a werewolf and the Bride of Frankenstein.
@actuallyNPH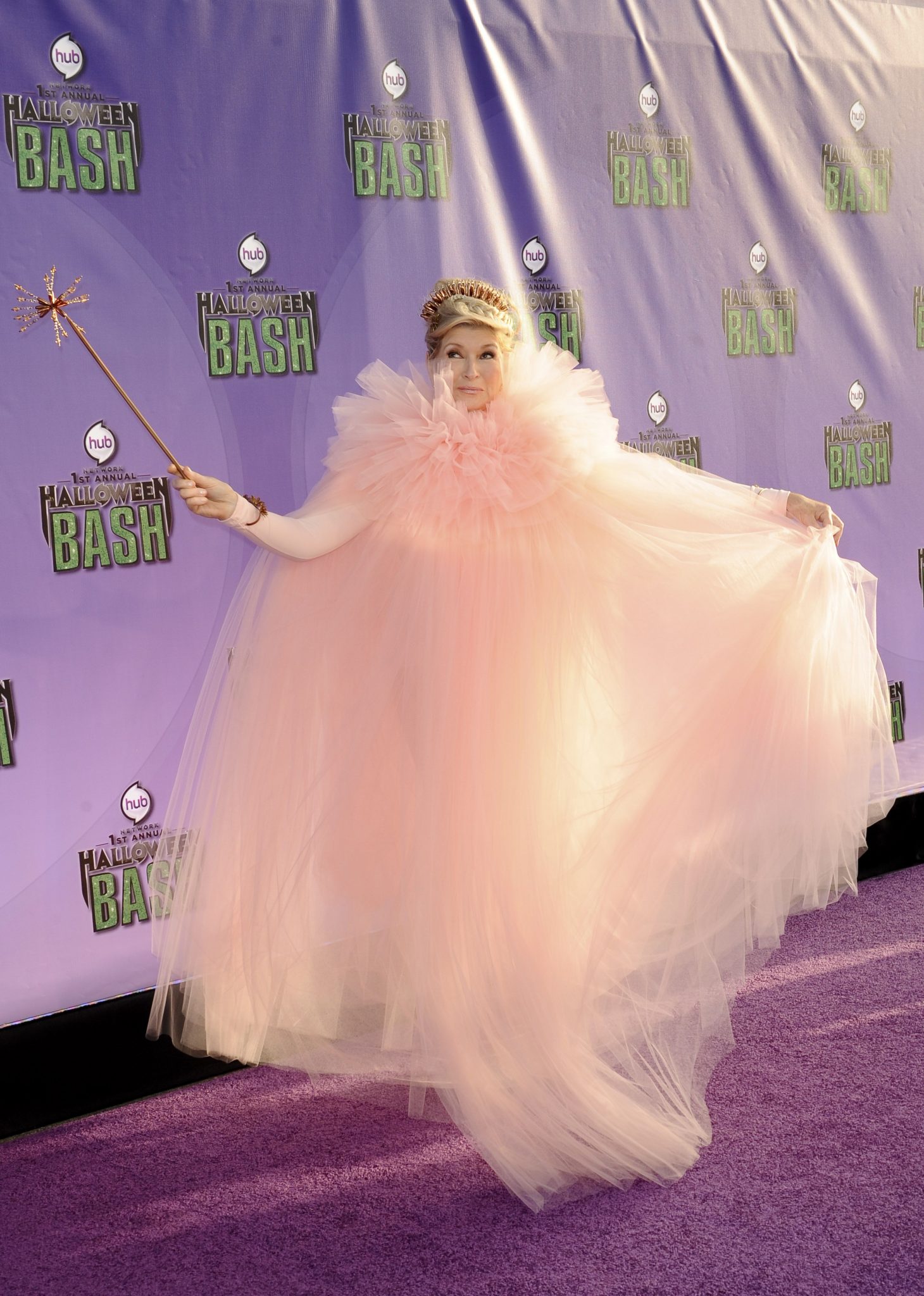 Martha Stewart as Glinda the Good Witch
In the musical Wicked, Glinda teaches Elphaba how to be "popular" in a finishing school-like course that would make Martha Stewart proud. Stewart dressed up as the witch in 2013.
Rihanna as a Teenage Mutant Ninja Turtle
After a long hiatus, Rihanna came back to Instagram in October 2014 with a Mutant Ninja Turtle costume.
@badgirlriri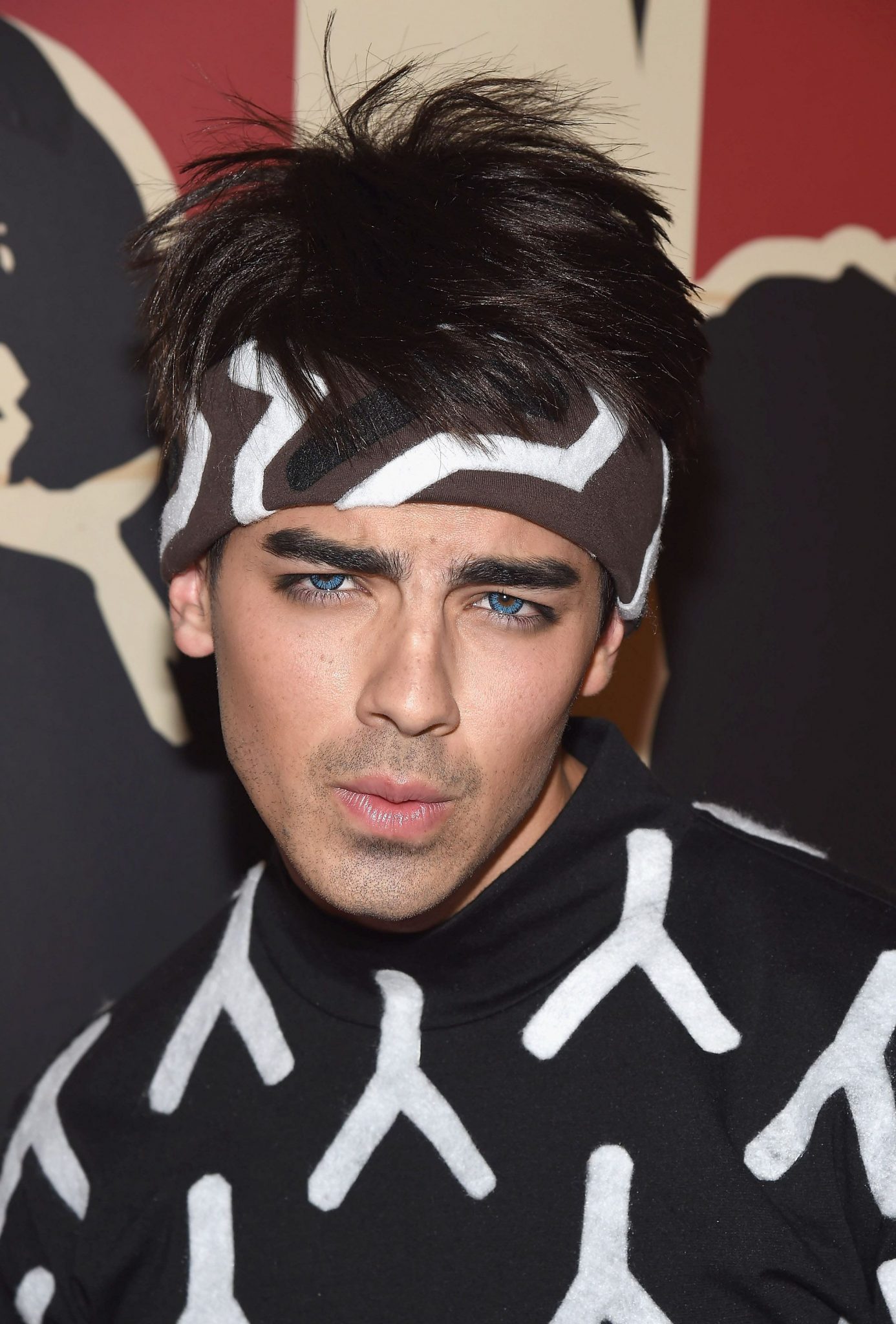 Joe Jonas as Derek Zoolander
At Heidi Klum's 2014 Halloween party, Joe Jonas arrived as Derek Zoolander. And yes — he wore colored contacts. How else is a guy supposed to show off his Blue Steel?
Gary Gershoff / Contributor
Kim Kardashian as a skeleton
In 2014, Kim Kardashian proved that she, like the rest of us, has a skeleton underneath her clothes and fame.
@kimkardashian
Chrissy Teigen as Guy Fieri
We did not recognize Chrissy Teigen when she donned a goatee and dressed as Guy Fieri in 2015.
@chrissyteigen
Katy Perry as a mic drop
Katy Perry took punny costumes to the next level when she was a literal "mic drop" for Halloween in 2015.
@katyperry
Tyra Bank as Richard Branson
Tyra Banks apparently
loves
the island-owning tycoon Richard Branson. Who knew! On one of her
photo captions
, Banks wrote, "Some look up to their heroes. I become mine." She dressed as Branson in 2015.
@tyrabanks
Demi Lovato and Wilmer Valderrama as Lucy and Ricky
In 2014, Lovato and her ex-boyfriend perfected the classic couple from '50s TV.
@ddlovato
Kendall Jenner and Cara Delevingne as Mario and Luigi
In 2014, Kendall Jenner and Cara Delevingne were your favorite Italian brothers.
@kendalljenner
Ed Sheeran as Austin Powers
Groovy, baby. Sheeran dressed up as his country's national icon, Austin Powers, in 2014.
@teddysphotos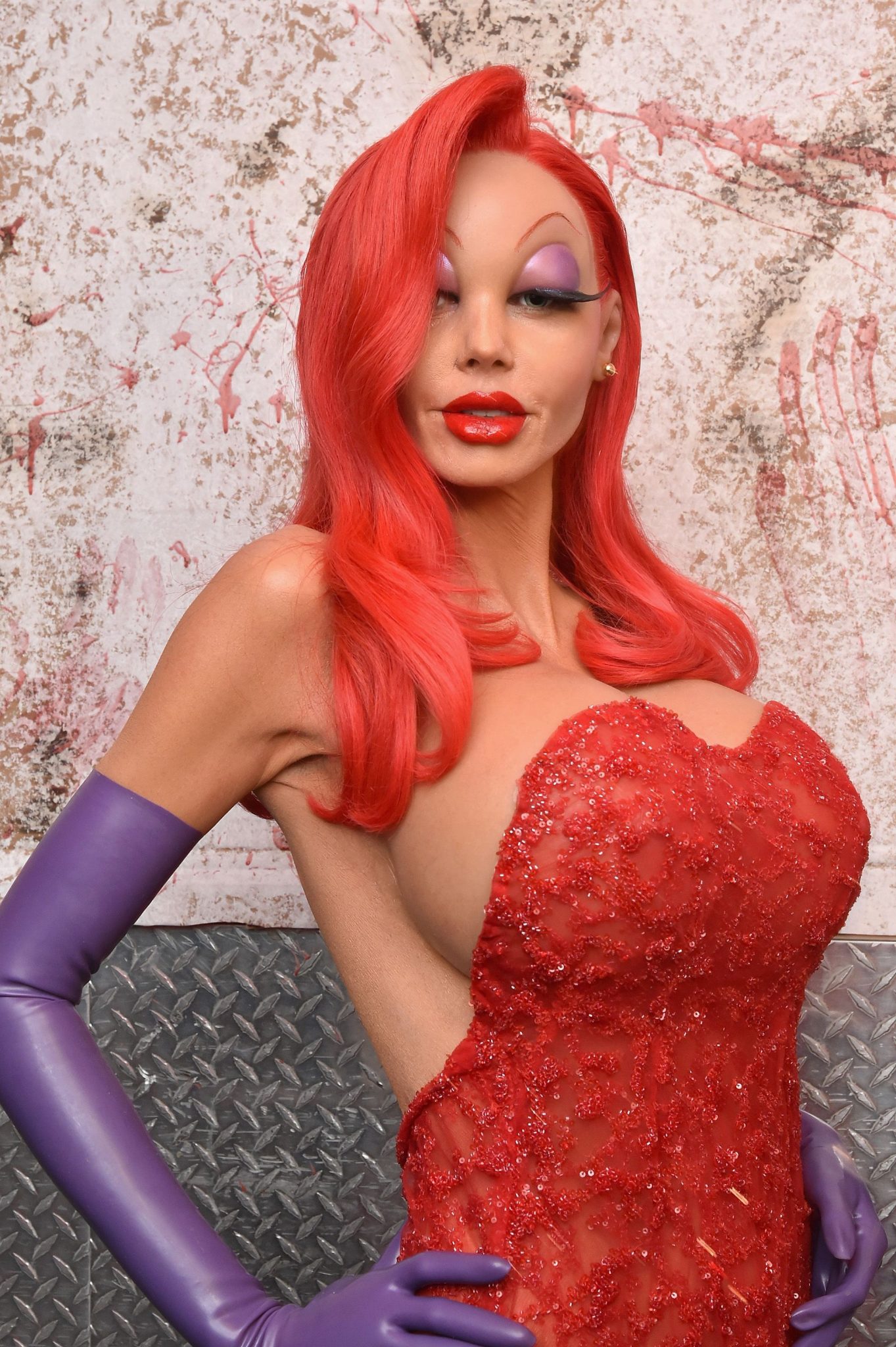 Heidi Klum as Jessica Rabbit
It took nine hours for Heidi Klum to complete her full-body transformation into Jessica Rabbit for her 2015 Halloween party. She uploaded a detailed video that showed each step of the process, including applying a rubber mask and rubber chest.
Gigi Hadid as Sandy from Grease
Gigi was (post-transformation) Sandy in 2015. Welcome to the Greasers, Gigi.
@gigihadid
Kylie Jenner as Christina Aguilera
In 2016, Kylie Jenner channelled her inner Christina Aguilera of "Dirrty" era. A reminder that Jenner was five years old when "Dirrty" was released in 2002.
@kyliejenner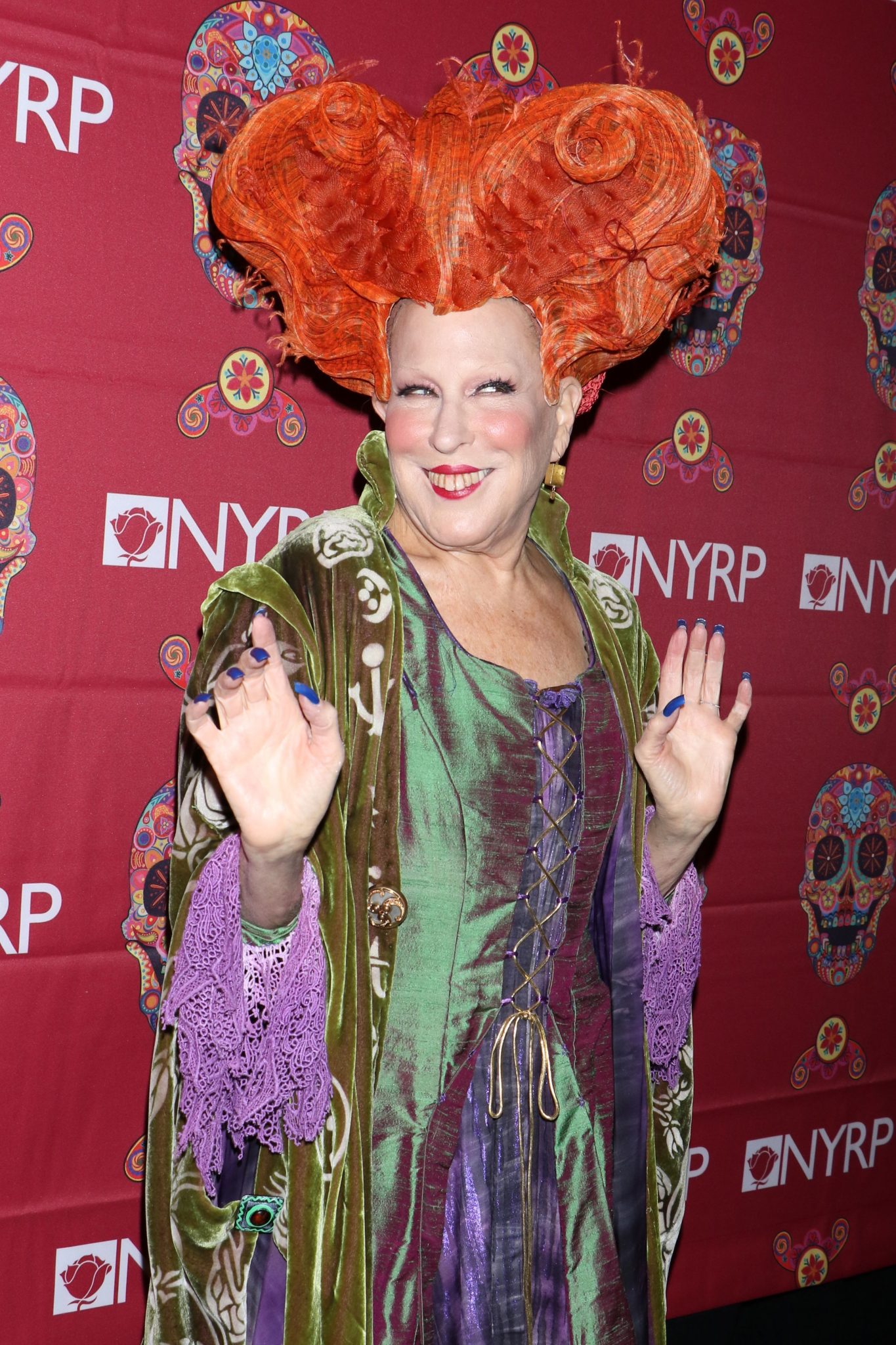 Bette Midler as Winifred Sanderson
Bette Midler automatically won Halloween when, in 2016, she dressed up as Winifred Sanderson, her character from the 1993 Disney Original Hocus Pocus. Maybe the costume sent magical vibes into the universe, because the Disney Channel recently announced it's planning to remake Hocus Pocus.
Gregory Pace/REX/Shutterstock
Ariana Grande and Mac Miller as Trinity and Neo
In 2016, Ariana Grande and her boyfriend, Mac Miller, paid fantastic tribute to The Matrix with this dramatic costume.
Beyoncé, Blue, and Tina Knowles as Salt-N-Pepa
In a video set to Salt-N-Pepa's "Push It," Beyoncé showed us some behind-the-scenes shots in the making of this incredible 2016 costume.
@beyonce
Beyoncé and Jay-Z as Barbie and Ken
Talk about ambitious costumes. The same year she dressed up as Salt-N-Pepa, Beyoncé blew our minds with a Barbie costume. She and Jay got the angles down perfectly.
Adele as the Mask
Never in a million years would we have guessed Adele was behind that horrifying expression, based on the 1994 movie The Mask.
@adele
Jim Carrey as Adele's roadie
Jim Carrey, who starred in
The Mask
, was thrilled by Adele's costume. So thrilled, in fact, that his Halloween costume was a riff on
hers
.
He tweeted, "Hi Adele. It's Jim from the other side. Weird coincidence, I dressed up as one of your roadies for Halloween. I absolutely love you."
@jimcarrey
Lena Dunham as a "grabbed pussy"
In a play on President, then candidate, Trump's comments on "grabbing [women] by the pussy," Lena Dunham dressed as a cat being hugged by hands.
@lenadunham
Amy Schumer and Ben Hanisch as Dustin and Eleven from Stranger Things
The kids of Stranger Things were the hot pop culture costumes of 2016. We love Schumer's goofy, gender-bending take on the popular costume.
@amyschumer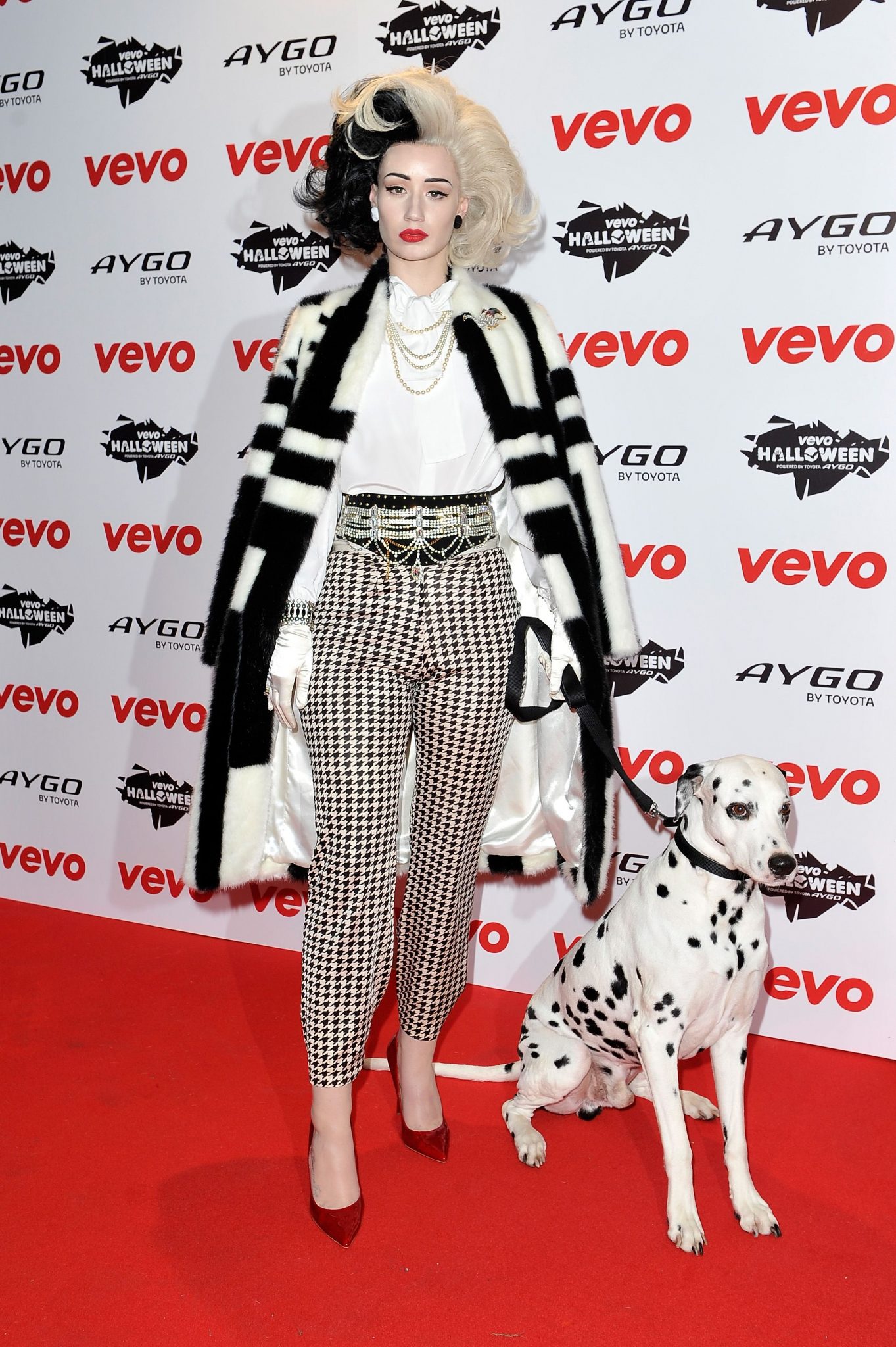 Iggy Azalea as Cruella de Ville
No dalmatians were harmed in the making of this 2016 Iggy Azalea Cruella de Ville costume. Actually, though, that outfit is very chic, and should be worn again.
Gareth Cattermole/Getty Images
Chance The Rapper as Tupac
We can't tell if this is warming or breaking our hearts.
Kim Kardashian West as Selena
People had a LOT to say about this one.
Carrie Underwood and Mike Fisher as a hunter and a deer
On brand.
Lady Gaga as Edward Scissorhands
Or, Lady Gaga just having a normal day.
Justin Timberlake, Jessica Biel, and family as Toy Story
Too. Cute.
Channing and Jenna Dewan Tatum as Sally and Jack
This one might just win.
Sarah Michelle Gellar and her husband as Pretty In Pink
Classic.
Click HERE to read more from Refinery29


Loading ...