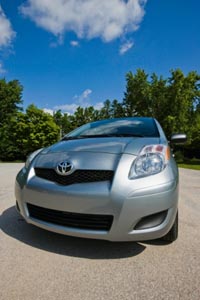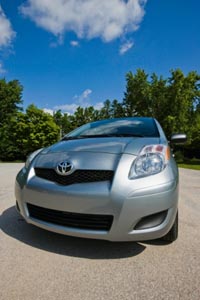 Can driving enthusiasts ever find sub-compacts enjoyable? Well, if they can, then the Yaris is pretty much not the car to do it.
Or is it?
I'd consider myself a driving enthusiast to the extreme, and although I had very little enthusiasm for this new Yaris when I went to pick it up for my test, the little car found a way to turn me around.
Now before you decide to write me an email of scathing criticism, hear me out. A car in its purest form is a mode of transport; it allows us bipedal mammals who can cover approximately 5km in an hour by foot to travel up to 120km in the same time in a car. A car allows for exploration, adventure, freedom… what better way to refresh, reinvigorate, and refuel the human soul than to travel.
It all sounds great doesn't it? But think of what's happened to driving for pleasure as fuel prices continue to rise far quicker than our paycheques have. There's also the ever growing concern for our environment, and the harms burning fossil fuel does to it. I thought about these points a lot the first couple of days I had the Yaris. Astonishingly, by day three I was really starting to enjoy driving the car.
The car hadn't changed by day three, but I had changed was the way I perceived it.
I love the world, and everything in it. I deeply care about the environment, but I also care about how it makes me feel. What good is having lush green forests if I never get to see it, snow capped peaks if I don't get to smell the crisp mountain air. By day three what I had realized was that in order for me to enjoy the long reach of travel the car allows and still have something to enjoy when I got there, was that there needed to be balance.

Reviewing the 2011 Yaris
That balance and more is what I found in the Yaris. With its 1.5L 4-cylinder engine and weighing in at about 2300 lbs, Toyota claims average fuel economy numbers of 6.2l/100km for my manual transmission test car. This combined with its low tail pipe emissions, the Yaris does very well for a car than can carry four adults in relative comfort.
It's not just the fuel economy and low emissions that make the Yaris a good car; it's actually decent to drive. I know you're thinking that this small 4-cylinder with it's 106hp rating sounds dismal, but consider the following: the 2011 Yaris at curb weight puts each one of those 106 horses to pull approximately 21 lbs. Now consider that a top-of-the-line Toyota Tundra from just five years ago (2006) with its massive 4.7L 8-cylinder engine boasting 271hp, has each horsepower hauling over 24lbs. Now guess which one of these vehicles wins a drag race… and while the Yaris will drive on down the highway using up just 5.4L every 100km, the Tundra will use up 12.2L for that same 100km.
I'm sure the fact that I had the 5-speed manual transmission car helped make the drive all that more pleasurable. And what a great transmission it is, first, second and third gear gets you up to speed quickly and uneventfully, the long fifth gear is great for cruising country roads and highways alike.
The Yaris is not a feature laden car, but what you do get is standard Traction and Stability Control across all the trim levels. This is a first for sub-compact cars, and Toyota is leading on this front.
Read our take on Toyota's STAR safety systems here.
There is of course all the power, electronic, and entertainment options available for those who want it. My test car was Spartan in those areas, but oddly enough, it helped drive home the idea of simplicity, economy and efficiency; and to be honest I can't say I missed power windows, mirrors and locks.

As is with almost any Toyota product I've used in the past decade, build quality and standards seemed top notch. Nothing shook or rattled, body panels lined up nicely, and the interior stood up to even my best efforts and pulling anything apart (within reason of course; I didn't want to explain to the manufacturer that I knifed the interior in the name of testing it).
Downsides, you ask? There were plenty. Let's start with components and design that haven't really changed since 2006. I drove an '06 Yaris a week after testing the new 2011 model, and I can swear that every button, knob, and dial looked and felt exactly the same in both. That's five years of the same stale design; perhaps Toyota's going the route of "don't fix it if it ain't broke". It's pretty much the same story on the outside. My cousin's wife drives a 2008 Yaris, and I can't tell the difference between her car and the new one I was testing.
But perhaps we can credit Toyota's stale design work with keeping things green. Think about it: every year when vehicle models change, a lot of energy and material is expended to create new moulds, new parts, change up assembly processes, amongst other things. Doing the same thing every year for over five years now, the Yaris may very well be the greenest car in Toyota's line-up. It may actually be the greenest mass production car on the planet.
Honestly, I don't expect you to buy a Yaris because it's exciting in the traditional sense of the term. But I would buy one. Because when I think about what the car is: a small, practical, efficient, feature-full, wallet-friendly, tried-and-true piece of automotive simplicity that will allow me the freedom of travel with the clean conscious of environmental respect. Now that… is exciting to me.

To follow me on twitter click HERE
Contact Kanishka Sonnadara at kanishka@oyetimes.com

Article viewed at: Oye! Times at www.oyetimes.com