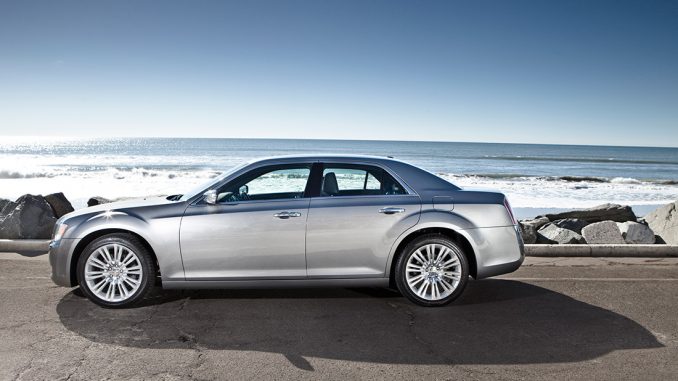 You can publish this article on your website as long as you provide a link back to this page.
This article was last updated on April 16, 2022

Chrysler bills its freshened for 2013 300 as the car with 'full-size comfort with mid-size fuel economy'. After having driven the car over 1,500km in a week, the comfort and fuel economy statements ring true with me… for the most part.
The 300 from Chrysler is one of many model names that American auto makers have breathed new life in to within the past decade. Making its first noteworthy appearance as a completely redesigned 2005 model with an all-new design direction lead by Ralph Gilles –currently the Sr. VP of Design for Chrysler–, the 300 was an instant hit in public opinion polls. As the years passed the 300's new found lustre had worn off, and despite still being a looker in the full-size segment, the car was looking mighty dated. What we see as the 2013 300 is the result of the design update that took place for the 2011 model year; suddenly this everyman Rolls Royce look-a-like looks better than ever.
How does it drive?
Perhaps the most important question for any car enthusiast and one of the least interesting topics to most everyone else. Feel free to skip this section if you identify with the latter.
The 2013 Chrysler 300 handles like a plush couch on velvet rails. The ride is smooth, with comfortable seating. The car corners gracefully, but moving over 4,500 lbs of Chrysler sedan carrying 380 lbs of journalists meant that the 235 width tires on my test car were often being taxed heavily in the bends as they fought the laws of physics with endless squeals to keep the 300 in line during hard cornering.

Equipped with AWD, an option that's often popular in Canada, my test vehicle wasn't as much fun as it could have been had it come in its standard RWD configuration. That said, the AWD system is full time; in combination with standard traction and ABS systems, work to keep drivers going in the direction they point the car in when weather conditions deteriorate.
Discussing a Detroit born sedan without talking about its motor is near sacrilege. Happily, the 3.6L V6 that comes standard with nearly every 300 is not only smooth and relatively efficient, but also churns out 292 hp and 260 lb-ft of torque. Opt for the 300S and those figures jump by 8 hp and 4 lb-ft of torque.
My 300C Luxury Series AWD tester had the optional 5.7L HEMI V8 with more than enough power for less than regal launches from red lights, and ample muscle for impromptu passing manoeuvres on the highway with just a dab of throttle. With 363 hp and 394 lb-ft of torque, there's very little this car will leave one wanting for except perhaps better fuel economy.
Transferring the power from my 300's motor to the drive wheels is an ancient –by modern auto standards– 5-speed automatic transmission. I didn't care for it a whole lot, and found myself wishing that Chrysler had spent some time refining the gearbox to match the cars sublime interior. Buyers sticking with the stock 3.6L V6 motor however, will be treated to a well sorted 8 speed automatic gear box made by famed German transmission manufacturers ZF. The ZF 8HP transmission can be found in everything from Dodge's 300 counterpart the Charger, to nearly every BMW and many an Audi's, to even Bentley and Rolls Royce vehicles.
Does that mean this Chrysler drives like a Bentley? No, it most definitely does not. But the smooth shifting ZF gear box promises that the 300 will accelerate effortlessly while allowing for respectable fuel economy.
What's it like to ride in?
My highlight memory of time spent in the cabin of the 300 can be summed up in five words: heated and cooled cup holders.
This was by far the most surprising bit of in-car tech that had me grinning more than I had at anything else all year. It seems simple, but being able to place a hot cup of Tim Horton's peppermint tea in one cup holder and a bottle of ice cool water in the other cup holder then finding both beverages kept very near to its original temperature even after hours of driving… I'm almost speechless.
Suddenly luxury in-car conveniences like heated and cooled seats, a heated steering wheel, touch screen displays, and voice control interfaces seem like old news; all I really want in my luxury cars from now on are heated and cooled cup holders.
The 2013 Chrysler 300 does indeed have all of the prior mentioned features as well, along with a slew of infotainment options that are standard across the full-size luxury vehicle segment. I found the integrated live traffic and turn by turn navigation made driving new locales a breeze, while a text-to-speech program that reads out new text messages received by my Bluetooth connected phone helped keep my eyes on the road.

A recent partnership between Chrysler and Beats by Dr. Dre has resulted in similarly branded audio setups being made available across the auto maker's model lineup. For the 2013 Chrysler 300 this means an available Beats Audio 10 speaker audio system which includes a trunk mounted 8-inch subwoofer, all powered by a 552-watt amplifier utilizing a proprietary equalizer algorithm said to mimic the sound profile of a professional recording studio. Overall I found the system underwhelming, and even found the obligatory bass delivery to be less than impressive. There are easily half dozen other non-luxury vehicles I can think of that have better OEM sound setups than that of the Chrysler 300 with Beats Audio.
Keeping with dislikes in the 300, the front passenger footwell was a point of major disappointment. What should be a spacious full-size sedan passenger seating area is ruined by a sizeable engine bay protrusion in to the footwell that takes quite a bit of foot space away from the front passenger. Just a few minutes in that seat and I found myself quite uncomfortable unable to completely stretch out my left leg.
Shifting to a high note, the beautiful and stately interior in the 300C Luxury Series was even named as one of Ward's 10 Best Interiors for 2013. It comes as no surprise when you take in to the account the quality of the leathers used to wrap nearly every surface of the cabin in and the contrast of the textures created by mixing materials and finishes.
Why buy one?
The price of entry for this well styled, well appointed luxury sedan is a touch over $31k; the kind of money that makes the 2013 Chrysler 300 one of the most affordable luxury full-size sedans on the market today.

My 300C Luxury Series AWD tester rings in at $49,730 not including taxes. For that money buyers can expect what Chrysler calls the SafetyTec package which includes rain sensing windshield wipers, a forward collision warning system, adaptive speed control, front and rear parking sensors, a blind spot and cross path detection system along with upgraded exterior mirrors. That sticker price also buys auto levelling bi-xenon HID headlamps, rear fog lights, the Uconnect 8.4-inch touch screen nav/infotainment system, the crowd pleasing HEMI motor, and the unimpressive Beats audio setup.
Even completely kitted out the way my tester was, this is not an expensive car for all the features that is comes with. Worth mentioning here is that even in its base iteration, the 2013 Chrysler 300 has a number of creature comforts including all the engineering that goes in to making a luxury car ride and feel luxurious.
Not only does the Chrysler 300 deliver on full-size comfort with mid-size fuel economy, but it does so for mid-size money. Now only if we can be convinced of Chrysler long term reliability, then the 300 is one mighty strong competitor in the full-size luxury segment.
Photographs courtesy of Chrysler Group LLC
Kanishka Sonnadara can be reached by email: kanishka[at]oyetimes.com or on Twitter @autoKsS