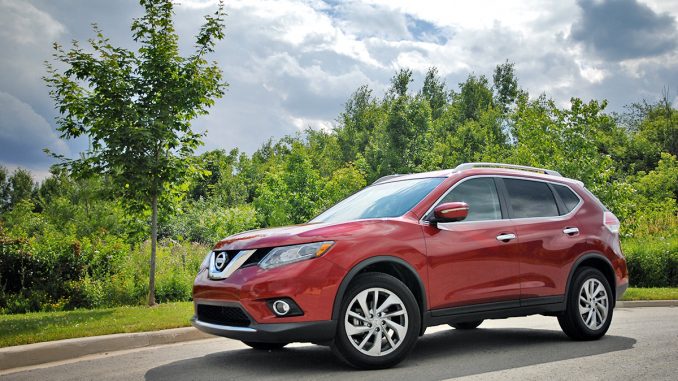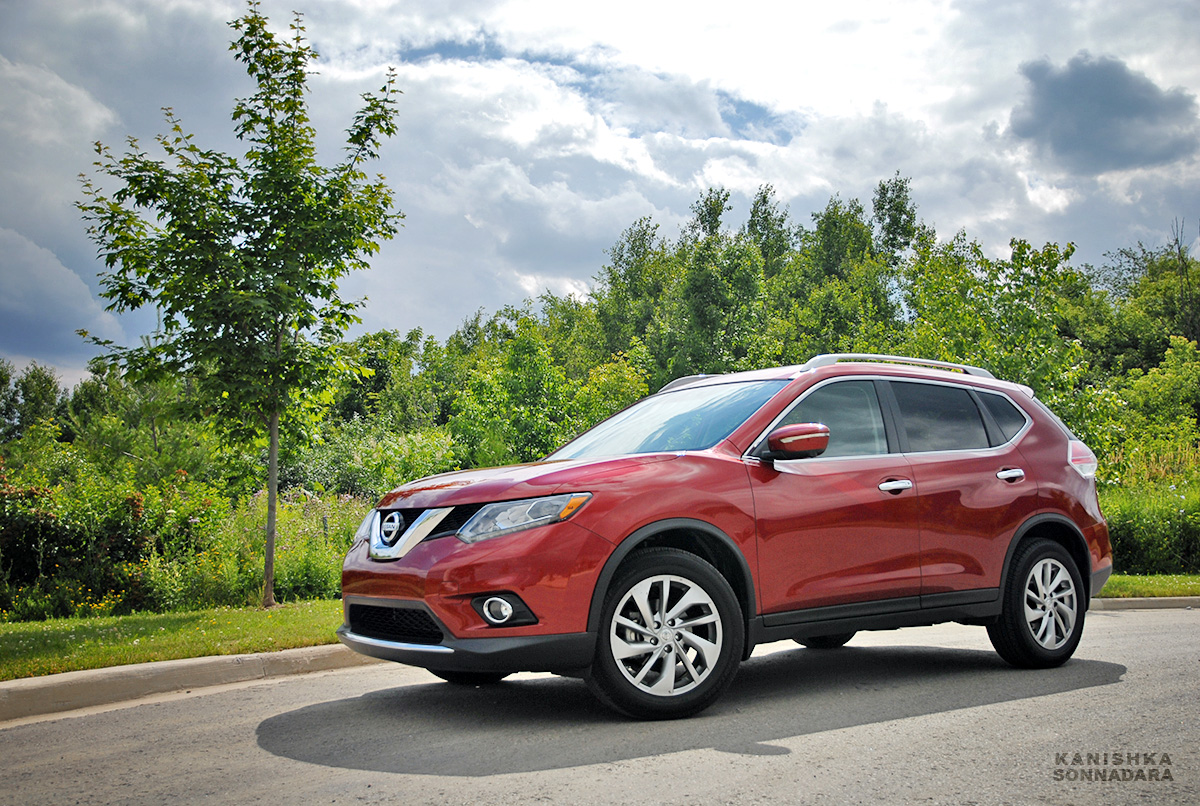 Small crossovers sometimes grow up and Nissan's Rogue just graduated college.
In its second generation, the 2014 Nissan Rogue gets better looking, grows a bit bigger and becomes a whole lot smarter. Nissan also surprises us with optional third-row seating, a seldom found treat in this segment. Despite being a crossover, this new graduate drives phenomenally well, and that's where we start this story.
Drive
I picked up my review unit 2014 Nissan Rogue on a warm summer afternoon, I wasn't expecting much in terms of driving dynamics. After all, crossovers are about as much fun as toasters.
Boy, was in for a surprise.
The Rogue corners beautifully despite being perched so high off the ground and feels well composed through even some of the sharpest bends. This is of course by design, as Nissan engineers have fitted the new Rogue with a few dynamics improving technologies that make the driving experience wildly better than expected.
Active Trace Control, a system that uses the Rogue's existing Vehicle Dynamics Control to brake the inside wheels when cornering allows the crossover to hold a tighter line. The system also smooths engine torque delivery for linear acceleration out of a corner. Active Engine Braking works to reduce driver braking effort while Active Ride Control better controls the pitching of the vehicle when going over bumps. Both of the latter systems weren't particularly noticeable and I seriously doubt it'll be a selling feature for the compact crossover shopper.
Similarly unimpressive is the 2014 Rogue's 2.5L 4-cylinder motor capable of 170 hp and 175 lb-ft of torque. There's no urgency when getting on the power, and there isn't much in the way of power to be had at speed. With the seemingly unnecessary "Sport" button pressed, the Rogue revs up to a sweeter spot on the power band under heavy acceleration but lacks any real punch.
However, judging the new Nissan Rogue on its engine power alone would be a gross oversight of some of the best bits of this crossover.
A newly revised CVT is standard on all trim levels of the Rogue and claims 10% more efficiency than the previous generation transmission. Nissan also manages to reduce drag on the crossover by nearly 10% through the restyled body and new underbody panels.
All of this feeds the 2014 Rogue's best feature: fuel economy. Boasting figures that best that of the Honda CRV, Toyota RAV4 and virtually every other –non-hybrid– crossover in the compact segment the Rogue is a marvel with seating for seven. Published combined fuel economy figures of 7.1 L/100km for the FWD Rogue and 7.3 L/100km for the AWD are impressive. I managed real world figures around 10 L/100km with bouts of spirited driving which is better than was expected.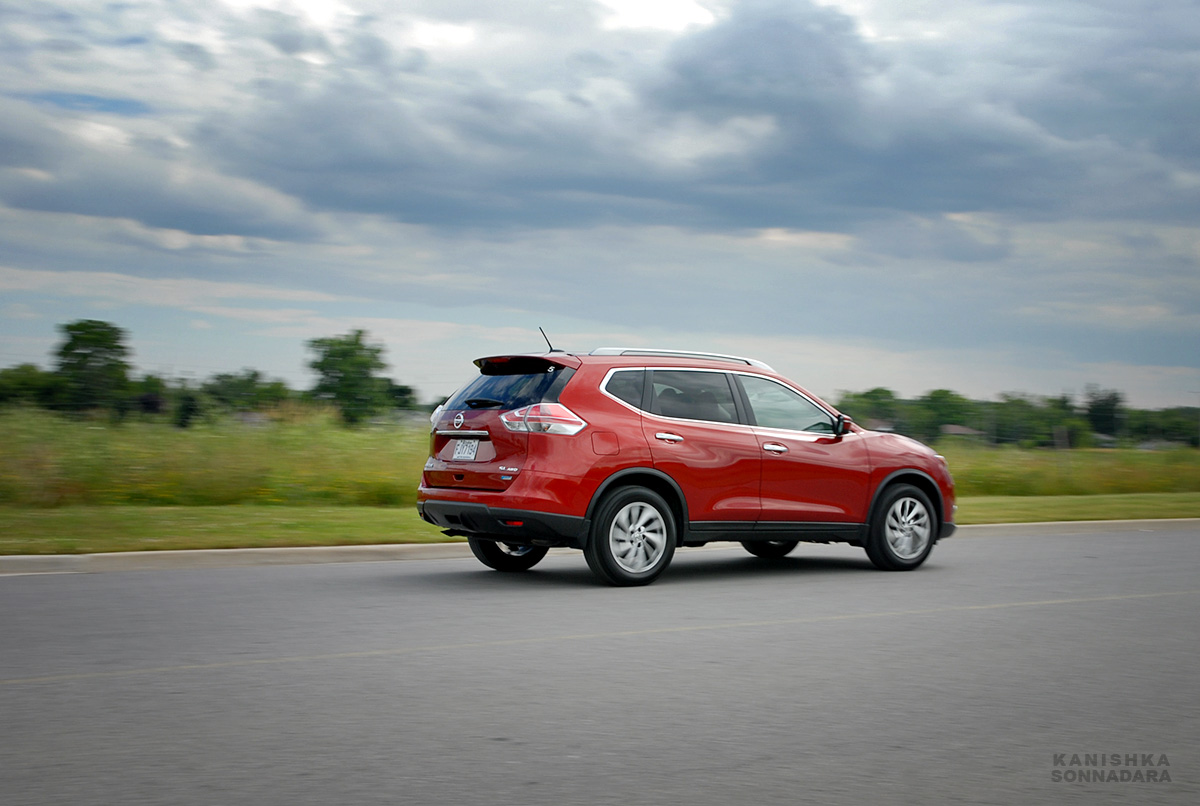 Looks
Looking more or less the same in its first five years, I never did take issue with the looks of the first generation Rogue. But beauty is always subjective, and the new Rogue is such a radically better looking vehicle that looking at a 2008-13 model suddenly becomes quite unpleasant. My apologies to anyone who's considering a pre-owned Rogue; the new one is just vastly more handsome.
The new design of the 2014 Rogue makes it look significantly more upscale and prestigious than its price point would lead you to believe. As it stands today, it also happens to be better looking than much of its competition in the compact crossover segment. Nissan calls the Rogue's new design language "biokinetic synchronicity". Bio referring to life, kinetic for movement and synchronicity meaning harmony. And what harmony it is as Nissan brings the Rogue in line with the look of the freshly redesigned Pathfinder.
Size
At first glance the new Rogue looks lots larger than its predecessor, but in fact is 25mm shorter. It is however 30mm taller and 40mm wider. By reducing front and rear overhangs, the wheelbase gets pushed out further which significantly increases interior space especially noticeable when using the rear seats. This smart dimensional planning shines particularly brightly when considering the addition of third row seats to this compact crossover.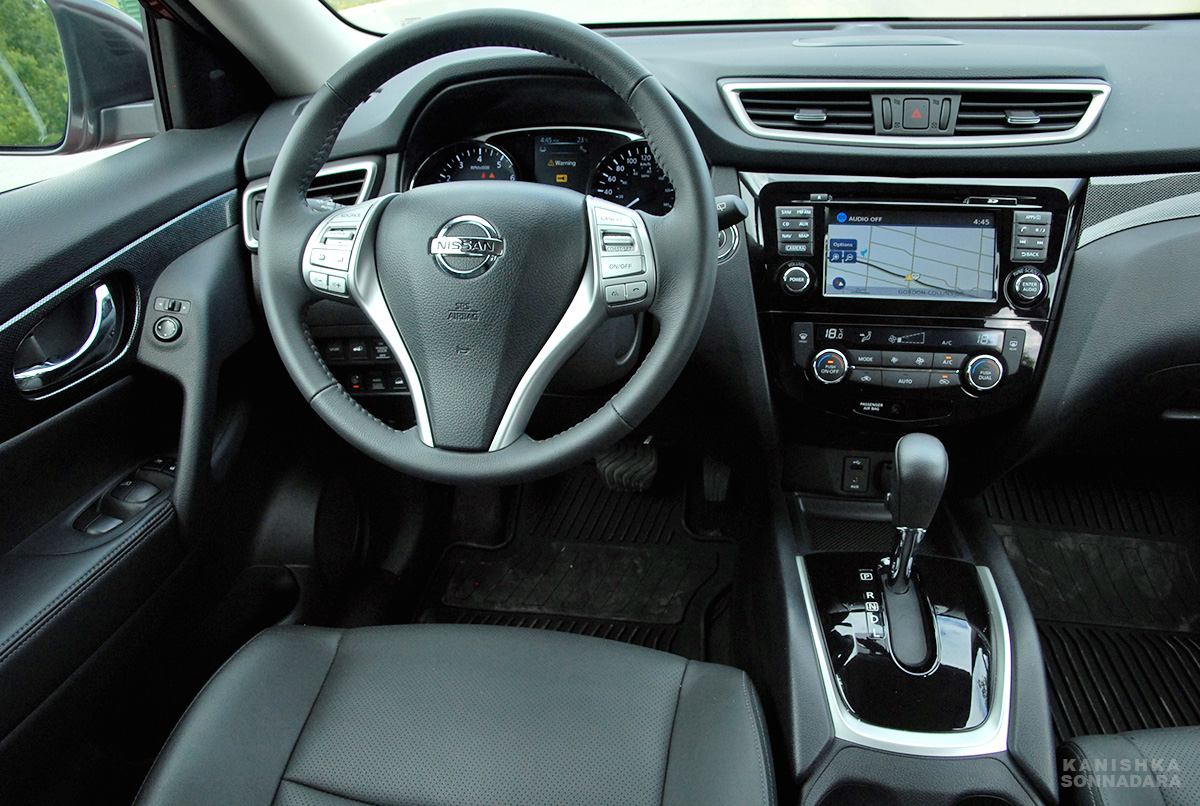 Smarter
This newest Rogue now features Nissan's in-vehicle app integration architecture called NissanConnect. It features apps like Google Search and the Pandora music service when connected to a mobile phone. The system isn't as comprehensive as Ford's MyTouch or Chevrolet's MyLink, but works well and seems more robust. The available 127 mm touch screen navigation unit is well rendered and easy to read while being even easier to use.
Nissan's Around View Monitor in the Rogue features four small cameras mounted on the front, side and rear of the vehicle to provide a "bird's eye" virtual 360° view of objects around it. First appearing with Infiniti a few years ago, it is a thrill to see the technology being used in the Rogue today. The Rogue may feel a bit bigger, but with the Around View Monitor, maneuvering the crossover in tight spaces has never been easier.
New Rogue buyers can also opt for Blind Spot Warning, Lane Departure Warning and Forward Collision notification systems. AWD models come standard with Hill Descent Control, while all models feature a Hill Start Assist system. A first for the Rogue and the compact crossover segment, Nissan has equipped the vehicle with something called Easy Fill Tire Alert. By connecting your Rogue's TPMS (Tire Pressure Monitoring System) to on-board computers, the vehicle alerts users to when a tire being filled has reached the right pressure by flashing the four-way flashers and honking the horn. Although it can be a bit startling the first time you use it, I imagine this system would be mighty helpful to those who don't carry around a tire pressure gauge –apparently I'm in the minority here because I have one in my glove box.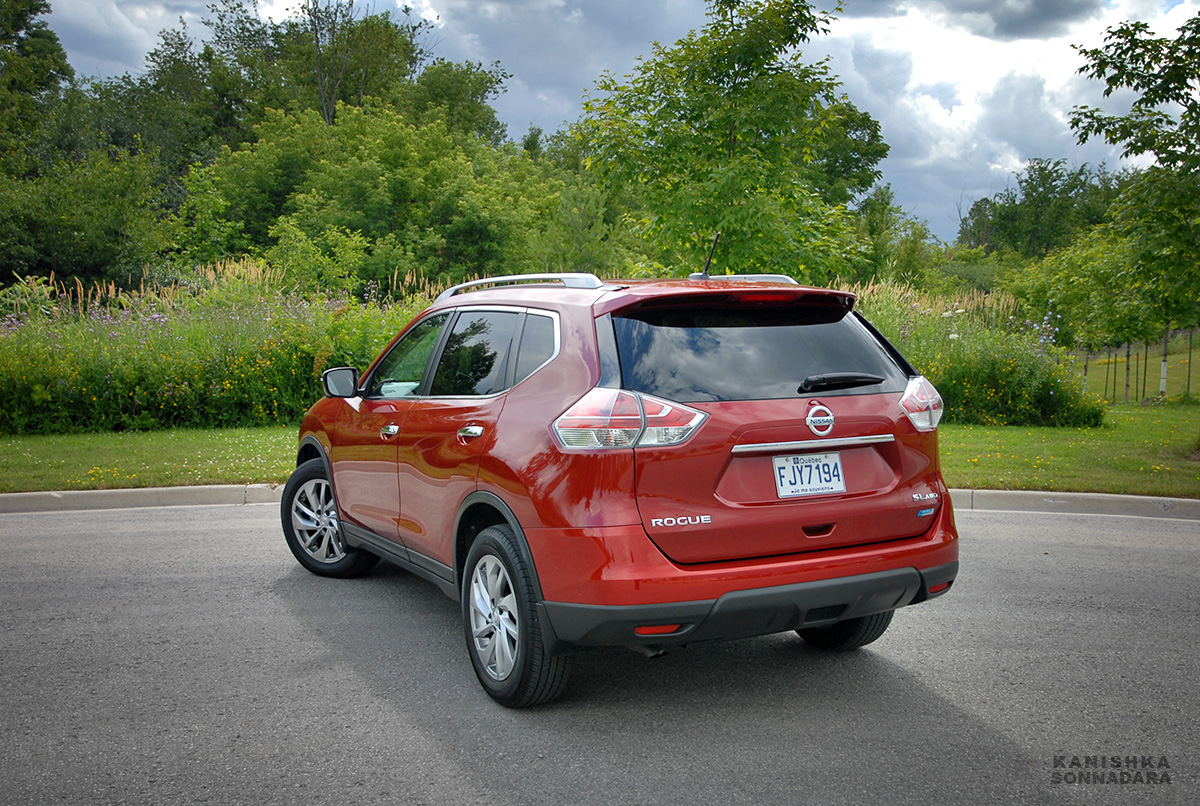 Highlights
– Available third-row seating
– Terrific fuel economy from even the AWD model
– Confidence inspiring, stable driving characteristics
– Comfortable and premium feel to the interior i.e. the padded door sill, perfect for resting my elbow on plus something Nissan calls zero-gravity inspired front seats, which are really nice to be in
– Intelligently laid out rear hatch storage featuring Nissan's Divide-N-Hide Cargo system
Concerns
– Nothing about the Rogue is sporty, the "Sport" button is really unnecessary
– Despite all it's efficiencies, the powertrain is dated and needs an overhaul
The 2014 Nissan Rogue in Canada is priced from $23,498 for the FWD S trim and tops out at $33,098 for the fully loaded AWD SL trim. Since launch the new Rogue has consistently outsold its predecessor proving that Nissan has found itself a winning formula with their new crossover.
Photographs by Kanishka Sonnadara
Kanishka Sonnadara can be reached by email at kanishka[at]oyetimes.com or on Twitter @autoKsS