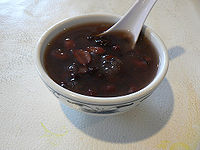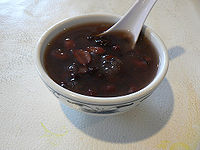 Red Bean Soup
Ingredients:
8 oz. red adzuki beans
1 strip dried tangerine peel
4c. water
1 1/2 oz. tinned lotus nuts (optional)
1/2 – 3/4 c. sugar
Directions:
Rinse adzuki beans, then soak in cold water for at least 4 hours or overnight. Drain.
Bring a pot with 4 cups of water to boil. Add the adzuki beans and tangerine peel, and simmer, stirring occasionally, for an hour.
Add lotus nuts and simmer for another hour. Once the beans are tender and starting to break apart, add sugar. Stir until dissolved. Serve hot or chilled.