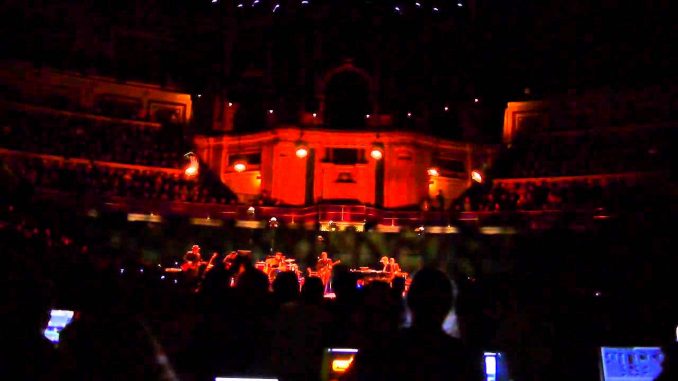 You can publish this article on your website as long as you provide a link back to this page.
This article was last updated on April 16, 2022
There was no cry of "traitor" or "Judas" this time when Bob Dylan returned for 3 nights at the Royal Albert Hall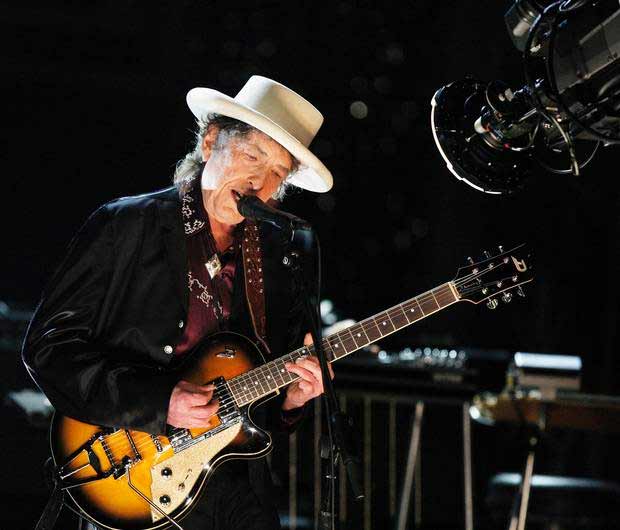 Bob Dylan (Photo The Independent)
Perhaps the most famous concert in Bob Dylan's history was the 1966 tour of England captured at the Royal Albert Hall.
Dylan just reprised three nights at the Royal Albert Hall in London and there were no cries of "Judas" this time. Actually the "Judas" remark came from a concert in Manchester.
Royal Albert Hall Encore "All Along The Watchtower"
Reviews of this years last European stop on the Never Ending Tour are warm if not honest.
Evening Standard
The Evening Standard wrote
This opening show was simply Dylan reaching the final destination for this year's run of his so-called Never-Ending Tour. With his lyrics rasped through a permanent scowl on "Things Have Changed" and the oddly camp pose with hand on hip, Dylan looked ready for panto season. And his wheezing rendition of "She Belongs to Me" almost cast him as the frizzy-haired villain of the piece."

"Yet while the 72-year-old folk legend was contrary enough to throw away an old favourite, he stirred himself for more recent material. Standing at a grand piano, his throaty rattle on "Beyond Here Lies Nothin'" was buoyed by superlative musicianship from his band. Dylan's weary voice was best suited to songs from last year's album, Tempest, including the jazzy "Duquesne Whistle" and the baleful "Pay in Blood." If he couldn't quite carry "Tangled Up in Blue, the band could and the audience cheered the evening's first classic tune.
The second half was rich and rousing, particularly the bluesy stomp of High Water (For Charley Patton), the banjo plucking of Scarlet Town and Early Roman Kings, on which guitarist Charlie Sexton summoned the spirit of Muddy Waters. Fans embraced these old-fashioned grooves on Dylan's 21st century songs, which he peppered with blasts of harmonica.
For the rest of that review see The Evening Standard.
The Independent
The Independent called Dylan's performances 'A stunning return to form'. Here's a bit of what they published.
Where he has gone through the motions in some recent tours, tonight he stood without guitar in front of his band at the front of the stage, not just reinterpreting his songs, but doing so with care and feeling. The voice that can be a relic of past triumphs was marvellously and unexpectedly once more an instrument, elongating syllables in vintage style in the staccato delivery on the great opener "Things Have Changed".
On "Pay In Blood" from his most recent album Tempest he stood legs wide apart and rigid, the voice snarling menace. Throughout there was only a half-light around him, which made his face barely discernible. Perhaps that enabled one to project any decade on to proceedings as he revisited the sixties with "She Belongs To Me", the seventies with a raw and pained "Tangled Up in Blue", and the nineties to equally shattering effect with one his most intense and hauntingly emotional later songs "Love Sick".
At the interval this gig had five stars written all over it. But strangely the second half fell a little flat. Dylan, of all people, an artist who in the past has given his record company apoplexy by totally ignoring a current release in concert, decided to use most of the 45 minutes or so to showcase Tempest, with his John Lennon tribute "Roll on John" the last song of the night.
And then at just after half past nine he was gone. So ended performance 2,500-plus on the never-ending tour that began in 1988. It was in turns stunning, revelatory and downright perplexing. Like the man himself.
By Stephen Pate, NJN Network