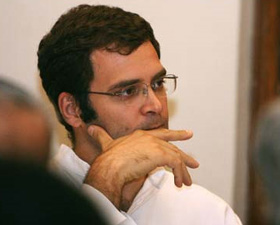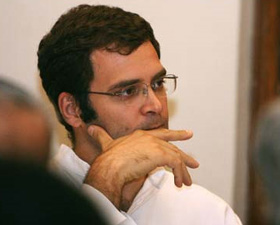 Rahul Gandhi on Monday took full ownership of Congress's campaign for the 2012 elections in politically crucial Uttar Pradesh.
"There are times when I feel why not go to Lucknow and fight your battle," Rahul said here while kicking off Congress's poll campaign for the looming state polls. The statement, turning Congress's heir apparent as the party's face, is meant to compensate for the anemic party machinery and the absence of satraps with pan-state acceptance: a big handicap in a heavyweight-studded political arena.
It instantly sparked speculation of a subtle projection of the party's chief ministerial candidate.
Although motivated by the leadership void in UP Congress, Rahul's decision to put his imprint on the power bid will have a cost. The party is engaged in a grim battle to regain relevance in a state amid growing recognition that the satraps have failed to build on the performance in the 2009 Lok Sabha elections when the party surprised itself by bagging 21 seats.
It is a risky venture, given Congress's thin organizational muscle and negative fallout that a setback will have on his leadership prospects, Rahul is not backing out.
Launching his campaign from the one-time Lok Sabha constituency of Jawaharlal Nehru on the birth anniversary of the former PM, Rahul vigorously pitted himself against the established czars of UP politics. In a frontal assault on chief minister Mayawati and SP boss Mulayam Singh Yadav, he alleged that the duo's lust for power had blinded them to the sufferings of the poor.
Article Viewed on Oye! Times @ www.oyetimes.com