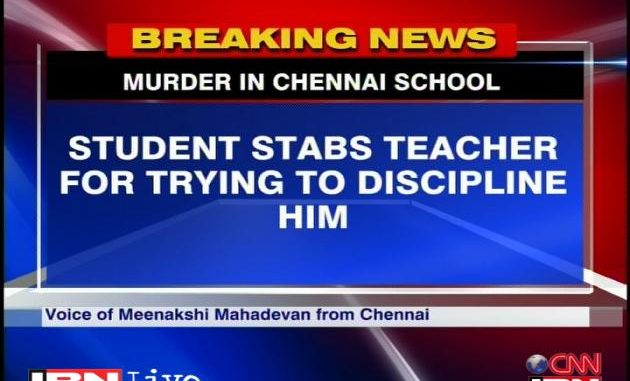 A 15-year-old student of grade 9 killed a teacher in the classroom in a private school in Chennai.
Mohammad Irfan, studying in 9th grade in St. Mary's Anglo Indian School in Chennai, murdered her teacher brutally after being scolded by her. Upon being arrested, Mohammad Irfan told the police officer that he was angry at her instructor for scolding him in the class.
Irfan attacked her instructor, Uma Mahesweri 40-year-old woman, when she was teaching Hindi to another class. Irfan entered the classroom with a knife wrapped in paper and attacked the teacher. He stabbed her initially in the neck and kept on stabbing giving her several wounds on neck and cheeks.
Other students in the classroom screamed, panicked and ran out while Irfan threatened them to calm down and ran away. One of the eyewitness student said, "He stabbed her first in the neck and inflicted cut injuries again on her cheek and neck. She died on the spot".
Teachers caught Irfan while he was running and informed police. Fellows of Irfan informed police that he was not an aggressive kid but preferred not to make friends. Police also stated that so far the student claims to have killed the teacher only because he was angry at her for scolding him. Any other reason has not been unveiled yet.
The principal of the school, Father Perinayagam said, "She was a very gentle and good teacher. We don't know why he killed her."
Dead body of the teacher has been sent to hospital for post-mortem.
Article viewed on Oye! Times at www.oyetimes.com