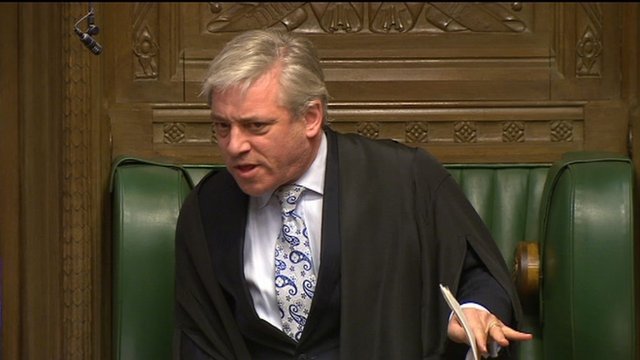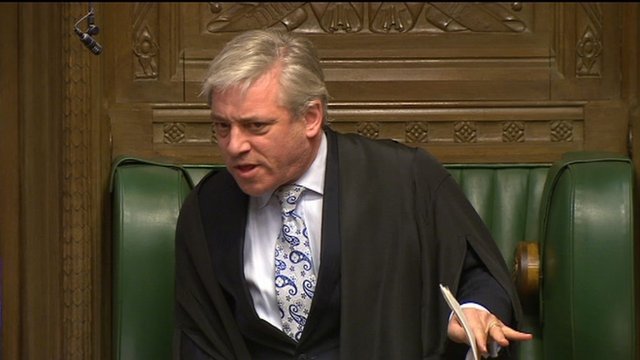 House of Commons Speaker John Bercow has written to party leaders of three main political parties at Westminster, urging them to look for ways to end "orchestrated barracking" which has made Prime Minister's Questions noisier during the recent times.
It has been reported that Mr. Bercow has made a fresh written appeal to David Cameron, Ed Miliband and Nick Clegg seeking their responses to evidence that the tone and content of debates during the PMQs is putting voters off politics.
The Speaker has to intervene many times to prevent barracking by MPs. However, he has told not he did not like to look "prissy" regarding the problem.
PMQs has always been an event which is full of noise, with government and opposition MPs yelling across the Commons chamber at each other with insulting words.
The party leaders also trade points which can add to the decibel levels, although Mr. Cameron and Mr. Miliband have both claimed many times they want to calm the sessions down as it does not present a positive image of politics in front of the public.
However, Mr. Bercow has told: "I have anecdotal indications that there is some encouragement.
As "I have had one or two colleagues coming to me and telling me they've had text messages [from the whips] saying 'thanks for the wall of noise'."
The Speaker has expressed his desire to see party leaders telling their MPs: "'Cut out the orchestrated barracking. I don't want it. I want your support and I'm delighted if when I get up I get a big cheer… but the orchestrated barracking of my opponent is not good for the House and I don't want it to happen and I've asked the whips to monitor the conduct.'"
He has further told: "If that were done there would be a step change within weeks."
Research by the Hansard Society – the campaigning organisation for parliamentary reforms, has found the most common descriptions of the weekly 30-minute Commons session by public were "noisy", "childish", "over the top" and pointless.
The Speaker has earlier called for reforming the Commons session for the sake of improving parliament's public image and has been very strict in punishing offending MPs.
An example can be taken from a session that held earlier this month, during which Education Secretary Michael Gove was told: "You need to write out a thousand times, 'I will behave myself at Prime Minister's Questions.'"
Article viewed on Oye! Times at www.oyetimes.com.