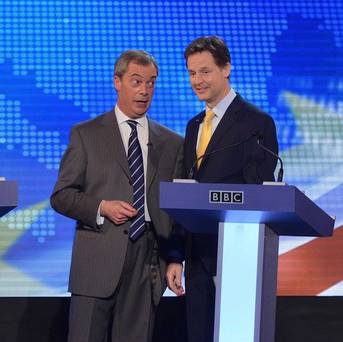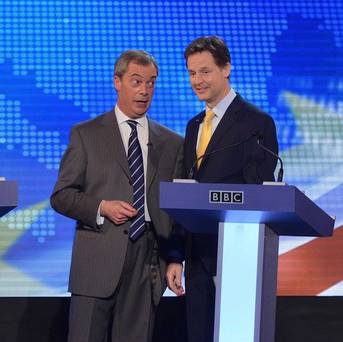 Prime Minister David Cameron has accused Deputy PM Nick Clegg and UK Independence Party leader Nigel Farage of holding "quite extreme" views over EU in a recently held second debate on Britain's future in Europe.
The two leading political figures of England become involved in a heated personal row during Wednesday's event, accusing each other of misleading the public over EU powers.
In an hour-long debate, the UKIP leader has accused the Lib Dem leader of "wilfully lying" to the Britons about Brussels' grip on 7 per cent U.K. laws, which was really shocking to know.
Mr Farage has also pointed out that EU immigration had hit the "white working class" the worst. The UKIP leader has stated that immigration was only "good for the rich because of its cheaper nannies and cheaper chauffeurs and cheaper gardeners, but it's bad news for ordinary Britons" and that ordinary working Britons were the worst affected due to a lower wage economy.
In return, Mr Clegg has accused Mr Farage of peddling "dangerous fantasies".
Opinion polls after the second debate suggest that Mr Farage, who wants Britain to leave the EU, had won the debate and remained successful in persuading the audience of his case.
The Prime minister has expressed his disagreement with both men, as he has told: "It doesn't concern me because on this one I do not agree with Nick.
"I didn't have a dog in the fight. The problem with this debate is both of the people taking part actually have quite extreme views.
"Nick thinks there is nothing wrong with Europe and we shouldn't have a referendum. Nigel thinks there is nothing right with Europe and we should get out and leave. They are both wrong."
Mr Cameron has added: "The right answer is to be tough for Britain, renegotiate, get a better deal and then give people the choice in an in/out referendum and that is what I will do if I am Prime Minister after the next election, before the end of 2017."
Article viewed on Oye! Times at www.oyetimes.com.