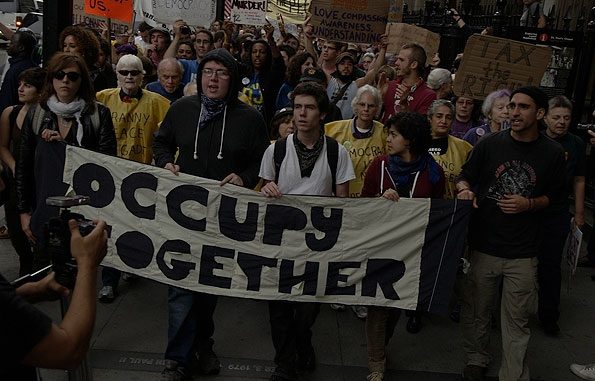 Mathew Kagis, Occupy Vancouver medic who helped a protester who took an overdose of heroin Thursday morning says the man could have died if it happened in a remote area of the city.
Mathew Kagis said: "If he'd been at Oppenheimer Park with nobody around this could have ended a lot differently."
Other than Kagis, there are about 19 more first aid volunteers at the Occupy Vancouver protest camps.
Kagis said: "Somebody said somebody's not breathing, so I sprinted to the medic tent to get a facemask and sprinted into the tent to see what was going on… I took a quick look around for sharps, just in case, and then got in and got on the chest after I'd assessed that there was no pulse.
"I did one full cycle of CPR and rechecked pulse. That's a two-minute cycle. By then the first responder people had also gotten to the scene, they inserted the OPA [oral airway device] and got a bag valve mask on to assist with breathing. From there it went like clockwork, the paramedics showed up, they were able to revive him."
Considering all the difficulties faced by the government and protesters, Victoria Coun. Geoff Young voted against Occupy Vancouver protest.
Young said: "I think we on Victoria council are sympathetic to the concept of political demonstrations. But we've all had to come to terms with the fact that, as this thing has gone on, it's become less of a political demonstration and more simply a campout."
Article viewed on Oye! Times @ www.oyetimes.com