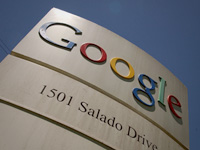 Google announced that its rock star co-founders Larry Page and Sergey Brin had adopted pre-arranged stock trading plans that would allow them to blindly sell about 1 million shares each annually for the next five years. The stock hit a post-credit crisis high of $629 that month and then flat-lined for the next year. Friday, the stock broke below $540 after disappointing earnings.

The filing stated that the plans were a "part of their respective long-term strategies for individual asset diversification and liquidity." It also sought to bring their voting power on Google's outstanding stock down to a minority 48 percent position.

The intentions stated in the filing certainly seem genuine. Billionaires many times over, it is not unusual for Brin and Page to want to diversify their wealth. To their credit, they have pretty much carried out the pre-arranged selling exactly as planned. Both have sold exactly 1.25 million shares over the course of the last 15 months for a $691 million gain for Page and a $636 million profit for Brin, according to InsiderScore.com.

Still, one has to wonder, why wasn't this plan initiated at the start of March 2009, which in hindsight we can say was the bottom of the bear market. Certainly, the founders had some sense that their company and the world would get better and that may not be the most ideal time to initiate this "diversification." Instead they waited from 2006 until 2010 and did nothing as Google's shares surged from $400.

"Like Yahoo and Microsoft, it is bumping up against real-world issues like having to actually pay employees and the frustrations and costs of producing in-house content," said Josh Brown, money manager and author of The Reformed Broker blog. "The insider sales reflect the awareness of this new phase. The wild teenage years are over, Google now has to get a job and pay the rent to maintain its competitive position."

Of course, it's very possible the selling plan decision by Brin and Page, who is now the CEO, had zero to do with market timing and is just a coincidence. After all the SEC says the 10b5-1 rule "permits persons to trade in certain specified circumstances where it is clear that the information they are aware of is not a factor in the decision to trade, such as pursuant to a pre-existing plan, contract, or instruction that was made in good faith."

"These are pre-IPO shareholders with enormous wealth tied up in the company and that wealth needs to turn liquid at some point," said Ben Silverman, director of research at InsiderScore.com, which tracks changes in holdings to make buying and selling calls for subscribers. "Page and the other sellers still own a tremendous amount of shares and their selling is, for all intents and purposes, price agnostic."

But not all 10b5-1 selling can be considered completely innocent, despite the rule's stated purpose.

"We did see an increase in insider selling at Google in October 2010 when a couple of insiders who don't normally sell, did so under Rule 10b5-1 plans," added Silverman. "That was a red flag as those sales were triggered when the stock shot up more than 10 percent in one day and went past the $600 mark for the first time in nine months."

So if the Google founders were to suddenly increase the pace of their selling to more than 1 million shares a year, then that would be a red flag. For now, the consensus among traders presented with this data seems to be that Page and Brin had genuine intentions, but that doesn't mean it wasn't a signal to be cautious on the stock. Just the fact that they felt the time was right for some diversification in their lives could be a subtle signal about a company with one-time lightening growth reaching a maturity point, just like its founders.

For the best market insight, catch 'Fast Money' each night at 5pm ET and the 'Halftime Report' each afternoon at 12:30 ET on CNBC.

Ref: http://www.cnbc.com/id/42609631

John Melloy is the Executive Producer of Fast Money. Before joining CNBC, he was an editor for Bloomberg News, overseeing the U.S. Stock Market coverage team.