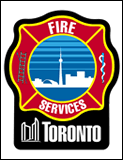 "How do I become a firefighter?" Have you ever asked yourself this question? Or have you ever wondered if firefighting might be the perfect career for a friend or family member? Toronto Fire Services (TFS) offers exciting and rewarding career opportunities for people who are committed to its core values of Courage, Compassion and Service.
You may have already thought about the pride that comes with wearing the TFS uniform, about the respect people have for firefighters in the community, about the chance to help people every day and about the salary and benefits offered by TFS. But do you know what it takes to be hired by Toronto Fire Services? 
TFS: "We do more than fight fires!"
TFS offers three main career paths: Operations Firefighter, Call Taker/Dispatcher, and Fire Prevention Inspector. The salary for all of these positions starts at $52,363 and reaches $78,155 after three years of service. Toronto Fire Services employees enjoy a generous medical and dental benefits package for themselves and their families, and the security of an OMERS (Ontario Municipal Employees Retirement System) pension plan.
Operations Firefighters save lives and protect property and the environment through fire suppression activities, rescue operations, emergency medical patient care and public education activities. If you are physically fit, courageous, compassionate and eager to help others this could be the right career for you.
Call Taker/Dispatchers act as front line support and response for the public, emergency responders, and other agencies. These are the people who answer calls, analyze information and dispatch apparatus. If you are calm under pressure, a skilled multi-tasker and have good computer skills this could be the right career for you.
Fire Prevention Inspectors
save lives and protect property by educating Toronto's citizens and inspecting buildings and fire protection systems to ensure compliance with the Ontario Fire Code.
   If you are self-motivated, have excellent interpersonal and public relations skills, good mechanical aptitude and are attentive to detail this could be the right career for you.
Community outreach
Toronto is the 5th largest city in North America, with over 2.6 million people from more than 100 ethnic groups. TFS Recruitment and Community Outreach Section works to make the fire service an accessible career choice for applicants who are passionate about fire services, who reflect the diversity of the city, and who are committed to serving the people of Toronto.
Recruitment Officers work with community partners to best deliver recruitment information and are always looking to establish new links with Toronto's citizens and communities.
   Recruitment Officers include in their daily activities direct contact with aspiring applicants, career presentations in locations such as high schools, employment centres, community centres and libraries, and attendance at community career fairs.  
TFS outreach efforts also include the TFS Career Preparation Course, Toronto High School Co-op Student placements, and the 1st Toronto Fire Venturers Company, for youth ages 14-26.
Changes in hiring practices
Do you remember a time when firefighters had to meet strict height requirements? Or when it seemed that you needed to "know someone" to get a job as a firefighter? These perceptions do not reflect the reality of today's hiring practices. Things have changed. TFS is committed to employment equity and is constantly evaluating its hiring practices to recognize the evolving reality of its work as it serves the people of Toronto. TFS encourages applications from women, people with disabilities, Aboriginal peoples and racial minorities. 
How do I apply?
The application process is different for the three career paths. Applicants for operations firefighter positions can only access an online application during an active recruitment process, while applicants for communications and prevention positions can submit an online resume and cover letter at any time. 
To find out more about these careers, you can attend a TFS Career Information Session.  At these sessions, you can listen and ask questions of TFS recruiters as they focus on the application process and career preparation for Operations Firefighter, Call Taker/Dispatcher and Fire Prevention Inspector. 
Firefighter recruitment process
The last Operations Firefighter recruitment campaign was in June 2009. At that time only applicants with an Ontario DZ Driver's License, as well as First Aid and CPR certificates, were considered. Those applicants who had an Ontario College Pre-Service Firefighter Education and Training Program Certificate were deemed to have preferred qualifications. Applicants without this certificate were also considered, however, and some did successfully complete the recruitment process. 
The Operations Firefighter selection process
All applications for Operations Firefighter positions are submitted online during an active recruitment campaign. Qualified candidates are then invited to write a Firefighter Aptitude Test. Those who successfully complete this test are placed in a hiring pool. When sufficient vacancies occur, candidates from the hiring pool are invited to attend an interview with Toronto Fire Services.  Candidates who are successful at the interview receive conditional job offers. One of the conditions of those job offers is to meet the required physical fitness standards.
Pursuing a career with TFS
If you know that a career with Toronto Fire Services would be right for you, for accurate and up-to-date recruitment information, please refer to:
TFS Recruitment Website:

www.toronto.ca/fire/recruitment

TFS Career Information Sessions, posted on TFS website calendar: www.toronto.ca/fire/recruitment/calendar.htm