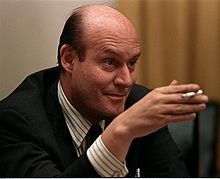 Nicholas Katzenbach died at the age of ninety. He was famous for standing in front of George Wallace for the integration of the University of Alabama. He also played a significant role in gearing up U.S. civil-rights policy under presidents John F. Kennedy and Lyndon Johnson.
"Throughout his long and singular career in the nation's service, Nicholas Katzenbach combined realism, loyalty, and supreme equability with a bedrock devotion to principle, especially on civil rights," said Princeton University History Professor Sean Wilentz, a longtime friend of Katzenbach.
"He was one of his generation's giants, and history will remember him that way."
The court had decided that Vivian Malone and James Hood will be allowed to enroll while Wallace was free to stay firm on his believes. Wallace had famously proclaimed, "Segregation now, segregation tomorrow and segregation forever."
Katzenbach tried to convince Wallace out of his plans of protesting against the decision. Wallace had refused to give up until President Kennedy set off the Alabama National Guard and made him move. After President Kennedy died, Katzenbach tried to gear up the formation of the independent investigatory panel, commonly known as the Warren Commission.
"He had one of the most brilliant and creative legal minds I have encountered, and approached public service with total seriousness," Clark Clifford, who served several posts under Kennedy and Johnson, wrote of Katzenbach in his memoir. "At the same time he saw the ironic side of service in Washington — the endless games some people play, the petty deals that are often necessary in the pursuit of objectives of great purpose."