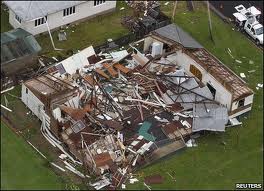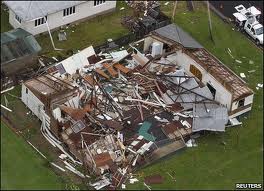 Queensland is still cleaning up after cyclone Yasi hit last week as the country assesses what the economic damages could be. Flooding virtually shut down the coal industry last month and caused widespread damage to the agricultural sector. The area was then pummelled by one of the largest tropical storms the country has seen.
Australia's treasurer Wayne Swan is warning that the country's first quarter will suffer from a drop in coal and agricultural exports due to these twin disasters. He is predicting Queensland's robust economy will suffer its first drop since the global financial crisis. How would the word "drop" translate into dollars and cents? Swan said that the coal industry stood to lose about Aus$5 billion ($5 billion) in exports while agriculture may lose Aus$2 billion hit. On top of that, farming organisations have estimated that Queensland's sugar and banana heartland could see a loss of Aus$800 million after Cyclone Yasi roared through their area.
Nevertheless, Swan feels if anything, just the first quarter will take a hit. In the long term, things look good for Australia and its economy. Ratings agency Moody's concurred with Swan's assessment looking at improving weather conditions and reconstruction efforts to push growth in the second quarter.
Associated Press – Feb 6/2011
More Floods in Australia Following Cyclone Yasi
Forecasters say the tropical system that was Cyclone Yasi is still churning over central Australia. More than 7 inches of rain fell in just a few hours overnight Friday in some Melbourne neighborhoods, with winds gusting to 80 mph. (Feb. 6)
Feb 3/2011
Cyclone Yasi Queensland (Australia) Aftermath PT2
http://www.youtube.com/watch?v=DxAlRJ1KHHE
La Niña
Weather experts gathered to discuss the latest meteorological events and whether or not any of this is linked to climate change. While some change may be responsible for some of the storms, not everything can be easily explained. Yes warming seas will make the creation of tropical storms more likely and more powerful, it is more than likely than an unusual La Niña is the culprit in the latest extreme weather Australia has seen. NIWA Principal Scientist and conference chair Mike Revell was quoted as saying that this year's La Niña is one of the extremist the country has had for decades.
References
Wikipedia: La Niña
http://en.wikipedia.org/wiki/La_Ni%C3%B1a
La Niña is a coupled ocean-atmosphere phenomenon that is the counterpart of El Niño as part of the broader El Niño-Southern Oscillation climate pattern. During a period of La Niña, the sea surface temperature across the equatorial Eastern Central Pacific Ocean will be lower than normal by 3–5 °C. In the United States, an episode of La Niña is defined as a period of at least 5 months of La Niña conditions. The name La Niña originates from Spanish, meaning "the girl", analogous to El Niño meaning "the boy".
La Niña, sometimes informally called "anti-El Niño", is the opposite of El Niño, where the latter corresponds instead to a higher sea surface temperature by a deviation of at least 0.5 °C, and its effects are often the reverse of those of El Niño. El Niño is famous due to its potentially catastrophic impact on the weather along both the Chilean, Peruvian and Australian coasts, among others. La Niña is often preceded by a strong El Niño.
Click HERE to read more from William Belle.
Article viewed at: Oye! Times at www.oyetimes.com