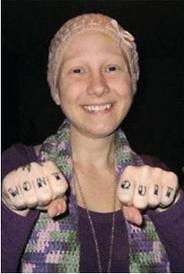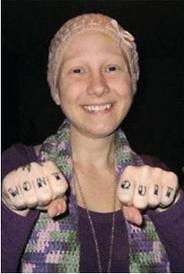 We arrive at the end of the story of one Ashley Kirilow who pretended to have cancer to gain sympathy and scam people out of money. This troubled young woman has now received sentencing in her case and has her future mapped out for her which will hopefully provide the necessary corrective action to change her ways.
As reported last August 9, 2010 in "Ashley Kirilow: The Big "C" as in Con", this 23 year old woman from Burlington confessed to a scam where she claimed to have cancer then raised money for herself. Kirilow set up a charity called Change For A Cure and solicited donations.
According to reports, Ashley has been estranged from her family since 2005. Her father, Mike Kirilow said that Ashley phoned his wife and him in 2009 about having cancer. She went on to ask for a bone marrow transplant. The members of the family offered to be tested for compatibility but shortly thereafter discovered Ashley was not being treated where she said she was.
The family followed Ashley's charity via Facebook guessing she was in fact, lying about her cancer. After reading a post in which Ashley claimed it would be her last because she was dying, her father confronted her and she finally admitted that no, she did not have cancer. About the same time, people working at the charity became suspicious and contacted authorities.
This past Thursday, Kirilow, 23, who currently lives in the psychiatric ward of Joseph Brant Memorial Hospital in Burlington, pleaded guilty to fraud charges. Her 15 month sentence includes 10 months of house arrest followed by 5 months with a curfew requiring her to stay home between 10 pm and 6 am. daily. She will then have two years of probation during which she will perform community service. She is prohibited from soliciting funds for any charity. She had faced a maximum of 14 years in prison.
Reports say that the total fraud amounted to $12,000. Restitution was not ordered as it was considered impractical.
Newspapers are saying the Kirilow remains in treatment for a number of problems including anxiety, depression, and other personality disorders.
Avoiding Charity Scams
We all want to help however we should practise some measure of prudent donating before forking over our hard earned dollars. What can we do before donating to ensure our money is, in fact, being used for good purposes?
The Canada Revenue Agency has information about charities on their web site entitled Giving to charity: Information for donors.
Every charity must be registered in order for your donation to be tax deductible. Ask for that number and if you don't get it, don't donate.
You can also verify a charity's official status by using the search feature of the Canada Revenue Agency's web site.
We all want to help but let's do our homework before signing the cheque or handing out our credit card. Let's make sure our money is getting to those we want to help, to those who really need it.
References
Canada Revenue Agency: Giving to charity: Information for donors
Canada Revenue Agency: search for a charity
Canadian Charity Law: Avoiding Charity Scams in Canada
Click HERE to read more from William Belle
Article viewed at: Oye! Times at www.oyetimes.com