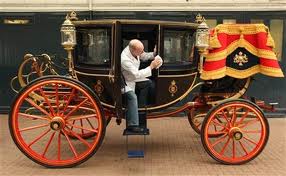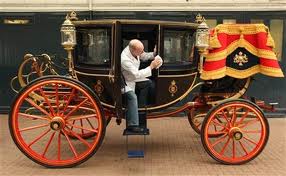 With the ceremony only a couple of days away, the excitement mounts while everyone makes last minute preparations. Whether it be having tea and crumpets in front of the tele (crumpets? "tele"? How British are those terms?) or getting out the sniffer dogs, there is a lot going on as we come down to the wire.
The CBC has offered a comprehensive of all things security in their article "FAQ: Security for the royal wedding". With hundreds of thousands expected along the route and the various venues which play a part of this special day, like Buckingham Palace and Westminster Abbey, security forces have worked diligently over the past 22 weeks to hopefully plan for any eventuality. Sewers, drains, lamp posts, etc. have been checked for explosives then closed off with tamper-proof stickers. Social media has been and is being monitored while known protesters and anarchists have been banned from this area of London. On Friday, police will be out en masse on foot, on horse, in cars, and in the air in helicopters to ensure there are no hitches in what is expected to be a wonderful affair.
The Guardian reports that a marriage ceremony was performed in Nanjing which was inspired by the forthcoming royal nuptials. The couple's plans came complete with guards in tall, furry hats and scarlet coats and a horse-drawn carriage from which they waved "regally" while riding through this city in eastern China. Apparently China is seeing a rise in the popularity of lavish wedding celebrations with the industry said to be growing by as much as 20% a year. Ah, wouldn't we all like to be a prince and a princess. Seems like a Walt Disney movie, eh?
Get outta here! According to several reports, ABC News for one, people have already started to camp out in order to guard their place for the procession. Good lord, ABC says one guy has a sleeping bag and is now sleeping on the sidewalk outside Westminster Abbey. What? The wedding is 48 hours away! Crazy.
To add to the hilarity of the entire hubbub, apparently bookmakers are offering all sorts of wagers on the wedding. Queen Elizabeth's husband Prince Philip is 8-1 to fall asleep during the ceremony, while Middleton's mother Carole is 23-1 to chew gum. (Edmonton Journal) For the iconic kiss on the Buckingham Palace balcony, the prince is 1-5 to catch his new wife on the lips, 4-1 on the cheek, and 33-1 to miss completely and get her ear. Metro News reports on some of the bets: How long will Kate make William wait at the aisle? What colour will the queen wear to the wedding? And will Harry be sober enough to deliver the best man's speech? Apparently, the Brits love to put down a wager and bookies take odds on just about anything, from sports to the existence of extra-terrestrials. So the Royal Wedding is perfect for providing all sorts of potential bets on what could happen. This already includes whether or not the royal couple stay together in the long run.
Slideshow of the wedding refearsals
Royal wedding: Westminster Abbey 360 tour
Westminster Abbey is over 900 years old and and one of the most important churches in England. It has been the setting for many coronations and royal weddings. Explore the image below with Blue Badge guide Judy Pulley, who provides audio and text commentary.
Associated Press – Apr 27/2011
Stage Being Set for Royal Wedding
With the royal wedding just days away, last minute preparations are underway. The British military held a dress rehearsal overnight, as workers began bringing flowers and trees into Westminster Abbey.
For the diehard Royal watchers
Slideshow of Princess Diana's wedding
References
Wikipedia: crumpet
http://en.wikipedia.org/wiki/Crumpet
[What the heck is a crumpet anyway? I just had to look this up.]
A crumpet is a savoury bread made from flour and yeast. It is eaten mainly in the United Kingdom and other nations of the Commonwealth. A crumpet in this area is similar in appearance (but not taste) to a North American pancake.
Click HERE to read more from William Belle
Article viewed at: Oye! Times at www.oyetimes.com