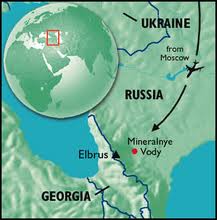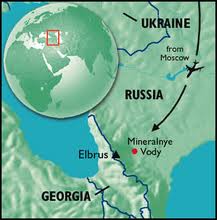 Some of Russia's most popular ski resorts have had security increased after violence erupted the country's most popular resort on Mount Elbrus in Kabardino-Balkaria which left 3 tourists, one policeman and an official dead.
The BBC reported:
On Friday, armed men attacked a vehicle carrying five passengers to the country's most popular ski resort on Mount Elbrus, shooting dead three tourists. Two others were wounded.
"There was so much blood that it dripped through the floor of the minibus," a shopkeeper told Russia's Komsomolskaya Pravda tabloid.
Hours later, a cable-car was blown up in the ski resort, though no casualties were reported.
Three bombs were also defused by police in a car parked at a nearby hotel.
These attacks have been claimed by the Caucasus Emirate, the same militant group which carried out the bombing of Moscow's Domodedovo airport last month which killed 31 people and injured another 130. (see Oye! Times, Feb 8/2011: Chechen rebel Doku Umarov claims responsibility for bombing Moscow's airport) The Kabardino-Balkaria region has seen violence increase over the past year and there are worries the rebels may take their cause elsewhere as they did in Moscow.
The Black Sea resort of Sochi lies about 300 kilometres (185 miles) west of the Kabardino-Balkaria region and is to play host to the 2014 Winter Olympics. Its proximity to the Caucasus increases the risks that the games could be targeted by militants.
Doku Umarov, the insurgents' Chechen leader has promised Russia a "year of blood and tears" and this attack is certainly an attempt to discredit the Kremlin. Last month at the Davos World Economic Forum President Dmitry Medvedev announced the development of a $14 billion chain of ski resorts across the North Caucasus
Click HERE to read more from William Belle
Article viewed at: Oye! Times at www.oyetimes.com