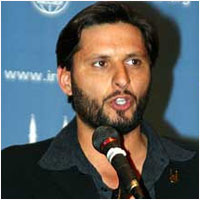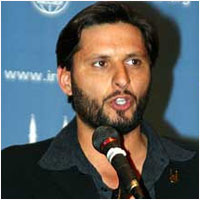 Words are powerful so a statement made of it would be even more powerful. Powerful enough to raise storms for good or bad. We realize that when Ace Pakistani Cricketer made a statement recently.
Taking note of Afridi's comment on heart size and its cleanliness, Manmohan invites Gilani to a Big Heart Contest. It was earlier reported that in order to take the current diplomatic momentum further, Manmohan Singh had wanted to invite Pakistan Prime Minister Gilani to watch the premier show of an upcoming movie – Meri Marzi. But it was reported that Sonia Gandhi and Zulfikar Ali Bhutto both didnt like the title of the movie and so the plan was dropped. Bhutto and Gandhi advised Gilani and Singh to stick to cricket related activities only.
So the Big Heart Contest! Wherein a contest will be held among Indians' and Pakistanis' hearts and parameters like size of heart and it cleanliness will be compared. All the preparations of the contest are over, however, there is still no clarity, as to who all from the either sides will give up their hearts for the contest.
In other developments following Afridi's controversial interview:
People with Cardiac problems clogged Afridi's phone to see if he can tell whether their arteries and heart valves are big & clear enough or would they need any surgeries or unclogging of their arteries? Several heart surgeons have complained that they are losing business due to this.
But on the other hand several companies are making good of Afridi's comments:
Some proactive companies have sprung up overnight selling pills which they claim will increase the size of the heart by atleast 3 inches in just three weeks. The companies claim, the pills are very cheap, upto 80% off on marked price, and also that they do not need any prescription for supply of the same.
A teleshopping commercial has also reportedly offered a 'Home Mini Heart Cleaner'(Patent Pending). The commercial claims that with this device the users will be able to clean their hearts from the comforts of their homes. The device is very easy to operate and can be used while playing cricket as well. The commercial says that not only does the 'Home Mini Heart Cleaner' clean the heart, it also gives the user six-pack abs and helps getting back with the estranged girlfriend as well! If the user places an order within a specified time the commercial also says that the buyer will get a Free Conscience Cleaner.
Meanwhile, the Indian media is bowled by the googly of Afridi. The mediawallas brainstormed and brainstormed over the brouhaha any of its reply would create. If they deny they are negative, it would be an 'Ah ha, got you' moment for Afridi. But the media savvy Indian media played the googly well and said "Yes, we are negative". And added that "See! Since we are taking this charge of Afridi positively, we are proving that we are not negative'.
Phew ! One statement and the circus seems a quieter place !