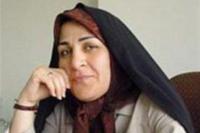 Fakhrossadat Mohtashamipour, wife of veteran reformist politician Mostafa Tajzadeh, has been hospitalised days after going on hunger strike and losing consciousness in Evin prison.
According to opposition website Kaleme, imprisoned women's rights activist Fakhrossadat Mohtashamipour was transferred to hospital after going on strike to protest the authorities' ongoing refusal to allow her to meet with her imprisoned husband Mohsen Tajzadeh.
Mohtashamipour, who has written a series of open letters criticising regime policies in particular its mistreatment of political prisoners, is said to be in good spirits despite being held in solitary confinement since 1 March when she was arrested while attending pro-opposition protests in Tehran.
Thus far, Mohtashamipour has written around eighty letters to Tehran's Chief Prosecutor Jafari Dolat-Abadi regarding her husband's condition in prison; however, none of them have been met with any response from the Prosecutor.
Mohtashamipour is the wife of senior reformist politician Mostafa Tajzadeh who was called back to Evin prison in August 2010 after having joined six other leading reformist figures in filing a lawsuit against several commanders of Iran's Revolutionary Guard Corps for their interference in Iran's rigged presidential election of in June 2009.
The seven plaintiffs included four members of the Organisation of Islamic Revolution Mujahidin (Behzad Nabavi, Mostafa Tajzadeh, Mohsen Aminzadeh, and Faizollah Arabsorkhi) and three members of the Islamic Iran Participation Front (Chairman Mohsen Mirdamadi, Abdollah Ramezanzadeh, and Mohsen Safaei Farahani). The parties are two Iran's most important reformist groups that have also been outlawed by the judiciary.
The seven reformers say that the speech made by IRGC commander Moshfegh, demonstrates how the IRGC commanders had engineered the June 2009 election of Mahmoud Ahmadinejad.
Tajzadeh was arrested shortly after the June 2009 election coup and later released in early March 2010 after nine months of imprisonment. He rejected calls by his interrogators at Evin prison to withdraw his complaint against the IRGC and was therefore forces to return behind bars.
Click HERE to read more
Article viewed at: Oye! Times at www.oyetimes.com