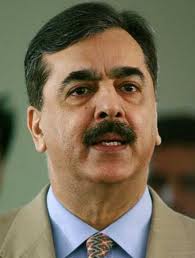 One of the prominent media groups carried out a poll which revealed that 65 percent of Pakistanis want that the Prime Minister of Pakistan, Yousaf Raza Gillani, should resign after being convicted in the court for the contempt case for not writing to the Swiss authorities for graft cases of the President of Pakistan.
Giving the details about the results of the poll, the media agency announced that the reviews they collected have given mixed response about the conviction of the Prime Minister as they show that 32 percent of the people were sad about the conviction of the PM whereas about 36 percent were happy with the decision of the court and the remaining 31 percent of the people said that they are not certain about their feelings on the conviction.
Speaking about that decision of the court, more than 50% of the respondents of the survey voted that they were satisfied about the verdict whereas 38% did not appreciate the decision. The court had convicted the Prime Minister announcing him a punishment of standing within the court until the verdict was fully announced, which was only for a few seconds. The PM had refused to accept that convicted disqualified him from his position as the PM and said that only the speaker of the assembly had the right to determine that.
Article viewed on Oye! Times at www.oyetimes.com