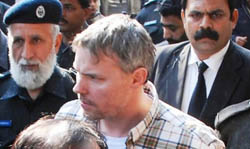 The hoopla created by the media on the issue of Raymond Davis has put the Pakistani Government in the soup; the situation has left them in an unwanted state of compromise.
US Senate Foreign Relations Committee Senator John Kerry in his latest Press conference reiterated that Raymond Davis is a diplomat and under Clause 37 of the 1961 Vienna Convention he has a rightful immunity. The blunt statement of the Senator and President Obama on the diplomatic immunity of American "Raymond Davis" has left Pakistani Government between the devil and the deep blue sea. Current Pakistan People's Party regime's willing to release Davis is completely incapable to deal with the issue of immunity, to an extent that they shut-down the foreign ministry and let the matter resolved on America's terms.
Conversely Pakistani public incited by the media information seem to stand against any action of Pakistani Government that could lead to Ray's release. The burden of being an American has sparked the controversy and placed Pakistan in the spotlight of the international media.

The judiciary does not seem to be spared from the pressure created by this issue, while the case is strong enough to get Ray acquitted either under Vienna convention or the exception of self defense yet no institution is in a position to do justice to this matter. Pakistan's mainstream political parties and the provincial and national assembly want to keep themselves out of this controversy except the parties that boycotted elections are using Ray as a tool to settle scores and pave their way for next elections.

The present state of affairs do not seem to create an amicable situation to resolve this matter, indeed the Pakistani Government need to deal this with smart diplomacy.

A speculative alternative is to conflate the issue of Afia Siddiqui with that of Raymond Davis, well when left with no option this point can be considered as well.
If according to Senator Kerry, Ray should be tried in American courts then why Aafia Siddiqui cannot be tried in Pakistan? I believe Ray's arrest has given Pakistan an opportunity to bargain with US on the issues of Aafia Siddiqui and Drone Attacks.
Whether Ray is guilty or not is yet to be decided but keeping in mind the heat of the matter it can anticipated that Pakistani courts might not take any unpopular decision against sentiments of masses.
Pakistan here need to act smart and strike a politically correct deal, they must negotiate with US on the matter of Aafia Siddiqui and Drone Attacks, if US is really interested to take their man out of Pakistan and is aware of the fact that weak Pakistani Government is helpless in front of the rising public pressure, they must agree to repatriate Aafia and prevent drone attacks on a sovereign nation, maybe like this they could heal wounds of previously suppressed Pakistani people who have almost decided to bring their so called democracy to an end in case of failure of Ray's detention
If Pakistan people's party through intelligent diplomacy could resolve this issue with the Americans by making them understand the situation on ground they will definitely survive their tenure as apparently there seem to be no other way to tranquil the infuriated Pakistanis.
Mr. Tanzeel Ahmad is a Karachi based marketing professional who is interested in politics and cultural issues. He blogs at www.tanzeel.wordpress.com
Article viewed at: Oye! Times at www.oyetimes.com