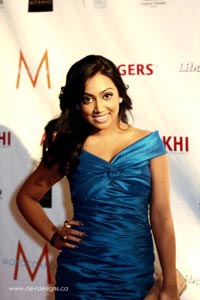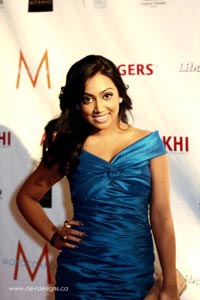 Melinda Shankar
Melinda Shankar knows her acting career can reach new heights.

All the Degrassi: The Next Generation actress has to do is look at what another famous Degrassi alumnus, Drake, has accomplished in music in a short time as proof.
On Friday the 18-year-old Ottawa native took time out from her 15-hour workday to revel in her success and accept her 2011 Sexy and Successful Award at Anokhi Magazine's 5th annual awards gala in Toronto.
"Five years ago we wouldn't have had the opportunity to do a whole South Asian event, let alone be this big and extravagant and have the fifth year," said Shankar, who credited Degrassi management with realizing the significance of the honour and rearranging her schedule to allow her to support the event.

Raj Girn, Founder of Anokhi Magazine
"I'm hearing it keeps getting bigger and bigger and it's going to continue to get bigger and bigger and better and I will keep supporting."
On following in the footsteps of Drake, the karate black belt said, "Hopefully I can reach where Drake is and exceed him!"
Shankar joined other South Asian achievers from around the world in receiving honours for their accomplishments in the fields of fashion, entertainment, media and business at the celebrity-laden event at Liberty Grand Entertainment Complex.

Mona Singh
The annual gala, which included awards in the categories "Most Promising," "Of the Year," and "Excellence," is held annually to commemorate the release of the magazine's anniversary collector's edition issue and Sexy and Successful List of South Asian achievers from around the world.
Aside from the awards, the event featured live performances from artists – singers Raghav (Canada), Mona Singh (U.K.) and Tina (U.S.) and Indian classical dancer Bageshree Vaze. Bollywood singer Ali Quli Mirza and celebrity DJ Donna D'Cruz performed at the post-event afterparty.
Singh's performance – her Canadian debut – was one of a few firsts for the gala. Dubbed the First Lady of Bhangra and the Asian Madonna, Singh felt the significance of the award recalling the struggles of her pioneering dad, Channi Singh who formed bhangra band, Alaap, in the U.K. over 30 years ago.
"It means a lot…..I want to promote my culture, which is Punjabi culture, and what better way of doing it, but through music, so I'm honoured to be part of Anokhi and Anokhi is doing a great, great thing promoting South Asian culture through all different industries around the world and it's great that all these people are here tonight and I'm being recognized," said Singh, who was recognized with an "Of the Year" distinction.

Fashion designer Vikram Phadnis poses
with his models and make-up team.
"It gives you a great sense of pride that our Asian people are doing so well and so much and now becoming successful and they're being recognized and it's the recognition that's important."
As well, acclaimed Bollywood fashion designer Vikram Phadnis showcased his collection for the first time in North America in an elaborate show that included close to 20 models.
Lauded by Bollywood heavyweight Sushmita Sen for reflecting personal styles in his designs, the Excellence honouree was grateful for the recognition.
"I'm honoured completely because given a choice Anokhi had the options of choosing any other designer from my country and the fact that they chose me, I appreciate that recognition," said Phadnis, who has regaled glitterati the likes of Aishwarya Rai Bachchan, John Abraham, Akshay Kumar and Amitabh Bachchan.
"It's great to showcase our collection in front of a great South Asian population. It feels different because the way they appreciate your clothes is completely different because they have a connection with your country and I think tonight was special for me because it was the first time I was showcasing in Toronto."
In nine years of publication, Anokhi Magazine has grown from a single magazine to a multiplatform media brand. Continuing that growth curve, President, Publisher and CEO Raj Girn announced the magazine's parent company, Anokhi Media Corp. has partnered with Rogers Communications to make the company's web-based Anokhi Pulse TV available on line on demand to Rogers customers.
As well, the company will be launching an app in 2011 that will provide free articles and video downloads.
Click HERE to view all the pictures from this event in High Resolution.
Photos below courtesy of Annandi Merhai of Devi Designs
{module 232}
Photos below courtesy of JP Dhanoa


Article viewed at: Oye! Times at www.oyetimes.com