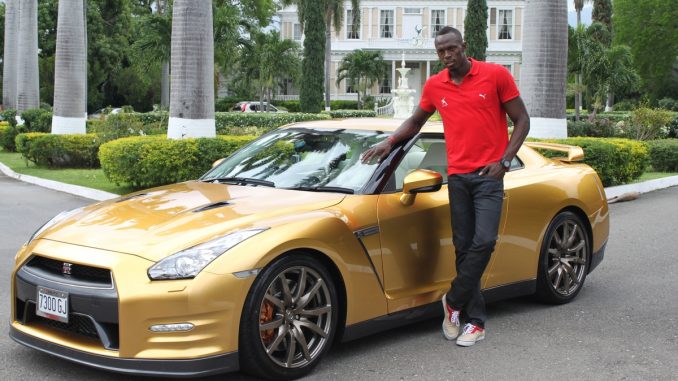 What do you have to do get a major auto maker to customize a supercar around your tastes and driving style, then hand it over for free? Well, if you've got Usain Bolt like talents, then find an auto maker you like and partner up.

A factory custom Nissan GT-R was presented to the man commonly known as 'the world's fastest man', earlier this week. Bathed in an exclusive gold paint to commomerate Bolt's many Olympic medals of similar colour, the car is only one of two in existance.
Nissan presented the car to Bolt in appreciation for his contributions as a Nissan brand ambassador for GT-R.
According to Nissan, it was love at first sight for Bolt, already a GT-R owner, when the one-of-a-kind "Bolt Gold" GT-R was unveiled as the top prize in an online global charity auction held in late 2012. The proceeds of the auction –nearly $200k, $187K of which was the car– went to the Usain Bolt Foundation which helps young children in Jamaica have fair access to better sporting facilites, play areas, and educational material.

The special Gold GT-R that Nissan presented to Bolt is based on the 2014 model year Nissan GT-R. It has been customized to suit Bolt's driving style, based on the data Nissan engineers recorded during his test drive of the GT-R line-up when he visited the company headquarters in Oppama, Japan back in October 2012.
The gold-painted Nissan GT-R features an extravagent white interior, BOSE audio system and 10-spoke RAYS aluminum-alloy forged wheels. These specially fitted, hyper-titanium color-coated wheels add extra flair to an already bold exterior that is highlighted by an exclusive "Spec Bolt" emblem. The visual specs of the car, including exterior color, interior color and wheels, were selected by Bolt himself.

The handover event took place on May 5, 2013, at Bolt's home training facility in Jamaica that overlooks the mountains of his home country. Jose Román, vice president of Nissan Latin America and the Caribbean, who attended on behalf of Nissan, handed over the keys to the Gold GT-R to Bolt.
[Photography credits: Nissan and Usain Bolt]