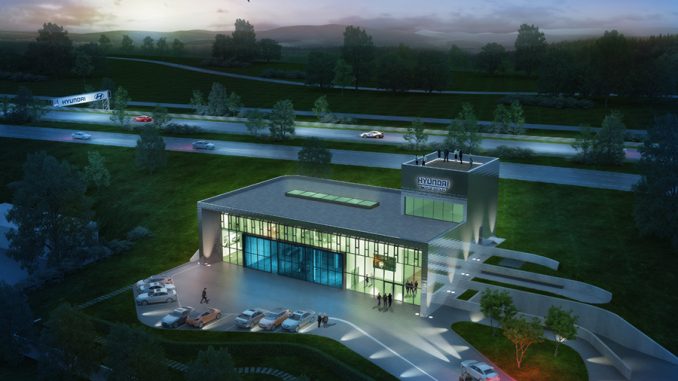 Korean auto giant Hyundai's European arm announced today that the company is in the homestretch with its development of a new vehicle test centre at the Nürburgring. Using the new facility as a base to evaluate and improve product quality, Hyundai engineers aim to make circuit testing vehicles at the famed German track a standard process of new vehicle development.
Hyundai's new four-storey structure features 3,622 square metres (11,883 square feet) of floor space including workshops, offices, and a VIP hospitality area. The exterior design incorporates glass and metallic finishes which Hyundai says was intended to compliment the modern styling of the company's product range.
This new facility is an extension of Hyundai's European research and development infrastructure. Its current R&D centre in Rüsselsheim, Germany, was established in 2003 to house the company's European powertrain, tuning, and product evaluation divisions. Each of these will now have easy access to the Nürburgring's challenging 21-kilometre Nordschleife (North Loop) track, enabling them to complete a greater number of vehicle assessments per year. More specifically, Hyundai will undertake 'accelerated durability' tests which can simulate up to 180,000 kilometres of severe driving in a matter of weeks.
"Quality is one of Hyundai's core values, and it's key to achieving customer satisfaction," said Allan Rushforth, Senior Vice-President and COO of Hyundai Motor Europe. "The Nürburgring is the ultimate location to test vehicle durability. We're able to apply what we learn there in all of our vehicle development projects, bringing direct benefits to our customers in the areas of quality and performance."
The additional testing capacity provided by the new facility will enable Hyundai to complete accelerated durability tests for 11 vehicles in 2013, as well as the assessment of steering, suspension, ride, and handling characteristics to aid in the calibration of new models.
For decades the Nürburgring was the go-to track for supercar manufacturers to test and showcase engineering superiority. With ever growing numbers of mass market vehicles being tested here, it appears that consumers will soon be able to buy even the sub-$15k car that has been 'Nürburgring tested'.
[Illustrated image courtesy of Hyundai Canada]