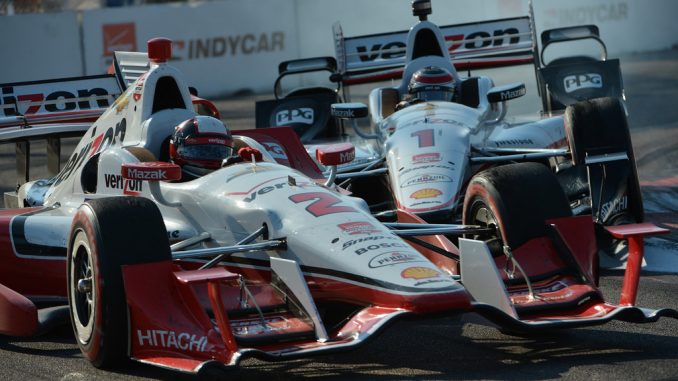 You can publish this article on your website as long as you provide a link back to this page.
This article was last updated on April 16, 2022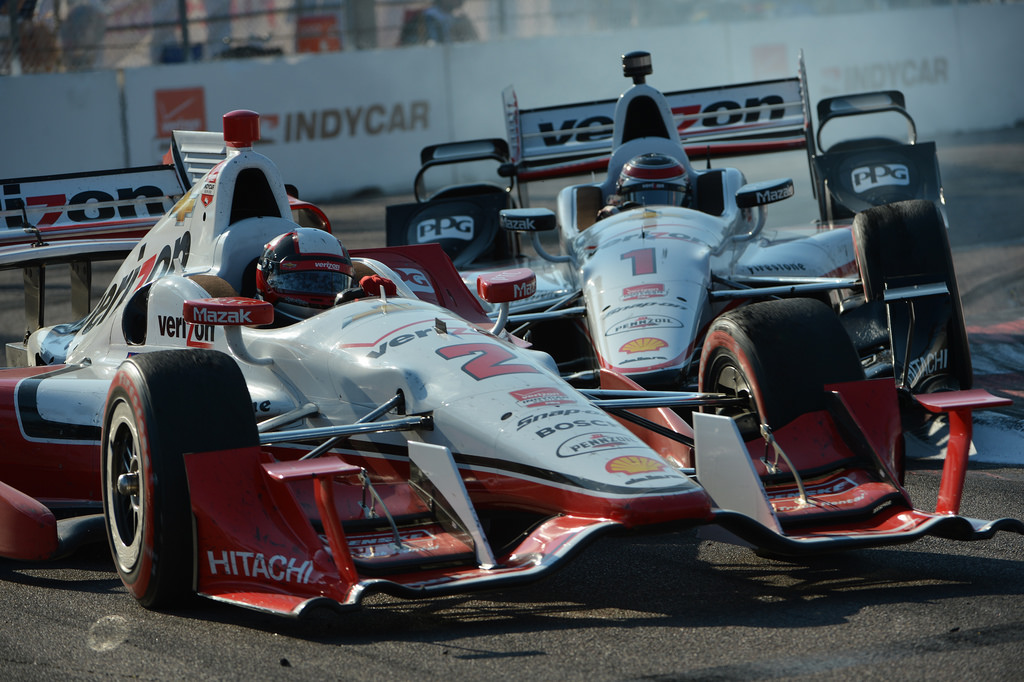 Juan Pablo Montoya takes the win at the 2015 IndyCar season opener this past weekend during the Grand Prix of St. Petersburg in Florida. He was followed closely by fellow Team Penske driver Will Power and NTT Data Chip Ganassi Racing driver Tony Kanaan.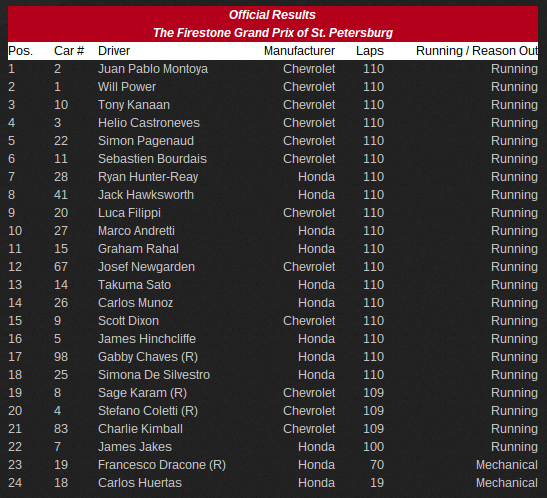 This season opener will go down in IndyCar history as the competition debut of the all-new aerodynamic bodywork from Honda and Chevrolet for the Dallara DW12 cars and it turned out to be a race of debris.
The intricate aero kits supplied by the two engine manufacturers had a trial by fire as the race got underway and nearly any car-to-car contact resulted in broken bits of bodywork strewn across the track.
In testing and in practice laps the new aero work proved to be immensely effective. Promising as much 25% more downforce, IndyCar officials green lighted engine manufacturers to develop their own versions of aerodynamic bodywork. Individual teams could further tweak their bodywork to match their driver needs in hopes of even the smallest edge over other teams running the same manufacturer engine/aero kit combinations.
In a testament to the added speed the new aero kits unlock, reigning Verizon IndyCar Series champion Will Power broke the track record for the 2.89 km (1.8 mile) St. Petersburg street circuit that has stood since 2003 during qualifying runs on Saturday.
"It's phenomenal how much grip it has now," Power said. "It's like nothing I've ever felt."
Team Penske seems to also have sorted out their Chevrolet aero kits the best with their drivers taking four of the top five finishing spots during Sunday's race. Chevrolet will also have cause to grin after this weekend with the top six final positions going to Chevrolet powered cars.
All the extra speed comes from the details in the front and rear wings. Chevy has winglets in the back and have a tighter look. Honda's front wing has many layers and make for a more futuristic design.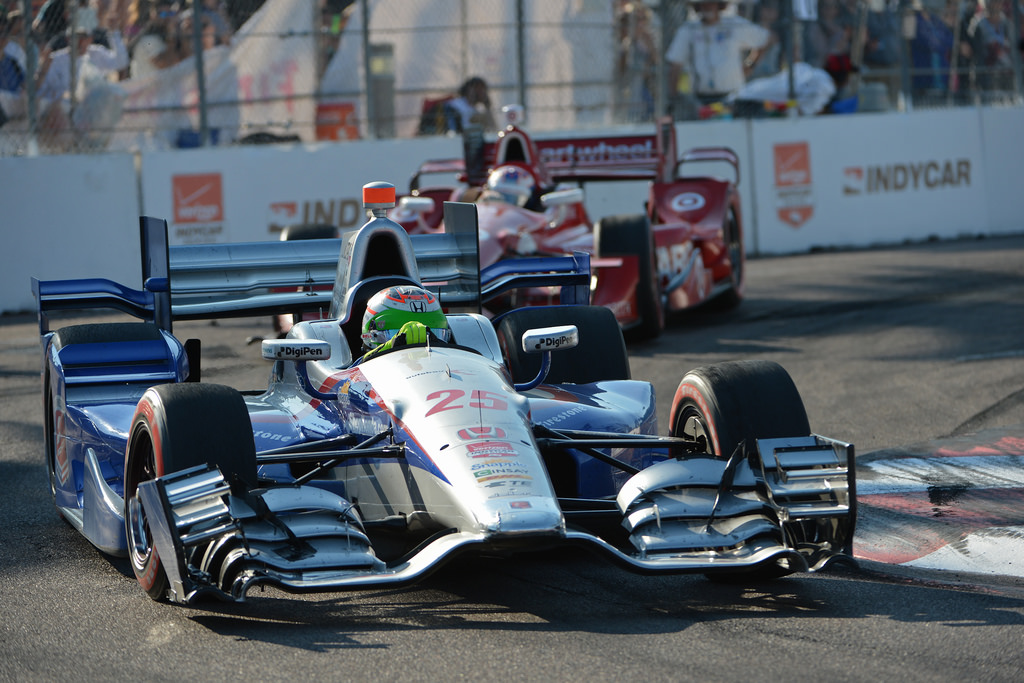 Although the designs differ, both kits are designed for greater downforce allowing drivers to brake later and carry more speed through corners.
All those aero kit elements however, carry risks.
As witnessed during the race, small parts break off easily during any contact and lead to more debris and cautions.
Costing a maximum $75,000 per entry, the kits have been years in the making and add an extra expense for the teams. Plus different aero kit combinations are needed for different kinds of tracks.
"I'm kind of putting an investment to the future," Team Penske owner Roger Penske said. "What I don't want to do is change it two years from now."
During a recent interview, IndyCar President of Competition, Derrick Walker also indicated that the focus over the next few years will be on the current chassis/engine setup. According to him, the earliest we'll see a major change to the cars again will be 2018 or possibly 2019.
As the season progresses expect to see more track records fall by the wayside as drivers push their cars to ever greater speeds with the improved aerodynamics. How the manufacturers, teams and IndyCar officials address debris caused by aero kits breaking off remains to be seen.
IndyCar heads to Avondale, Louisiana next for the very first time as the city hosts the Indy Grand Prix of Louisiana at NOLA Motorsports Park April 10 – 12.
Photographs by John Cote.
Kanishka Sonnadara can be found on Twitter @autoKsS or reached by email at kanishka[at]oyetimes.com.