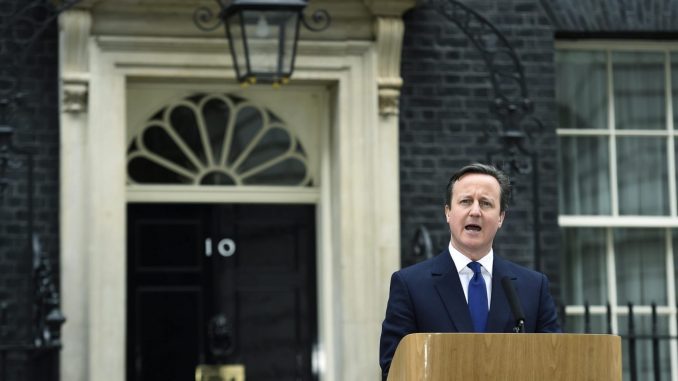 This article was last updated on April 16, 2022

David Cameron has officially launched the general election campaign of the Conservatives by delivering a warning in Downing Street to the British people as he highlighted that they face a serious choice between a safe and secure future under the Tories or an economic chaos under Labour. Signaling that the Tories might be running a highly personalized campaign against Ed Miliband, the prime minister mentioned the Labour leader on three occasions on the Downing Street steps.
Upon his return from the Buckingham Palace, where he informed the Queen that the parliament had been dissolved at midnight, the prime minister addressed reporters in the Downing Street and alleged that "in 38 days' time you face a stark choice. The next prime minister walking through that door will be me or Ed Miliband." He stressed that "you can choose an economy that grows, that creates jobs, that generates the money to ensure a properly funded and improving NHS, a government that will cut taxes for 30 million hardworking people and a country that is safe and secure. Or you can choose the economic chaos of Ed Miliband's Britain — over £3,000 in higher taxes for every working family to pay for more welfare and out of control spending. Debt will rise and jobs will be lost as a result."
Mr. Cameron's strict remarks are a change in the usual speeches by his predecessors who usually try to place themselves above the political fray in such circumstances. Perhaps this indicates that the Tories believe they have their work cut out to deliver a clear message that voters face a binary choice between Cameron and Miliband.
You can publish this article on your website as long as you provide a link back to this page.