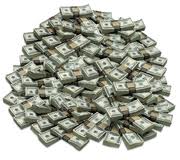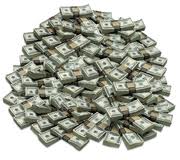 All right!!! I just checked the OLG web site and we have a winning ticket for the pot of $7,104,913.90. Where the heck do they keep coming up with cents? Ninety cents? We're getting quite precise, eh?
There was no winning ticket for the fifty mill on Friday and only two out of nine MaxMillions were won and one of them is split two ways. It wasn't a very profitable Friday, but now with the 6/49 we have somebody who's going to show up at the OLG offices with a smile on their face.
So, nothing else to do today but kick back and relax. Check out the article "India wins Cricket World Cup 2011 after 28 years" by Shreyasee Chowdhury for a review of this historic match. India is back on top!
If you like something more political, check out "Pakistani actress Veena Malik fights Mullah's accusations". This also has a video covering the war of words between the actress and Pakistani religious scholar Mufti Abdul Qavi. It's a clash between the modern and traditional. Who's going to win?
I can have a last look at some of the notable April Fools' Day pranks. I note that many of the big names like Google have a great sense of humour when it comes to pulling a prank on April 1st. The joking may be over, but you can still smile at the various stunts.
I can check out some new music. This isn't your mainstream stuff, rather Indie rock from Vancouver by the name of Hector. Andréa Hector is a one woman dynamo who plays, composes, sings in two bands, and has even supplied the music for a movie. Like everybody else, I get bombarded with mainstream stuff but sometimes it's interesting to go off the beaten track and find something different.
I'm continuing to laugh at this Facebook group called "Don't buy gas on April 15th". The guy who started it thinks that by not buying gas on one day, we can all somehow make the oil companies see the light and change their money grubbing ways. Yeah, like me not buying gas is somehow going to affect their profit margin. Nevertheless, over 800,000 people have signed up. Good lord, a lot of people haven't thought this one through!
6/49: Wednesday, April 6, 2011: $3,000,000
My middle of the week hope.
Lotto Max: Fri Apr 8: $50 million plus 23 MaxMillions
Everytime we don't have a winner, it just keeps going up and up!
All the latest winning numbers
You can visit the Lotto web site and check out all the latest winning numbers including Poker, 49, Lottario, Keno, Pick 4, Pick 3 and Payday. Of course, all the Encore numbers can be found there as well.
Click HERE to read more from William Belle
Article viewed at: Oye! Times at www.oyetimes.com