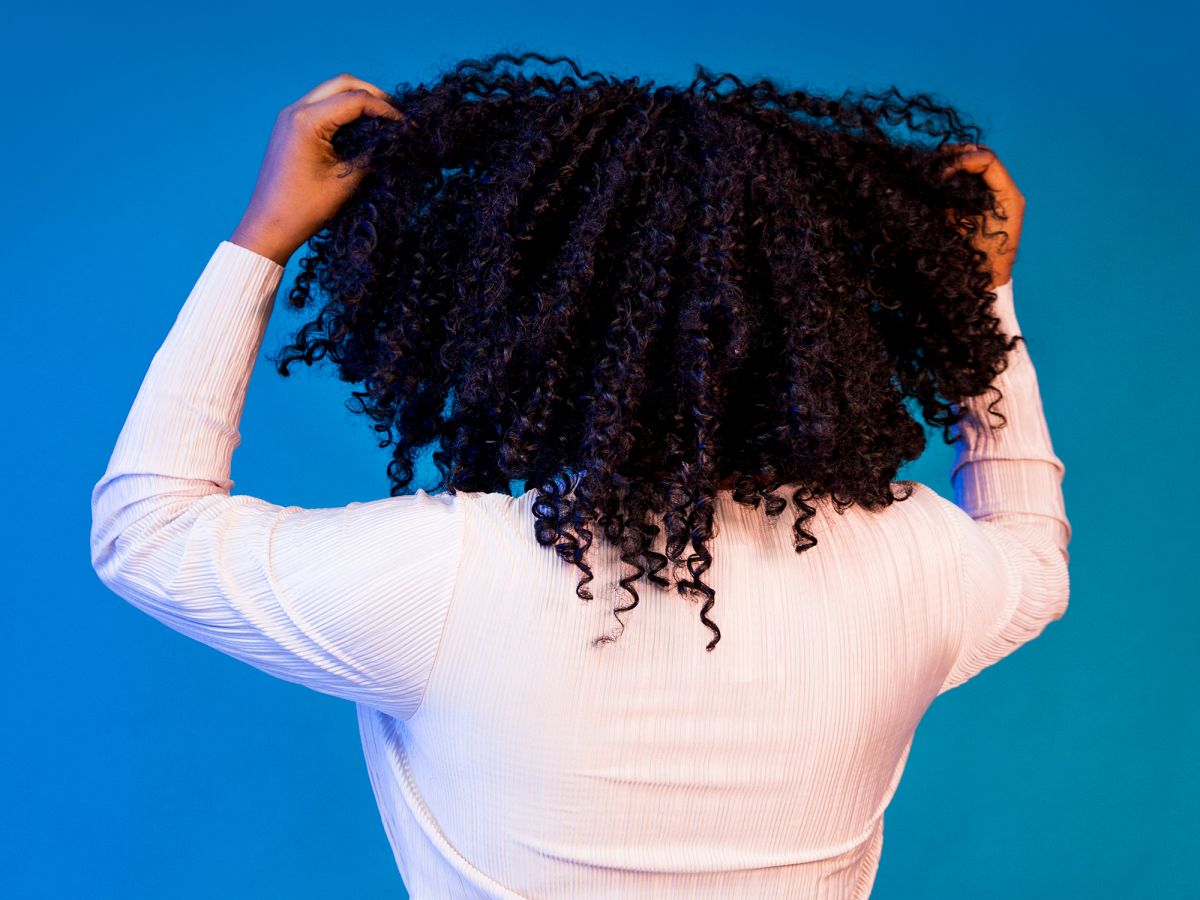 I was raised around cousins and aunts with beautiful, hip-grazing hair. Long, straight hair was a token of a pride for most of the women in my Saint Lucian family. My own hair stretched down to my butt as a child, thanks to the relaxer my mom put in my hair at the age of 9.
Once a month, my mom would sit me in the bathtub, paste my scalp with Vaseline (to protect my skin from the burning sensation of the relaxer), and perm my strands. Then, every week she'd blowdry my hair and let me style it for school. Being able to tie my hair in a ponytail or wear it straight down made me feel grown up and in charge — especially in middle school. This was the regular hair routine for me, until I went to college.
I discovered the natural hair movement during my junior year at Berkeley College in New York City. Around that time, my younger sister transitioned from relaxed to natural, and I was in awe of her process. I remember sitting her between my legs, combing through her two-textured hair, and thinking, " I want my hair to do that," as her roots curled up.
I decided to hop on the bandwagon and grow my curls out, too, but the process wasn't silky smooth. Hours meant for homework turned to hours spent on YouTube watching tutorials and testimonials. And I immediately wanted to put a flatiron to the slightest bit of curled new growth that emerged from my scalp. But, eventually, I became more comfortable, experimenting with flexi-rods, twists, braids, and buns.
Growing out my hair in college (while writing papers, passing tests, and working part-time) was a tough job. But it was one that I am so glad I stuck with. Today, I wear my strands both curly and straight. Breaking up with my relaxer gave me an opportunity to discover the true versatility of my hair. Ahead, read the stories of eight other women who decided to grow out their natural curls in college — and don't regret a thing.
The following responses have been edited for length and clarity.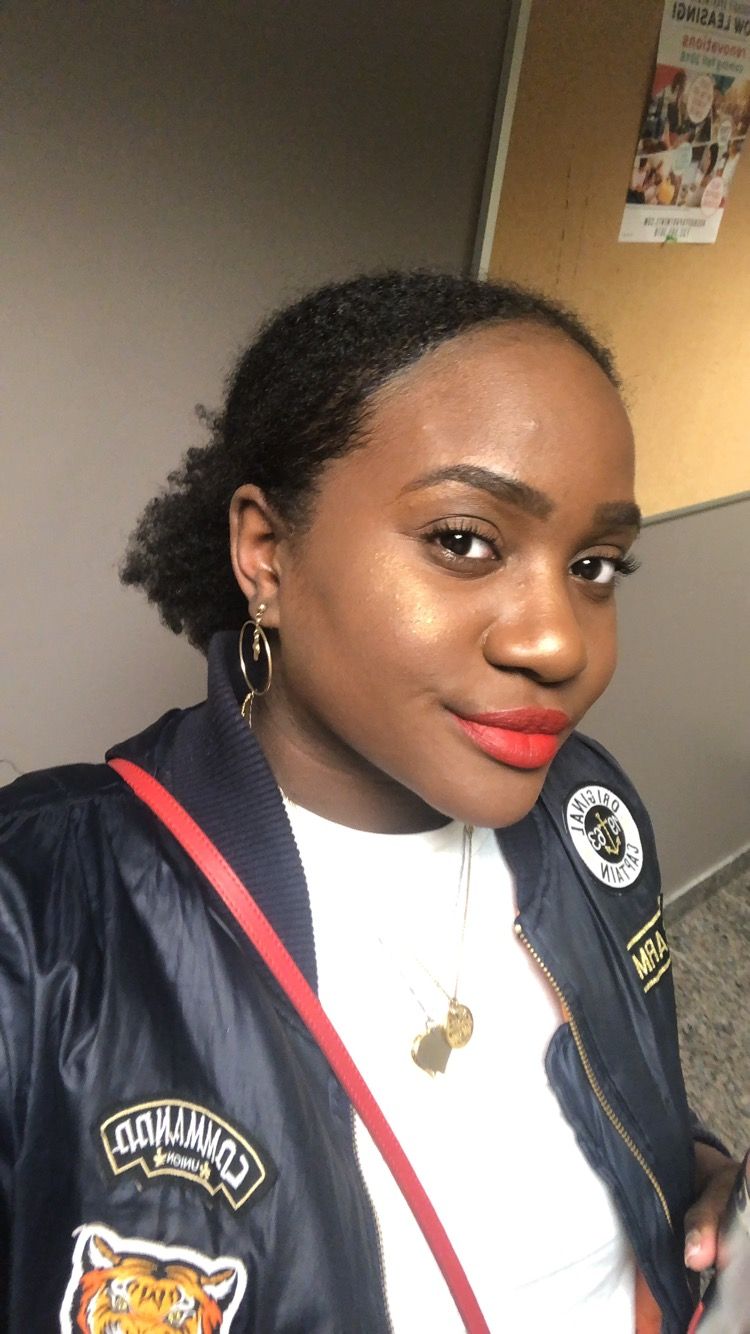 Michaela C. Felix, 21
College:
Rutgers University, New Brunswick, NJ
"During my sophomore year in college, I joined a natural hair organization. Prior to that, my hair was relaxed for most of my life, and I didn't think much of my curly hair.
"When I decided to go natural I transitioned slowly. I was too afraid to big chop, so a weave with no leave-out was my style of choice for the school year. Over summer breaks, I turned to braids as a protective style. Though I transitioned in my second year at Rutgers, I didn't really feel confident wearing my hair out until my senior year. Everyone around me seemed to have the natural hair thing down pat. I was surrounded by women who were masters at cornrowsand twist-outs. But I wasn't too familiar with how to wear those looks or with the best products for my hair.
"But being surrounded by people who were going through similar journeys taught me that trial and error is a unique process for everyone. Not everyone's hair is the same and taking the time to learn about my specific needs during my transition phase was very important. I've gained much more confidence from learning to love my hair the way it is and not comparing it to anyone else's."
Michaela C. Felix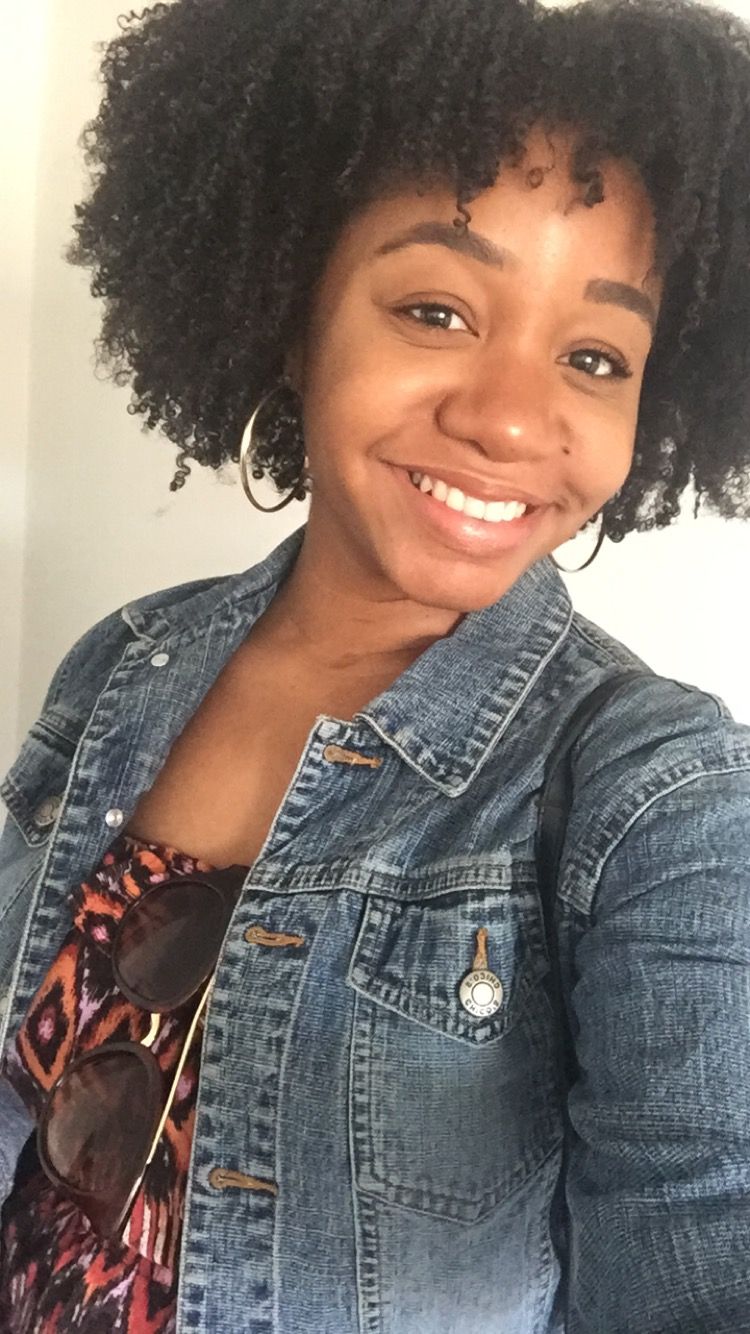 Aurian Valcin, 28
College: University of South Florida, Tampa, FL
"I watched the documentary Good Hair by Chris Rock, and it was really enlightening. It made me realize that I had no idea what my hair texture looked like without a relaxer. Shortly after, I saw my best friend's older sister with a crown full of beautiful coils. That was my first personal exposure to natural hair, and it inspired me to grow my hair out.
"When I first decided to go natural, I transitioned for about six months and turned to protective styles. I wore braids and twists to camouflage my curly and permed textures. However, I wasn't too skilled with styling my hair. Growing out my relaxer became overwhelming — so I big chopped. I wanted to accept myself wholeheartedly, without the standards of beauty that had been pushed on me for years.
"Going natural and big chopping, specifically, completely spiked my confidence. I learned that once you cut your hair you can either hide it or own it. I didn't want to hide. My big chop was another step towards becoming my true self, and I even inspired some of my peers. I've learned that there's no right or wrong way to be natural and that different methods work for different people. Do what works for you. "
Aurian Valcin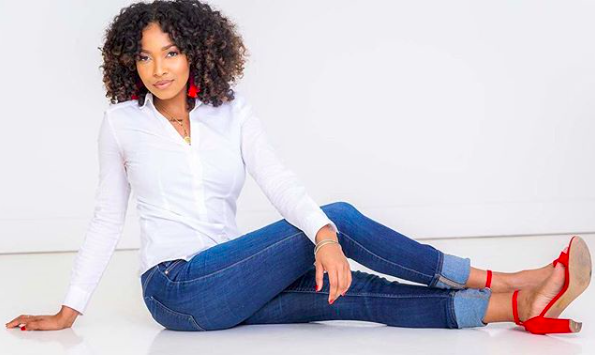 Lauren Hughes, 22
College: Wayne State University, Detroit, MI
"I went natural during my sophomore year of college because I was a student-athlete and my
straight hair wouldn't last through sports
. I didn't chop off all my strands, but I did snip off a considerable amount. I wasn't totally confident in having super-short hair, so a drastic big chop wasn't for me. Now that I'm older, I would definitely big chop if I had to do it over again.
"It took a long time for me to see progress. And while my natural curls grew out, I wore a ton of buns. Seeing other Black women on social media embrace their natural hair was also a great motivation for me. YouTuber and influencer Jade Kendle of Lipstick N' Curls really helped me through the process. Growing out my natural hair made me proud that I looked different than most people and that my journey was unique to me."
Bruce Turner Photography

Anna Rodriguez, 26
College: University at Albany, Albany, NY
"While I was away at college, I was so lazy and tired of styling my hair, so I decided to cut it off and embrace my natural hair. I slowly started getting haircuts every three to six months. When I wasn't fiddling with my new curls, my hair was tucked in a bun.
"There weren't a ton of people around me going natural when I decided to. I was walking past a bar one time and fell in love with a bartender's curls. I stopped and asked her what products she used and immediately went out and bought her recommendations. Her hair was my inspiration at the time. Soon after, my sisters began their own natural hair journeys, and we exchanged products and techniques.
"When I first went natural friends and family would say they preferred my straight hair. Now, those are the same people who say they prefer my curls. I came into my own power and beauty when I embraced my natural hair, and it really taught me how to show myself — and my hair — love."

Alyssa Francois, 29
College: LIM College New York, NY
"During my junior year of college, I was going through the process of self-discovery and taking control of my life. My hair was relaxed since I was about 7 years old, and I felt it was time for a change. I wanted to know who I was (and what I looked like) behind a relaxer.
"Big chopping wasn't in the cards for me. I was always more comfortable with long or chin-length hair. So instead of chopping it all off, I grew my hair out until it was at a length that I felt comfortable with. I wore my hair in updos, roller sets, and flexi-rod sets most of the time. I bumped into the late Titi Branch, co-founder of Miss Jessie's, in a beauty supply store one day and explained to her that I didn't want to big chop my hair. She suggested I try flexi-rod sets, and it was some of the best styling advice I've ever gotten. With the style, I was able to set my hair on wash day and not have to re-style during the week.
"When I finally cut off my relaxed ends, I went on a trip to China with my college. While there, locals were so fascinated by my hair, and it made me feel really good. Some people even came up and touched my hair! My professor at the time, who was Chinese, prepared me for this prior to our trip, so I didn't feel offended at all. They didn't mean any harm. My experience in China reminded me that whatever decision feels right to me is always a good decision."
Suzanne Cohen Photograpy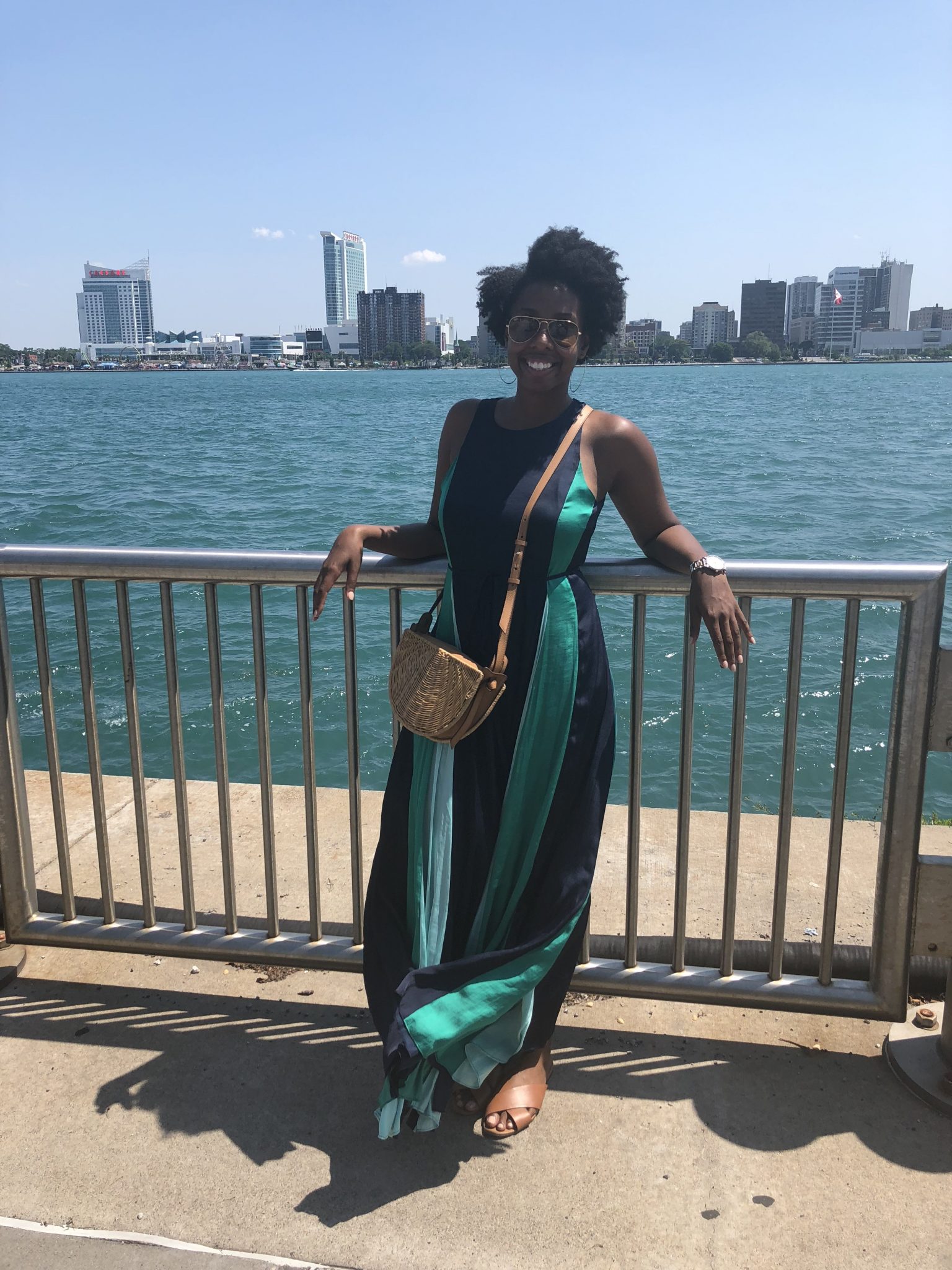 Adrienne Jones, 29
College: University of North Carolina at Chapel Hill, Chapel Hill, NC
"When I decided to transform my look in college, I really wasn't focused on going natural. At the time, Solange had a super short cut that I adored. I really just wanted to experiment with a cropped haircut to see how I liked it — so I went for it. As my hair started to grow out, I found I really enjoyed my natural texture, but I had no idea how to manage my incredibly kinky hair.
"Initially, I had trouble finding influencers with the same type of hair as me, and I spent a lot of time (and money) trying to recreate styles that didn't work for my texture. But as time went on, I found some YouTubers (like MissKenK, Yolanda Renee, and BeautyCutright), who had 4C hair like mine.
"Cutting my hair off really forced me to toughen up. Lots of people had opinions about my hair that weren't always supportive, but I learned to block out the noise and rock my short cut to the fullest."
Jessica Cruel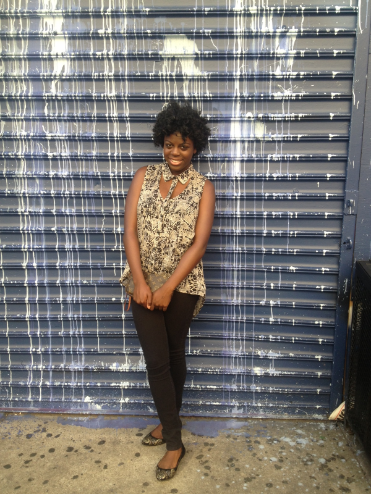 Sara Charles, 27
College: The Pennsylvania State University, State College, PA
"I went to a predominately white college in a predominately white town, so it was extremely hard to find a hairdresser who I could trust with my hair. There weren't many options in regards to products to try either. At the time the ethnic hair-care section at the local CVS and Walmart had few items to choose from.
"I was fascinated by the rising natural hair movement. When I wasn't doing homework, I was on Youtube researching natural hair. I was curious to see what my natural hair pattern looked like, so I decided to grow out my relaxed pixie cut. Though my hair was growing, it was still super damaged because I would use a flat iron almost every day. Eventually, I had to give up the flat iron. Instead, I began styling my hair in fro-hawks and Bantu knot-outs. Hats and head scarves were also some of my best friends in college.
"There weren't many YouTubers with my hair 4C hair texture at the time. But some online personalities like MoKnowsHair, BlakIsBeautyful, and My Natural Sistas helped me during my transition. Once I moved back home after graduation, I was also able to experiment more with products. That's when I discovered brands like Cantu, Eco Styler, Dark and Lovely Au Natural, and Creme of Nature.
"While so many people were also going natural when I did, it took me a very long time to be comfortable with my hair. I would watch YouTube videos and compare my hair texture to women with looser curls. But two years after I graduated college, I finally accepted that my hair is mine. I couldn't compare it to others and needed to find the best way to cater to my hair. My journey came with plenty of trial and error, but I don't regret it one bit."
Sara Charles

Liz Rodriguez, 22
College: Rutgers University Newark, NJ
"I was raised to believe that in order to be beautiful your hair had to be straight, but I was tired of killing my hair with relaxers and heat. I started seeing a lot of people going natural, and I wanted to give it a shot. I had never seen my hair natural until college.
"I wasn't entirely comfortable with chopping all my hair off, so I opted for twist-outs and braids while I transitioned. I watched a ton of YouTube videos during this time. I found it helpful to watch others go through this journey and discover what products they used along the way.
"Going natural really made me feel better about myself. I wasn't afraid to go to the gym and risk sweating my hair out. And I didn't have to avoid pool parties because getting my hair wet didn't matter. I no longer needed to hide behind straight hair."
Click HERE to read more from Refinery29


Loading ...