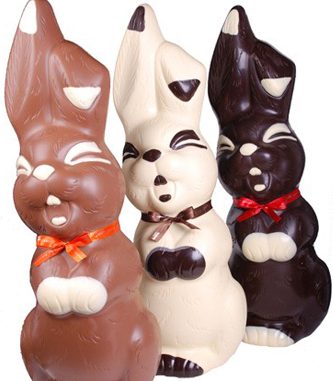 There are tons of reasons why we love Easter— family, friends, tradition, etc. — but our favorite part hasn't changed since we were little kids: really, really good candy. Though we've gotten older and (sigh) our parents gave up the Easter Bunny act, when it comes to the sweets, the excitement still remains. In fact, now, it's SO much better.
Forget that old wicker basket and humdrum chocolate eggs, this Easter season we're aiming above and beyond the norm for confections too darn beautiful to gobble up…at least, right away. Whether you're celebrating Easter Sunday or just reveling in a spring revival, your sweet tooth will tingle for these masterful candy creations. In this year's offerings of chic sugary treats, eggs get a gourmet upgrade, bunnies are more adorable than ever, and some of the world's most mouthwatering chocolates are turned into works of art. Check out our selection of amazing morsels in the slides. They're even calorie free! (The images that is.)

Jacque Torres Giant Smiling Bunnies, available only in Jacque Torres store locations.

Sucre Handmade Seasonal Marshmallows, $12, available at Taigan.

Vosges The Goose' Golden Eggs in Bacon & Eggs, $22, available at Vosges.

Dean & Deluca Petite Egg Sampler, $20, available at Dean & Deluca.

Williams Sonoma Carrot Lollipops, $4.99 for three, available at Williams-Sonoma.

Charbonnel et Walker Pink Marc de Champagne Truffle Easter Egg 225g, $36.69, available at Charbonnel et Walker.

William Curley Sea Salt Caramel Easter Egg, $47.92, available at William Curley.

Romanicos Chocolate Easter Mini Eggs, $15, available at Romanicos Chocolate.

Hotel Chocolat Buttons the Bunny, $14, available at Hotel Chocolat.

La Maison du Chocolat Chororico, $800, available at La Maison du Chocolat boutiques.

Vosges Rabbit's Den in Banana Toffee flavors, $99, available at Vosges.

Rococo Chocolates Quail Eggs, $15.22, available at Rococo Chocolates.
Photo: Via Dean & Deluca
Click HERE to read more from Refinery29.