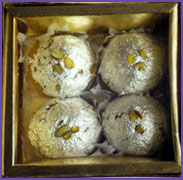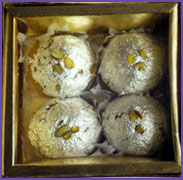 Ingredients :
2 pav wheat flour
2 pav sugar, powdered
6 tbsp ghee
10 gm raisins
4 cardamom pods
Method :
Pour 1 tsp ghee in frying pan. Fry raisins in it a little and keep aside.
Pour the remaining ghee into the pan. Roast wheat flour with it, till it smells.
Put cardamom powder and take out from flame.
Combine the powdered sugar and raisins with the roasted flour.
Shape small parts of the mixture into laddus, when cool.