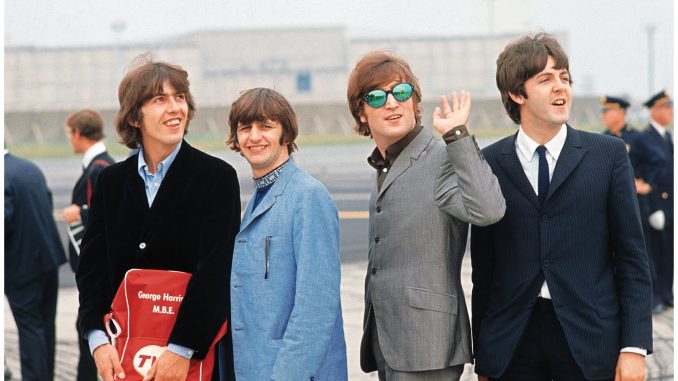 This article was last updated on May 26, 2022

The Beatles were a freedom switch.
Most young people got the message. Down with the 1950′s, their parents, and authority. The youth culture was taking over, even if it was the same old US rock and roll on high-speed.
After all The Beatles just wanted to emulate US artists like Little Richard, Elvis Presley, Motown artists and black R&B groups in the beginning.
The Beatles were already a European sensation when they landed at JFK Airport in New York City on February 7, 1964. Four thousand screaming fans waited for them at the airport to cheer on one of the greatest rock and roll bands of all time.
The Beatles delayed their first appearance in North America as Paul explained because they wanted a #1 US hit first. They did not want to bomb in the States. In England and Europe EMI, their record label, had several #1 hit songs since "Please Please Me" on February 22, 1963.
In America, Capital Records weren't so impressed with the boys. Capital held back promoting The Beatles until I Want To Hold Your Hand started a 7-week #1 run on February 1, 1964. The Beatles were appearing in Paris, France when they got a congratulatory telegram from Capital Records in the States telling them the song was #1.
New York disc jockey Murray The K had whipped up his fans to meet The Beatles and handled some of their tour details and publicity. The Beatles gave Murray the K exclusive radio interviews which fans ate up.
The Beatles marked the first of the British bands to hit America in what is called the British Invasion. The invasion was nothing more than good old American rock and roll, rhythm and blues and blues with a British accent. Rock and Roll which started in the US South in the mid 1950′s had fallen on hard times with Elvis churning out one bad movie after an other. Chuck Berry, one of rock and roll's originators, had his wings clipped by a jail sentence. Little Richard had left rock and roll for the life of an evangelistic minister.
In 1963 teenagers had to listen to was sloppy ballads from Bobby Vinton, The Beach Boys imitation of Chuck Berry, and Andy Williams singing "Can't Get Used to Losing You." Billboard Year End Hot 100 Singles 1963. It was driving me to investigate R&B and jazz.
I won't pretend to be a musicologist or sociologist to explain why The Beatles had such a big impact. They just did.
They had energy, humor, irreverence and long hair. They were fresh, and definitely goosed the music scene around the world. I started growing my hair long from a brush cut to a Beatles cut immediately as a sign of teenage rebellion, along with tens of millions of other boys around the world.
The 1st Ed Sullivan performance by The Beatles
Everyone was glued to their black and white television sets to watch The Beatles on the Ed Sullivan Show that Sunday night. Ed Sullivan was a Broadway reporter who ran a Sunday night variety show with corny singers, acrobats and a ventriloquist, sort of 50′s/60′s vaudeville show. When we were younger we watched it as a family.
By the time The Beatles showed up the Ed Sullivan Show was on life support. Then on February 9th, 1964 73, million people tuned into the Ed Sullivan Show to watch The Beatles singing "All My Loving", "Till There Was You", "She Loves You", and "I Want To Hold Your Hand".

"I Want To Hold Your Hand" – The Beatles Ed Sullivan 1963. (They re-mixed the audio in a strange stereo for this video)
What was it? Young handsome boys playing guitars, smiling and singing in harmony? George Harrison was playing a cross between country and rock guitar. Paul sang a show tune ballad "Til There Was You". Still the girls screamed and swooned, the boys smiled and everyone was enchanted. The excitement of the swinging 60′s had begun.
I recommend you make sure your virus protection is up to date if you want to see the complete performance here link along with clips from The Beatles attending clubs in New York.
If you want to watch a really great account of The Beatles whole career, check out The Beatles Anthology and The Beatles Anthology – in Canada. The documentary is 600 minutes long and lets The Beatles tell their own story from their beginning to then end.
I got a LaserDisc of this in 1995 and just finished watching it again over the past week. It's awesome, especially the full length music videos. Anthology brought back lots of great memories in the music and The Beatles.
Follow me on Twitter at @sdpate or on Facebook at NJN Network and OyeTimes.
Feature photo credit -AFP
By Stephen Pate, NJN Network
You can publish this article on your website as long as you provide a link back to this page.