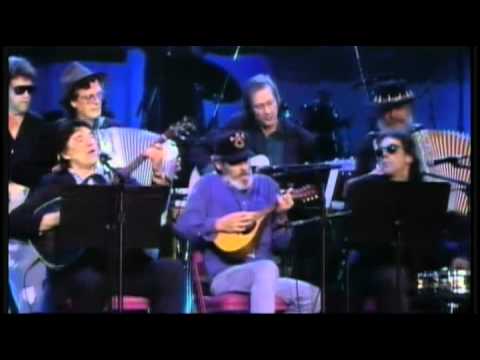 This article was last updated on May 26, 2022
Canada:

Oye! Times readers Get FREE $30 to spend on Amazon, Walmart…
USA:

Oye! Times readers Get FREE $30 to spend on Amazon, Walmart…

The Band perform the timeless and quirky song from Cahoots during Bob Dylan's 30th Anniversary Concert Celebration
"Back in 1967 or 1968, I heard a record called Music from The Big Pink and it changed my life," said Eric Clapton as he introduced The Band during the Bob Dylan 30th Anniversary Celebration. "It changed the course of American music."
"When I Paint My Masterpiece is just one of the 32 timeless performances by the musical friends of Bob Dylan celebrating his 30th year as a recording artist. The night is being released in North America for the first time on DVD or Blu-Ray – 30th Anniversary Concert Celebration (Deluxe Edition) [Blu-ray].
The concert will also be available on March 4, 2014 as a 2-disc CD 30th Anniversary Concert Celebration (Deluxe Edition). As usual, Amazon.com protests the lowest price on pre-orders. I just love their service.
While I like and appreciate Dylan's voice, having other great rock and folk singers interpret his songs is awesome. This concept was repeated recently as the Chimes of Freedom: The Songs of Bob Dylan, a 4-CD collection of Dylan done very up-to-date.
Bob Dylan 30th Anniversary Celebration
Dylan's producers put together the same idea for Bob Dylan's 30th Anniversary Concert Celebration in 1992 to mark his 30 years in the recording business. On October 16, 1992 18.000 fans jammed Madison Square Gardens in New York City to hear one of the greatest collections of artists pay tribute to Bob Dylan, said host Kris Kristofferson.

The Band performing "When I Paint My Masterpiece" at the Bob Dylan 30th Anniversary Celebration 1992 (L-R Donald "Duck" Dunn, Rick Danko, Richard Bell, Levon Helm, Jim Weider, Randy Ciarlante and Garth Hudson)

The Band performed along with other musicians who had performed with Dylan in the past, including George Harrison, Neil Young, Ronnie Wood, Eric Clapton, Willie Nelson, Stevie Wonder, Johnny Cash and June Carter Cash, Lou Reed, The Clancy Brothers, Ritchie Havens, Johnny Winter, Roger McGuinn, Tom Petty & the Heartbreakers, Kris Kristofferson, Chrissie Hynde, The O'Jays, Eddie Vedder, Sinéad O'Connor, and Tracy Chapman.
There were so many great artists and performances that most of the guests were limited to one song.
The Band do a timeless "When I Paint My Masterpiece" during the Bob Dylan 30th Anniversary Concert Celebration'
"When I Paint My Masterpiece" by The Band (Levon Helm, Rick Danko, Garth Hudson, Jim Weider, and Richard Bell from The Band plus Donald "Duck" Dunn, G.E. Smith, Randy Ciarlante and Jim Keltner) (if the video does not work, tweet me @sdpate)
Bob Dylan and The Band
The Band had more time and influence with Bob Dylan in the 1960s and 1970s than anyone I am aware of. Their performance on Bob Dylan's 30th Anniversary Concert Celebration takes the audience back to the time when Dylan moved from folk music to a rock and roll artist.
Before meeting Dylan, The Band was The Hawks, Rompin' Ronnie Hawkins back up band in Toronto. As Dylan went electric in 1966 he hired The Band, also known as The Crackers and Levon and the Hawks, to back him in concert and sometimes in the studio.
The Band included drummer and singer Levon Helm (the only American musician) and guitarist Robbie Robertson, keyboard players Garth Hudson Richard Manuel who also sang, and bassist-singer Rick Danko (all Canadians).
After Dylan's motorcycle accident in Woodstock, NY, Dylan kept The Band on salary and rented a pink bungalow in Saugerties, NY to practice and experiment with new and old musical ideas. For Dylan it was a way to merge his interest in old and new music. While Dylan went to great effort to record their practice sessions, they were not released until 1975 as The Basement Tapes. Bootlegs appeared almost instantly in 1967 since Dylan sent around acetates flogging the songs to other musicians.
The boys re-emerged as The Band in 1967, helping to create a new form of rock called roots music, which they played on their debut album Music From Big Pink. The Band backed Dylan at the Isle of Wight Concert in 1969. That recording was just released last year on Another Self Portrait (1969-1971): The Bootleg Series, Vol. 10.
"When I Paint My Masterpiece" was released on The Band's 3rd album Cahoots in 1971, when they were at a low point in their own creativity that would not improve until 1975 when they came back with Northern Lights Southern Cross.
In 1974 both Dylan and The Band, sensing their need for a boost in their, careers went on a North American tour partially documented in the live album Before the Flood.
By 1976, The Band was on the rocks. The lead guitarist and songwriter Robbie Roberston had developed a new career writing music for movies with his friend director Martin Scorsese. Robertson and Scorsese organized a last concert for The Band which became one of the seminal rock concert movies The Last Waltz, featuring a virtual who's who of the rock business in the mid-1970s and of course Bob Dylan.
The Band post 1976 breakup
In 1976 after playing together since 1958, The Band were exhausted emotionally and physically. The road, drugs, high living and being in close quarters for almost 20 years had Levon and Robbie at each other's throats.

Levon Helm of The Band
Levon Helm contended The Band was formed to share roles, responsibilities, and revenues. Each member had to sing and play multiple instruments to keep The Band a group and not the band of one artist.
Robbie Robertson saw it differently, although he didn't tell his band mates at the time. Robbie registered his copyright on most of The Band's original songs. In his book, This Wheel's on Fire: Levon Helm and the Story of the Band, Levon claimed that Robbie cheated the other band members of their copyright royalties.
The controversy is still being debated. Robbie Robertson inducted into Hall of Fame but did he really write those songs. The animosity between them lasted until Levon was on death's door and no one knows if Levon and Robbie patched it up even then.
The various remaining members of The Band did re-unite for several tours. Levon Helm worked with the Cate Brothers creating the same country based rock music he did with The Band.
In 1992 at the time of the 30th Anniversary Celebration, Canadian Richard Bell was a regular member of The Band along with Jim Weider.
Levon Helm produced several new recordings of The Band until he was diagnosed with cancer in 1996. After his recovery, he set up The Midnight Ramble Sessions in Woodstock NY which became legendary performances.
Richard Manuel the tenor singer, pianist and 2nd drummer died in 1986. Rick Danko, singer and bassist, died in 1999. Levon Helm, The Band's inspiration, unique singer and drummer, died in 2012.
Follow me on Twitter at @sdpate or on Facebook at NJN Network and OyeTimes.
By Stephen Pate, NJN Network
You can publish this article on your website as long as you provide a link back to this page.