This article was last updated on May 26, 2022
Canada:

Oye! Times readers Get FREE $30 to spend on Amazon, Walmart…
USA:

Oye! Times readers Get FREE $30 to spend on Amazon, Walmart…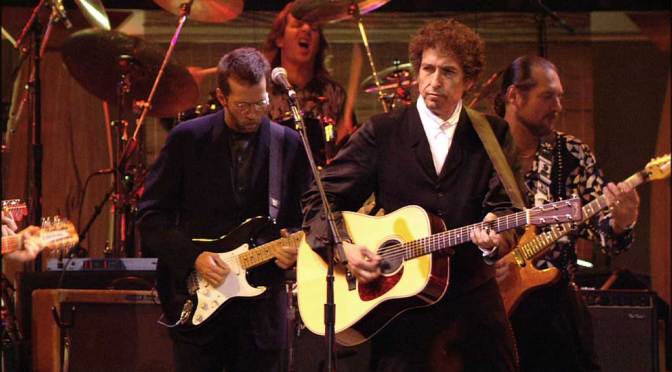 The release of the 1992 "Bobfest" Dylan tribute concert may be 15 years too late but it is still one of the best rock concerts of all time
By Stephen Pate – March 3, 2014 is the release date of the Bob Dylan 30th Anniversary Concert Celebration. I can't think of a single rock concert that comes close to pulling off the same level of rock and roll musical experience at an emotional and musical level, except perhaps The Last Waltz which is The Band's 1976 rock and roll variety concert.
Thankfully you can enjoy this concert in HD for about $20, unlike the ridiculously priced $80 version of Another Self Portrait or the $250 The Complete Album Collection V.1. One does feel that Dylan and other aging rockers are dipping too deeply into our wallets with outrageous pricing for old reissues. After all, some of us are on pension by now.
Bob Dylan is one of the greatest songwriters of the last 100 years. The Bob Dylan 30th Anniversary Concert Celebration brings together some of the best rock and roll, country and folk artists to pay tribute to Dylan's body of song writing for what was then only 30 of his 50 years in the music business.
Think of the concert as a Bob Dylan Open Mic – if you don't like the artist, they will be gone in 5 minutes as the night rolls on.

Eric Clapton, George Harrison, Bob Dylan, Tom Petty – 30th Anniversary Celebration Concert
That presumes that you appreciate Bob Dylan's songs and a cross-section of rock and roll from the 1960s to 1980′s. Being an aging Baby Boomer, this concert is right up my alley. What other concert has Neil Young, Eric Clapton, Tom Petty, Lou Reed, Willie Nelson, Kris Kristofferson and Stevie Wonder on the same bill. The house band is a combination of the Stax Studio (Blues Brothers) and Saturday Night Live house bands. These people lay down a groove that never quits and rarely falters.
There are artists on the DVD that I'd forgotten like Crissie Hynde who knocked me off my chair with her emotional performance of "I Shall Be Released." Back in 1995 when I first watched her lip quiver on "crying out that he's been framed…any day now", I cried. Then I wanted to give her a call, you know see if she was dating anyone. Note one of her back up singers is Sheryl Crow, yup.
The only down side to this release is that Sony / Columbia waited 15 years too late. The market for DVD sales has fallen off with streaming and free music available on the internet. To their credit, Sony did release this concert on VHS and Laserdisc 2 decades ago but missed the boat on the DVD release.
When Sony announced this release I tried to put together a list of the best tracks among the 32 songs on the DVD and Blu-ray. It was an impossible task since the songs were great and the artists on the top of their game. I can't think of a better "Blowing in the Wind" than the emotionally charged version here by Stevie Wonder.
Neil Young nails the obscure Mexican drug song "Just Like Tom Thumb's Blues" and does a Hendrix-worthy version of "All Along The Watchtower". Neil's guitar solos are deliciously over-the-top and have more soul than a million other guitar leads I've had to endure. The powerful rhythm section of the band has two drummers Anton Fig and Jim Keltner , Donald Duck Dunn on bass, Steve Cropper on lead guitar and Booker T, the core of the Stax Studio house band. These songs cook.
John (Cougar) Mellencamp opens the show with "Like a Rolling Stone", the quintessential Dylan rock song. His second song is he classic "Leopard-skin Pill Box Hat" which is shown out of sequence on this release, compared with the LaserDisc. They could not get a HD copy of the performance.
Tom Petty and The Heartbreakers earned their chops touring around the world with Dylan in the middle 1980′s. They tackle the dramatic and difficult "License to Kill" and romp through the party favorite "Rainy Day Women."
Some of my other favorites are the excitement of "Highway 61 Revisited" with the vocal and ripping slide guitar of Johnny Winter, "Absolutely Sweet Marie" by George Harrison (boy we miss him), Willie Nelson who reveals what's happening in "What Was It You Wanted", the joyous Ronnie Wood performance of "Seven Days", Eddie Vedder & Mike McCready of Pearl Jam's venomous "Masters of War", and Lou Reed on the hypnotic "Foot of Pride".
For people who dislike Bob Dylan's voice, he sings 2 solos at the end, "It's All Right Man (I'm Only Bleeding) and "Girl From The North Country". As usual for Dylan, they are brilliant and quixotic versions of the songs.
Blu-ray or DVD
If you have a Blu-ray player I would want to own the Blu-ray version of this concert for the slightly higher video definition at 1080p although the original video was not HD. In Canada, both versions are available form Amazon.ca 30th Anniversary Concert Celebration [Deluxe Edition] [Blu-ray].
The sound will be about the same on DVD and Blu-ray. The best sound is the PCM stereo available on both versions. I personally don't like DTS and DTS-HD which sacrifice sound quality to get surround sound ambience.
Contrary to the marketing, none of the digital formats on commercial disks is better than CD quality PCM stereo. The previous DVD versions all had sound quality issues.
Other articles on the 30th Anniversary Concert
Bob Dylan 30th Anniversary Concert Artist and Track Listing.
Finally Bob Dylan – The 30th Anniversary March 4 2014
Dylan 30th Anniversary: When I Paint My Masterpiece Video
Bob Dylan 30th Anniversary Concert DVD
Follow me on Twitter at @sdpate or on Facebook at NJN Network and OyeTimes.
5 / 5 stars
You can publish this article on your website as long as you provide a link back to this page.