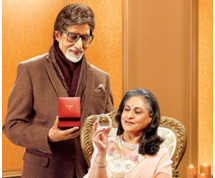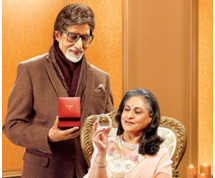 His fascination for Amitabh and Jaya Bachchan has landed a jewellery store owner in trouble before theDelhihigh court. Overcome with the manner in which Amitabh, in an advertisement, educates consumers about how the cut, clarity, color and carat concludes quality of a diamond, one Ramkumar Jewellers decided to depict the celebrity couple endorsing diamonds sold by the shop.
On Monday, Justice Manmohan Singh continued ex parte to ban the jeweller from using pictures of the Bachchan couple and exhibit it through any media or hoardings or banners. The court was surprised at the brazenness of the imitation where the jeweler simply lifted the couple's photographs as shown in an advertisement by Tanishq and imitated it.
"The defendant is reserved from misappropriating the personality rights of Amitabh Bachchan and Jaya Bachcan," the court said, noting that Ramkumar Jewellers didn't even have an agreement with them to get their endorsement. "It is a case of stealing valid rights which cannot become rightful in any manner in favour of Ramkumar Jewellers," the court said.
HC was hearing a plea by Tanishq which had alleged unconcealed violation of its commercial rights due to the action of the jeweller. As proof, Tanishq tabled snapshots taken of hoardings showing Ramkumar Jeweller's advertisements and contrast it with its own. HC realized only the name was different.
Tanishq has provided evidence to HC about its agreement for services with the Bachchan couple for promoting and advertising of its jewellery. This includes advertisements that focus on generating awareness and educating consumers on diamond jewellery particularly about the 4C's that are necessary to identify the quality of diamond. The pretender said it was shocked to see hoardings by Ramkumar Jewellers prominently showing the star couple endorsing their products. HC has asked the jeweller to explain its stand by next month.
Article viewed on Oye! Times at www.oyetimes.com