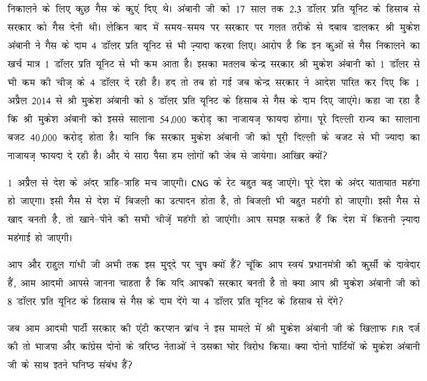 Arvind Kejriwal, the former Delhi Chief Minister has written to BJP's prime ministerial candidate, Narendra Modi and asked him to completely clear his stand on the gas price increase that he accuses as the Centre's favor to Mr. Mukesh Ambani. Kejri wal says that he plans to write a similar letter to Rahul Gandhi and distribute '10 crore copies' of the letter in different languages spoken across India. The Aam Aadmi Party leader has been accusing Modi for being silent due to his links with Ambani, the Reliance Chairman, and finally wrote a letter to the leader today.

'What is your party's and your connection to Mukesh Ambani? Who is funding your campaign? Who spends crores on your rallies? Some say it is Mukesh Ambani. Is it true?' Kejriwal asked in his letter. 'You and Rahul Gandhi use private helicopters. Who do these helicopters belong to? Do you get these for free or do you have to pay for it?' The 45 year old says that the Centre inflated the gas price to eight dollars per unit even though Ambani's company spends only a dollar to produce a unit, which narrates a loss of Indian Rs. 54,000 crore to the country every year. The BJP, Kejriwal accused, was deliberately silent on the issue. 'Why are Rahul Gandhi and you silent on it?' was the question emphasized in his two page letter.

An FIR accusing Ambani, Petroleum Minister Veerappa Moily and other policy makers for creating an artificial shortage of gas in India and then raising prices was filed last week by Kejriwal before he resigned as the Delhi chief minister last Friday. Kejriwal further accused the BJP and the Congress for joining hands to oppose the Jan Lokpal Bill in their revenge against the FIR. 'They defeated the Bill because three days back we lodged an FIR against Mukesh Ambani,' Kejriwal said.