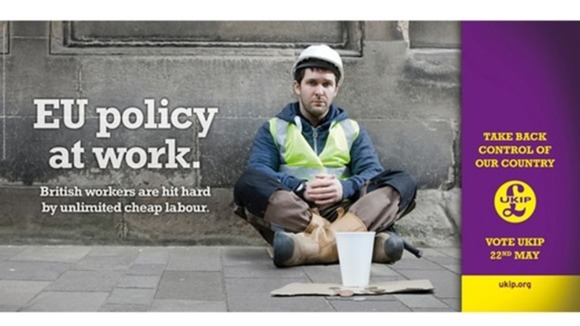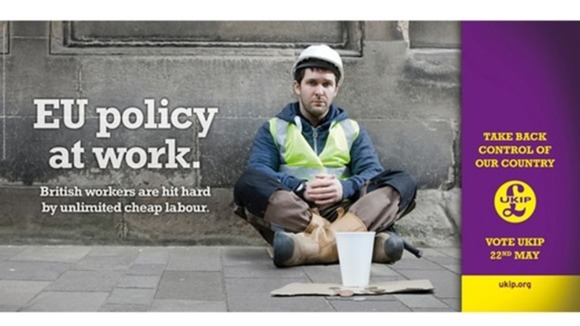 U.K. Independence Party's poster campaign has to suffer another row as they are accused of 'hypocrisy' for employing an Irish migrant to depict the impact of immigration on British jobs.
The fresh embarrassment follows the suspension of a Ukip televised election broadcast star for making "racist" comments on social media. And Ukip has had to defend its European manifesto after it featured a woman called Lizzy Vaid pledging to vote for the party — without mentioning she is Ukip leader Nigel Farage's aide and party's events manager.
The advertisement poster, published during the previous week as the Eurosceptic party launched its promotional campaign ahead of elections on May 22, features a builder in hi-viz and a hard hat begging on the street next to the slogans "EU policy at work" and "British workers are hit hard by unlimited cheap labour".
Later on, it has been discovered that the man used as a model in the poster ad is Irish actor Dave O'Rourke.
This revelation has prompted Conservative MP Bob Neill to criticise the party's move by saying: "I think it is pretty hypocritical of Ukip. They always like to say 'we are not part of the political establishment', they like to claim they are the party of ordinary people.
"They are using a trick most other parties stopped using long ago, because they get found out doing it.
"As far as I am aware, we always use genuine people in our adverts."
However, Ukip director of communications Patrick O'Flynn has argued that the use of actors was "totally standard practice" in political campaigns, describing Neill's comments as "Tory humbug".
Mr O'Flynn has said: "The vast majority of people used in political poster campaigns are actors. It is totally standard practice. It is nonsense for the Conservative Party to try and depict this as anything out of the ordinary."
Article viewed on Oye! Times at www.oyetimes.com.