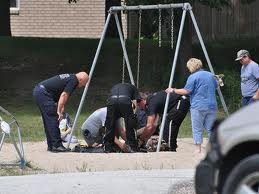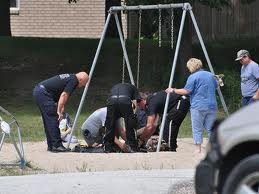 In a bizarre incident a man belonging to California became stuck in a baby swing for about nine hours after a wager went horribly wrong, police said.
According to early reports, The 21 year old made a $100 bet with friends, he then lubricated himself with laundry detergent and squeezed into the swing.
But the man became stuck, and his friends decided to leave him swinging in Blue Rock Springs Park overnight.
He was discovered when a groundskeeper heard screaming around 6:00am local time Saturday.
Firefighters freed the man by cutting the swing's chains. He was taken to a local hospital, where the baby seat was removed with a cast cutter.
The man sustained non-life-threatening injuries.
The man stated that it had worked… sort of; he was able to slide into the baby swing, just not back out.
It has not yet been established why the man's buddies bailed on him leaving him trapped, or whether alcohol was a factor in the sheer stupidity of it all. This is not the first time an adult has been stuck in a baby swing. One thing is for sure that for years to come, he and his friends will be having a great laugh whenever they will recall this incident.
Carol M of Cincinnati said "Wow, I don't know whether to laugh or just feel sorry for this idiot, he may have a hard time getting a date after this stunt. Guess there are worse things that the young men could have been doing on a Saturday."
Article Viewed on Oye! Times @ www.oyetimes.com